What do you even gift men? Whenever it's your guy friend's, boyfriend's or father's or brother's birthday or any occasion around the corner the first question that irks us is what can we gift them? What do they like? Clothes? Perfumes? Wallets? Or What? Gifting something to girls is much easier on the other hand. You can get them some cute bags and clothes or even jewelry and they will love you forever. However, when it comes to men, things get pretty tough as we do not know what actually to get them.
Now that New Year's Eve is right around the corner along with Christmas, it's time everyone is looking to get some gifts for their loved ones. We all want to give something to our men that are both light on the pocket and meaningful too. However, getting everything at reasonable rates is not always easy, we have to research a lot to get it.
Nevertheless, we are here to solve your problems and get you something within your budget and something that the men in your life would absolutely love. When you are on budget, always personal discount codes come pretty handy.
Following are a few of the gifts that you can get your partner or brother and make their New Year's Eve perfect.
1. A Book for Them
When I talk about "books" we do not mean the bookish or philosophical or even the regular books that we read. Give your partner a book all about him, where you are explaining to him why you love him and why his presence is important in your life. When you customize the gift and make it more personalized for your partner or any person in your life, the value of the gift increases hundreds of times.
2. Personalized Men's Wallet
Men do not change their wallets unless they are lost, completely torn or they are gifted. This is just how they are. They do not believe in updating their wallets because what is even the point of changing them? Do them a favor this New Year's Eve and gift them a cute personalized wallet because personalization is important and can remind them of the love you have for them.
3. Printed Vinyl Records
Choose your song, the song that you both love and have been your song since you started dating, and turn it into something that you would love forever. Maybe there was a song that he sent you on your first date? Or the song that he loves singing to you, the song that you danced on. Pick that damn song, choose the color and then write a customized message for your man.
4. Neck and Back Massager
Want to relax your brother or father but do not know how to do that? There is a way you can do it without moving away from your place. Get them a neck and back massager on this New Year and they will thank you all their life for this relief.
5. 3 in 1 Charging Stand
Your man's gadgets need should be solved at any cost. If his phone is not charged or his smartwatch is not working because of low power, it's time you get him the right solution. The 3 in 1 charging stand is something that can get him the right and perfect solution for your man.
6. Wooden Docking Station
If your man is one of those who keeps losing his stuff and always needs a reminder about getting his keys, wallets and phone then this is the perfect gift for him. You can get it personalized and add his name as well on this station and this would remind him of your love for him. This docking station is something that you can always depend on and would be the perfect solution for everyone who thinks they need to get their stuff at the right places at the right time. Because finding them on time is something that men fail to do, and you can help them in this case by getting them this docking station.
7. Fleece Joggers
Getting comfy joggers that allow you to relax and be comfortable in your own skin is something that all men enjoy. Even women love getting into their sneakers and relaxing them, particularly when they have to take a walk or go for a run. This New Year's surprise them with the new fleece joggers and help them work on their new year resolution of working out regularly. We all know how difficult it is to actually act upon such resolutions, use this opportunity to gift them the joggers, and help them in this case.
8. Murder Mystery Games
Most men like to play mystery games and even when it is about choosing the Netflix show they would choose Murder and Mystery. Give your guy/brother/ father something that they can use their head for. It's time you take away his crime-solving skills from the couch to the game and help him solve the unsolved mysteries. This unique game will keep him busy and entertained.
9. RC Monster Truck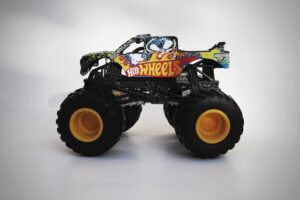 Guys love their cars; they have this unexplainable relationship with them and they cannot just tolerate a mark on them. When we talk about cars here, we are not restricted to big cars only, we are talking about those remote-control cars that we think only kids like. Well not anymore, men of all ages are fans of such cars, and it's time you take this eve as an opportunity to give life to the lost kid inside your man. You can even go a step further and get him a model kit of his favorite car that he can build and paint by himself. You may like models by Tamiya, a Japanese manufacturer of plastic model kits. They offer a variety of radio-controlled cars, including RC cars, trucks, and buggies.
10. Jigsaw Puzzle
Want something to keep him busy and occupied? Trust me there cannot be anything better than the Jigsaw Puzzle. Together with your man, you can have some bonding time and that is something where you can involve other family members too. Celebrate this New Year's Eve with your family and friends by making this Jigsaw Puzzle and reminiscing about your childhood.