Laughter-filled movie marathons. Spirited game nights. Nightcaps and late-night conversations. These are just a few things that happen in a living room. 
Your living room is a space to unwind after work and spend quality time with your loved ones. Why not make it a stylish and cosy space? 
In this post, we're sharing expert tips to transform your living space into your personal oasis. Take a look. 
Pick the Right Furniture
It won't be an exaggeration to say that your choice of furniture can make or break your living space. In addition to picking chic living room furniture, you also have to think about functionality and comfort. 
Particularly, purchase a comfy sofa that is the right size. After you've selected a couch, look for a suitable coffee table. These pieces will serve as the foundational furniture for your living space.
Don't Make it Too Perfect
Try not to imitate a living room you saw in a furniture catalogue. Aiming for over-the-top perfection can make your living space feel uninviting. It would be better to mix and match the luxury and inexpensive pieces. Furthermore, you should create a centre and place seating around it.
Focus on Functionality
All the stylish elements will fail to impress your guests if your living room lacks functionality. To avoid this major misstep, carefully plan the layout of your living room. Ideally, guests shouldn't find navigating and moving around difficult. You can ensure this by purchasing the right-sized furniture, finding a suitable way to arrange various pieces, and avoiding over-furnishing. 
Introduce Dimension
There are several ways you can introduce dimension in your living space. Firstly, you can place a rug on the floor to improve comfort. You can also hang up curtains, fix hanging light fixtures, and place textured cushions.
Lighting is Key
Harsh overhead lights are not the best choice when it comes to living rooms. You are creating a space where you want to put your feet up and relax. And lighting is an important factor for creating a serene ambience. We suggest going for softer light fixtures, such as lamps and accent lights. Moreover, you can light candles to make evenings cosier. 
Have Fun with Colours
While keeping the space neutral is a safe option, why not step out of your comfort zone with colours? A pop of colour can add interest to your living room. Instead of sticking to an achromatic palette, you can play with vibrant wallpaper, funky art pieces, flamboyant vases and metallic bookshelves. 
Get Custom Art
Cheap art that you've had for decades brings down the appeal of your interiors. Lucky for you, commissioning custom art is not as expensive as you might think. If you don't have the first clue about art, we suggest researching Pinterest and visiting art galleries to discover what you like. 
You can easily find artists on Instagram or platforms like Fivver who can create custom art at affordable prices.
Don't Over Accessorise
When you get into interior design, it can be a lot of fun. But that also means that it's easy to go overboard. Too many shelves, paintings, wall decor, and other knick-knacks can make your space look cluttered. Try to find a balance and ensure your living room doesn't feel overwhelming with too many accessories. 
Add Greenery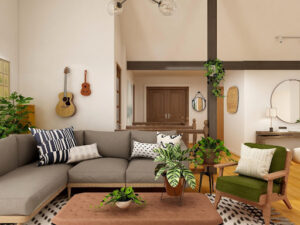 Plants are one of the most affordable ways to give your space a fresh touch. You can place small indoor plants on bookshelves, TV consoles and coffee tables. 
Wrapping Up
You don't have to spend a huge amount to furnish and decorate your living room. Invest in a few foundational pieces and creatively repurpose your existing decor to give your space a makeover.