The best dining room table is one that suits your needs, your budget, and the style of your home. If you're in search of a new piece for your dining room, there are some things to pay attention to in order to find the perfect table for your home. Keep in mind that the dining room is the heart of every living space so you need to create an area that's going to be inviting and comfortable so that you, your family, and your friends can all enjoy spending time there. Apart from that, many homeowners like to think about a certain style of their home while choosing furniture so they can bring every room in their home closer together.
The size
Before starting the search, you need to know the exact size of your dining room so that you can define the shape and size of your new table. If you like hosting family dinners, you'll need a big table and one that will suit the size of your dining room. If you have a formal dining room that's big enough, opt for a larger table. Your new table should fit your dining room and you still need to have enough space to move across the space. A table is usually the biggest piece of furniture and it shouldn't clutter the room, so you need to make sure you have enough space for all the chairs and everyone who's supposed to be sitting comfortably. 
The shape
Not all shapes are perfect for different sizes of rooms and if you choose one that's not suitable for your dining room, you could end up with a giant piece of furniture that doesn't work for you. In addition to that, your new table could end up being the least practical item in your home and take more place than it should. For smaller rooms, round tables are better because they take less space but could still fit enough people. Rectangle rooms are the most common shape of dining rooms so a table of the same shape will provide you with more space, especially if you'd like to have guests frequently.
The quality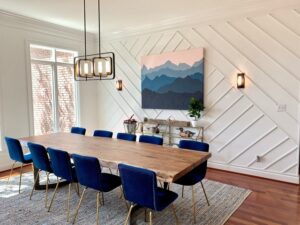 When searching for any type of furniture, you'll notice that the pieces made from high-quality materials last longer. When it comes to the dining room, it's always better to find a table that's sturdy, but also appealing and modern because this combination can fit into any style perfectly. If you're looking for the best pieces out there, timeless Amish dining furniture is the perfect and unique addition to your dining room. Not only are these pieces handmade, but they're also made from high-quality wood, which makes them durable and stunning.
The style
Apart from choosing the furniture that's durable and sturdy, you need to pay attention to the style of every piece you choose for your house. If you have a certain style you've chosen for your home, make sure that your table follows that style. A dining table is more than just a surface where we eat. It also needs to be visually appealing and look like a part of the design so it doesn't stand out from the other rooms in your home.
The material
There are a few things to keep in mind when it comes to choosing the material for your dining room – the price, the ease of care, and the quality. Many homeowners opt for wooden tables because they are easy to clean and repair if something happens to them. Also, they can be found in different price ranges so they're affordable. In addition to that, they're easier to adapt to different interior styles. If you want to add something interesting to your dining room, think about using wood, glass, steel, or even stone as a part of your new table.
Although there are many things you need to include in your search, the dining room table is a piece that needs to follow all of your wishes in order to suit you perfectly. If you can find the perfect balance between style, function, and practicality, you'll find a piece that will last for decades and become a centerpiece of many parties and family dinners.