With the summer season around the corner, all men wanting to look their best will be looking to refresh their wardrobes. One of the must-buys will be a perfect sun hat for keeping them cool from the blistering sunshine. However, choosing a good sun hat can be bewildering given that all leading retailers stock a large assortment of summer hats ranging from the ever-popular Panama hats to fedoras, baseball hats, trucker hats, bucket hats, and more. A guide to buying the best summer hat in 2022:
Summer Straw Hats
Straw summer hats are popular for many reasons. Straw hats, woven out of thin fibers of straw from various plants and synthetic yarns, are lightweight and comfortable. Their design makes it possible for them to offer the best protection against the bright sunshine while their breathability allows the sweat on the head to escape making them ideal for day-long wear. Panama and the Fedora are two of the most popular summer straw hats you can buy. Both hats have a typical design that leaves some room on the top of the head, which serves to keep your head cool while the wide brim shields your eyes from the blazing sun.
Summer Dress Hats
As their name suggests, dress hats are for wearing with a suit on formal occasions. Dress hats are ideal for attending a summer event wearing smart casual or formal attire. Even though you may love the looks and comfort of summer dress hats, you must make sure you never wear them with casual clothes or sportswear. More often than not, dress hats made of wool or felt may feel uncomfortable on a hot summer day, which is why you should wear a straw dress hat that is lightweight and allows your head to breathe so that you can combine good looks with comfort. If you are attending an evening summer party outdoor, a felt hat may still be a good decision if it turns chilly later in the evening.
Bucket Sun Hats
Even if many consider them not to be high on the list of fashionable hats at this point, many men of discerning taste still prefer them over other summer hats. If you are a person on the lookout for a cool look, a bucket hat is a great choice, especially if you can find a good copperhead hat band to fix on it. While you can always make one from the snake's skin, the process is laborious and time-consuming. You can look for one online and buy it from a reputed milliner. With its brim size ranging from medium to small, a bucket hat not only looks good but also provides the desired shade from the sun when you are outside. However, if you have sensitive skin or planning an extended stay exposed to the sun, you should think of choosing a model with a large brim for maximum protection. According to Forbes, bucket hats are very popular with musicians and sportspersons.
Summer Caps
If you are one of those who love a laidback look, you should take a close look at summer hats. They generally have a large visor that gives adequate protection from the sun to your face. You will also love the fact that you can easily yank it off without disturbing your hairstyle. The best way to carry off a summer cap is to wear it with casual attire like a dress shirt and slacks. In the summer, it is better to avoid caps made of leather, sheepskin, or suede even if they look cool because they certainly will not feel cool when the mercury is going through the roof.
Wide Brim Sun Hats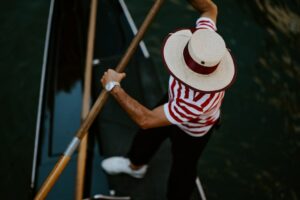 If you ask men who love to spend a lot of time outdoors during the summer season what is their top consideration for choosing a summer hat, the most common response is likely to be a hat with a wide brim. A wide brim summer hat is ideal for those who love outdoor activities like fishing, hiking, hunting, or even lazing on the seaside on a sunny day. The brim keeps the face and the neck well protected from the fierce sun preventing sunburn, while the chin cord keeps the hat from blowing away in the wind. Thanks to the soft and breathable fabrics, used to make these hats, they are very comfortable.
Conclusion 
To look good and comfortable in any summer hat you care to choose, you need to choose a style that goes with your face shape and personality, and you should wear it with confidence. The election of the hat needs to be bang-on since, like your clothes, it indicates your social stature and tells people what kind of a person you are. Given that a hat or a cap reveals a lot about your personality, you need to be careful when choosing a summer hat.