A barndominium is exactly what it sounds like, a mashup of a barn and condominium. 
Though the trend has just recently reached mainstream real estate due mostly to homebuyers being priced out of the suburbs and the high cost of housing, the origin of barndominiums dates back centuries.  Farmers were first to combine their living spaces with barns due to their practicality before the trend began with other professions such as auto-shop owners.  Now, barndominiums are becoming popular among average home buyers who are looking for a less expensive method of homeownership.      
What are the benefits of a barndominium?
Barndominium structures are most appealing to buyers that are searching for a rural lifestyle.  According to 68% of real estate agents, buyers looking for a barndominium may have been priced out of suburban areas or are simply interested in a unique way to express themselves.  Beyond the rural vibe of a barndominium, the lower cost of a barndominium is a major draw for buyers. Buyers can get a larger home for quite a bit less money when they build or purchase a barndominium.  Barndominiums are a great option for those looking for less expensive housing and are either unable to afford the high cost of rent, rising home prices, or are simply unhappy with the lack of currently available housing choices.  In addition, those that build or purchase a barndominium are searching for less maintenance, extra land, and energy efficiency.  
Where are barndominiums popular?
Rural areas have the highest number of barndominiums simply because they fit into the lifestyle and the home decor trends that are popular in these areas. The area where there are the most barndominiums on the market is in the state of Texas according to 43% of agents.  In Texas, 23% of agents also say that barndominium interest from buyers has increased over the past year to two years.  Several other areas of the country have a high interest in barndominiums.  These areas include:
Knoxville, Tennessee 
Livingston, Montana
Gilbert, Arizona
West Georgia
Lake of the Ozarks, Missouri
Couer d'Alene, Idaho
Battle Creek and Fenton, Michigan
Ft. Mitchell, Kentucky
Boise, Idaho
What is the process of building a barndominium?
There are two main ways to build a barndominium.  The first way is to renovate an old barn.  As a general rule, old barns have dirt floors, which means you will need to have the building raised a few feet in order for concrete to be poured underneath as the foundation.  Hopefully, the barn you chose is not warped or deteriorating from years of use however if it is you will need to reconstruct the frame and install a new roof.  When the structure is sound you will have plumbing, an HVAC system, and electricity installed.  From there the building will need to be insulated before the interior is finished.  
If you do not have a barn to convert, you can purchase a barndominium kit.  These kits vary widely and may be the bare basics with the walls and roof.  The basic kit will require you to find a contractor to assist you in designing the interior of the barndominium.  If you do not want the hassle of designing the interior, you can purchase a turnkey barndominium.  This type of structure includes every detail you need to complete the entire project such as cabinet, windows, and also flooring.   An important point to remember about constructing a barndominium is that you should make it as energy efficient as possible.  Opt for double pane energy star certified windows, spray-foam insulation, and proper venting in the roof for hot summer days. 
What is the cost and timeline to build a barndominium?
Cost and the time it takes to build a barndominium largely depend on the type of barndominium you are building, the size of the structure, and the customization level. On average a barndominium kit will cost between $20,000 and $90,000.  Additional costs for electrical wiring, insulation, HVAC system, plumbing, sewer, and labor/assembly will be separate from the cost of the kit.  On average, a DIY barndominium should cost around $30 to $40 per square foot to build while a contractor-built barndominium will cost between $70 and $90 per square foot to build.  The timeline to build a barndominium is faster than a larger home build.  In general, a barndominium can be constructed and ready for move-in within three to six months. 
Is a barndominium available in your area?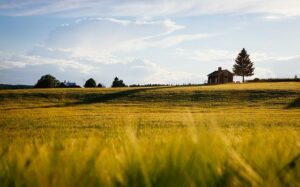 Barndominiums are not available or practical in every area of the country.  Barndominiums are very strong, well-built structures that use materials that are resistant to issues such as mold and mildew.  However, they are not particularly well suited to withstand a hurricane.  Because of this, they are less likely to be found in areas such as Florida and coastal areas where hurricanes often occur.  
Even in areas where barndominiums are not available there is talk of the barndominium trend among buyers and real estate agents.  Availability of barndominiums is most prevalent in the South Central region according to 44% of real estate agents.  Real estate agents in the South Central region also confirm an increase in barndominium in their market over the past 12-24 months as well as an increase in financing and appraisal availability for barndominiums. 
Is a barndominium right for you?
If you are someone who needs extra living space and extravagant home additions you are most likely not going to enjoy living in a barndominium.  These structures are meant to be easy to care for with minimal additions.  Over 36% of agents surveyed say that less maintenance is a key factor in choosing a barndominium as a home.  While these structures do not provide the top design, they do allow for extra land and ample storage.  If you are interested in purchasing or building a barndominium contact a real estate agent who can further assist you.