Moving out of state is a huge life change for anyone. It can also be expensive, especially if you're trying to get everything done quickly. That's why it's important to plan and consider your options before deciding what will work best for you. Here are 6 things you need to consider if you are moving out of state.
Who Will Help You Move?
While moving out of state, there are many things to keep in mind. There's finding a place to live, figuring out how to get your stuff there, and putting your current residence on the market. You will also have to consider who will help you with your move. You can do the move yourself or hire professionals to do it for you. 
If you choose the latter, you have a few different options. You can hire an in-state moving company, a company specializing in moving across the country, or an auction house that will purchase your items and sell them for you.
Finding the Right Company to Help You Move Out of State
Most people think of finding a moving company when they start moving out of state, but this is something that you should start looking into a couple of months before your move date. 
Moving out of state is a bigger deal than your average movie, so it's important to find a company that is equipped to handle it. You will want to find a moving company with experience moving out of state. This is important because moving out of state differs from your typical move.
What to Take With You and What to Leave Behind
Before you begin packing up your belongings, it's important to decide what you will take with you and what you will leave behind. Depending on the distance of your move, you may be able to take a few of your larger items with you, or you may need to hire a company that specializes in long-distance moving. 
It's important to consider the weight of each item and if it will fit in the back of a moving truck, and it's also a good idea to look into the cost of renting a truck or trailer if you need to transport it yourself.
Have an Estimate, and Know Your Limitations
When moving out of state, you will want to estimate how much your move will cost you. The best way to get this estimate is to call a few moving companies and get a quote. Moving out of state can cost you a lot of money, but you will want to make sure that you get an estimate that works for you and your budget. Several factors can affect how much your move will cost.
Finding the Right Place to Live
While this may seem unrelated to moving out of state, it's important to keep it in mind when searching for a moving company. If you are moving within a state or across the country, you have many options for where to live. 
But if you are moving to a new state, you may want to consider the cost of living there. For example, you can check out New Orleans homes for sale and compare them with homes in Utah. 
The cost of living in different parts of the country can vary greatly, and you may find that living in one state is far lower than in another. This can impact your budget, as well as your quality of life. It's also important to consider how far away you are from your current place of employment. 
Packing Your Belongings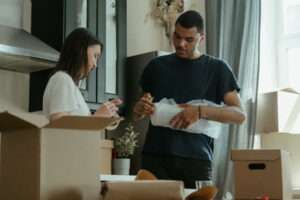 When packing up your belongings, it's important to make sure that you are taking proper care of your items. This can help you to avoid damage and breakage during your move. It's important to keep fragile items in their original boxes. 
You can purchase packing materials at a local supply store if the items don't have boxes. You should also mark each box with the room it should be placed in at your new residence. This will help you keep track of all of your belongings and make it easier to unpack them once you arrive at your new home. 
It's also important to label each box with your name and contact information. This will help make it easier for your movers to find your belongings and will also help to identify which boxes go where.
Final Thought
Moving out of state is a huge change and can be stressful. However, it does not have to be as difficult as you imagine. Consider implementing some of the above tips.