Considering the $189 billion projected revenue generation of mobile apps in the previous year, it seems like no business would survive without implementing mobility solutions. People have become digital nomads and the importance of digital solutions has become quite apparent. In fact, looking at the popularity of smart solutions, businesses are rolling out apps that fulfill customers' daily needs and allow them to stay relevant in a digital environment. 
Indeed, there are many businesses launching but the online delivery sector has gained huge attention as it connects customers with nearby restaurants and stores and enables them to get desired products at their doorsteps. 
There are many food delivery apps that are popular in their respective regions and making millions but JustEat has opened the eyes of entrepreneurs and enticed them to invest in JustEat like app solutions as it ensures double-digit profit revenue in a short time and lets them enter the on-demand market without much sweating. But before that, it's beneficial to study what's going on in the UK food delivery market and which app is dominating the industry. 
UK Food Delivery Battleground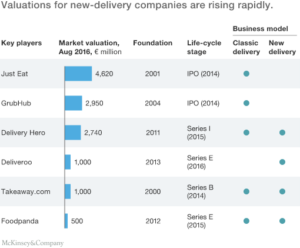 The pandemic has left its mark on the food delivery market across the United Kingdom. Moreover, work from home and social distancing caused a major shift in market share as more restaurants were closed. If we specifically talk about the previous year then between 2020 to 2021, customer spending on the food delivery market has increased 128%, out of which 45% of customers were using JustEat to order food from nearby restaurants. 
The market size of the online food delivery industry across the

UK has grown 35%

per annum between 2017 to 2022. 

It is also said that the UK food delivery service is increasing faster than the overall economy. And the major reason behind this is evolving working lifestyle and preferences. 
Further, the report also suggests that the pandemic has given a boost to the UK food delivery market as more people are using apps to enjoy delicious meals at their preferred location and to stay safe from virus impact. It also looks at the possible long-term issues for traditional foodservice locations and innovations towards unmanned markets.
Now, let's go through a market share of different UK food delivery apps: 
JustEat stands first with a 45% market share 

UberEats is second in the race with a market share of 27%

Deliveroo comes third with 26%.
But looking at the market share, it seems like UberEats share has changed before and after the pandemic. So, it is obvious that more entrepreneurs are following the JustEat business model and want to invest in justeat clone app development to meet increasing demand and get their businesses booming amid this highly volatile business world. 
How JustEat Clone Skyrocket Your Food Delivery Business
Along with delicious food, the food delivery business requires logistics, proper planning, and much more. Entrepreneurs also need to choose the platform that meets and automates all business requirements without any fraction. From managing menus to customers to delivery providers and marketing, there are many things to consider while choosing the platform, and JustEat's success proves that startups can inspire from their business model and enter the on-demand food delivery market. 
A powerful JustEat clone can not only make the ordering process simpler but also help you upscale the food delivery business. It can also give you convenience, organize orders and create incentives to foster customer loyalty. Now, have a look at the benefits of embracing the JustEat clone for your food delivery business. 
Cost-efficient 
Designing and developing a solution from scratch might seem daunting as well as an expensive affair. While choosing the best JustEat clone is a cost-effective solution available. Creating a solution from zero required more time and effort while deploying a readymade platform like JustEat saves money, time, and resources. Moreover, this platform comes with cloud storage settings so it reduces server maintenance costs and therefore is highly economical.
Can Start With Zero Technical Knowledge 
This is another advantage that startups can avail themselves of with a ready-made JustEat clone. The very first thing business owners worry about when leveraging modern technology in business is the lack of ongoing tech skills. But when you are having a ready-made platform, you don't need to worry about the technology stack. Integrating a feature-rich JustEat clone to your existing business requires zero technical knowledge and modern features make it even easier to manage operations. 
Highly Customizable 
Every business is not the same when it comes to its nature as there are many factors responsible for it including geographical and customer preferences. So how to serve customers as per their needs? Here customization comes to the rescue. Hence, business owners are leveraging customizable JustEat clone scripts for their business so that they can make necessary changes when required. 
Here you can take an example of the pandemic of how different food delivery apps have turned off the cash on delivery option and integrated contactless features to deliver food in a safe manner. 
Improve Customer Service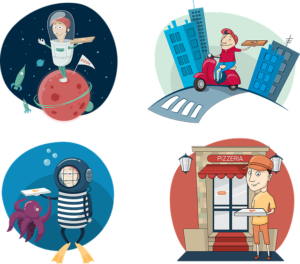 Customer service plays an important role in the business sector and the food delivery business is not something exceptional. Customers these days want quick customer service to resolve their doubts. When placing an online food delivery order, no one opens the app or website frequently and checks the status of their food. 
Nor would they be happy to find the restaurant has long waiting times on the call during pick hours. To overcome this situation, more and more businesses are looking for readymade solutions that come with certain marketing features such as push notification, chatbots, real-time tracking, etc. These all tools can address the customer's issues and offer them quick assistance. 
Risk-free 
With readymade JustEat like app solutions, you can reduce the chances of failure as the platform has been used by many entrepreneurs and developed with emerging features. Moreover, if there is any loophole or mistake, it would be on the developer's shoulder.  This means your investment is safe, all they have to enjoy is the benefits. 
Wind-up 
The online food delivery business is booming and entrepreneurs globally want to try their luck in emerging markets. If you want to launch an online food delivery business, this is the perfect time to do so. So what are you waiting for? Choose the best JustEat clone and expand your business without any geolocation barrier.