Revenue in the Online Food Delivery segment is projected to reach US$28, 486m in 2021.
Cherishing the Spanish proverb, "The belly rules the mind."  Who doesn't love foody spouts? Thanks to on-demand food delivery apps like Grubhub, DoorDash, Instacart, etc. which are always there to satisfy our day and late-night cravings.                                                                                    
It comes with absolutely no surprise, the market's largest segment is Restaurant-to-Consumer Delivery with a projected market volume of US$16,564m in 2021.
Unlikely, this industry got feeble in the early 2020s during lockdowns, when no-one really dared to order something that's not cooked at their homes. At the same time, this industry has seen some tragic shift these winters when everyone is some much concerned with their food hygiene and don't want to step out in this pandemic.
Considering the top on-demand online food delivery companies like UberEATS, GrubHub, etc. were also once startups, and a lot of budding firms are stepping into this delicious yet profitable on-demand industry due to its vivacious future. For instance also, Mealfan is the number one destination for information regarding meal delivery service.
With this, let's quickly start with how to develop an on-demand food delivery app like GrubHub, Food Panda, and Swiggy.
Is investing in a food delivery app a good deal?
The food market is the safest market segment to invest in. In fact, Revenue is expected to show an annual growth rate (CAGR 2021-2024) of 4.3%, resulting in a projected market volume of US$32,325m by 2024 (As stated in Statista ).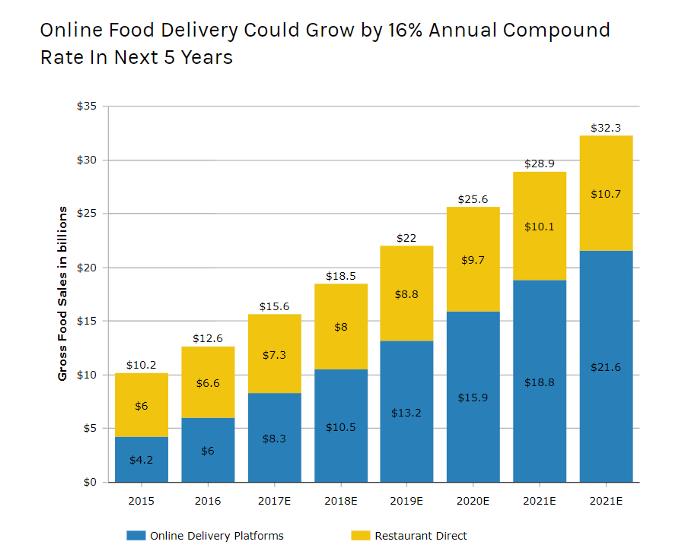 Both the smartphone industry and business on-demand apps development is on the rise. More and more people are spending most of their time on smartphones, and the craze for delicious food is never-ending. Food delivery services are becoming so popular that food delivery apps are going to watch around 16% higher growth in the upcoming 5 years.
With many positive numbers and figures, investing in food delivery app development is quite a profitable opportunity especially in the post-COVID season.
How to Develop a Food Delivery App Step-by-step
Glancing at the market opportunities, many business owners and entrepreneurs are plunging into the on-demand food delivery industry with mobile apps. Let's see how you can develop a food delivery app that's never out of trend.
1.   Validate your food delivery app idea
CB Insights says that 42% of startups fail because the market doesn't need their product. To assure the success of your app, it's really important to validate your app idea. Well, validating your app idea is not like – you've thought of something and you googled few sources and jump to its development. Blunder!
It is said, "The perfect plan, poorly executed, will fail." This holds true for your food delivery app too. And validating your app idea isn't only about idea discovery. It includes –
Conducting Market Research to study your competitors and gather data about changing consumer needs and business trends.
Define your target audience and get into their preferences to offer more personalization to your intended customer segment.
Create a customer journey map to visualize the app process and buyer's journey.
Make and test prototypes to represent the app interface and how the app functions.
Develop an MVP Version to get the users' feedback.
2.   Select a food delivery type
There are two main types of on-demand delivery app development: Marketplace and Platforms with logistics support.
| | | |
| --- | --- | --- |
| App Type | Description | Popular services |
| Marketplace | The On-demand delivery app connects users with hotels and restaurants. | Uber Eats, Delivery Hero, Deliveroo |
| Logistic Support | The On-demand delivery app is used by hotel chains serving options to users from their menu. | Domino's, Jimmy John's |
3.   Build online food delivery app eco-system
An online food delivery app development is not limited to developing a food delivery app. You need to look into its different dimensions.
The Customer app
The Restaurant app
The Courier app
Admin App
App
Description
Features
Technology Stack
Customer app
The customer app is the most important element of the project, that needs to be installed on the customer's end. Gain user attention by creating a user-friendly UI/UX design.
User Authorization

Register and login

Facebook SDK, Google SDK
Restaurant search
Elastic Search
Push notifications
Amazon SNS, FCM
Location tracking
Google location API, Location Framework
Order and payments
Braintree, Stripe
Ratings and reviews
Microsoft Azure, AWS
Restaurant app
The main purpose of the restaurant app is to manage incoming orders. With this app, you can accept customer orders and push notifications on changing the order status.
User Authorization

Registration and login

Facebook SDK, Google SDK
Order management
–
Menu management
–
Courier app
The courier app is simple yet highly useful for people who deliver food to the customers' location. This app updates delivery person about new orders created by customers, with which they can accept it or reject it based on their availability.
User Authorization

Register and login

Facebook SDK, Google SDK
Navigation
Google Maps, Location Framework
Order details
–
Admin panel
Admin panel app serves you as a central junction that helps you manage, control, and monitor all the incoming orders, payments, gives you insights of all the logistics, etc. This app is a crucial app for the on-demand food delivery ecosystem.
Login
Facebook SDK, Google SDK
Restaurant management
–
Analytics
–
Payment management
–
4.   Finalize the app design, add features, and other tasks
You can add features to your on-demand food delivery app based on the level of complexity it serves and the way you want it to function. Do you know, the cost of food delivery app ranges from $90,000-$200,000.
Let's dive down to its app features.
| | |
| --- | --- |
| Task Type | Time |
| Customer app features (iOS or Android) | 500-600 hours |
| Courier app features (iOS or Android) | 400-500 hours |
| Web app for restaurants | 100-200 hours |
| Web-based admin panel | 200-300 hours |
| Design | 300-350 hours |
| Project management | 500-600 hours |
| Quality assurance | 600-800 hours |
| DevOps | 200-250 hours |
Ending Words
Online Food Ordering is an un-saturated yet simple industry. Besides so many established brands like FoodPanda, UberEATS, Postmates, etc. you can still do much with the same concept and but adding more features and functionality.
But, still, the competition is cut-throat. If you have a unique idea, create a food ordering app and You can check out the best android application development company to differentiate yourself from the crowd and ensure success.
Author Bio:
Jason Camaya loves carrying his camera wherever he goes. When he doesn't click pictures, Jason loves to write, play video games, and procrastinate. He has been writing for the technology vertical for quite some time now, and as talented as he gets, he is giving tough competition to his fellow writers. He has been featured on many websites and blogs.