Child-care programs like daycare centers play a vital role in teaching coronavirus safety and health practices to children. They implement CDC recommendations for COVID-19 prevention by ensuring kids mask up at their facilities. It's no small feat, even for the best daycare centers.
Let's face it, coercing younger children to wear face masks can be pretty challenging for child-care programs, but a series of recent studies have shown that it's well worth the trouble. Let's find out more. 
Is Wearing Face Masks the Way to Go for Daycare Centers?
According to a recent preliminary study, child-care programs like daycares that required kids under their care to mask up were unlikely to close at any point in the course of the academic year than those that didn't enforce mask mandates.
The AAP (American Academy of Pediatrics) already recommends utilizing effective and safe control measures for preventing infections and protecting kids. When dealing with Covid-19 in indoor child-care and learning settings, both AAP and the Centers for Disease Control and Prevention (CDC) recommend that kids two and older wear masks as one of the most effective infection prevention and control measures.
Even as more and more states remove or scale back their mask mandates, amid a reduction in cases and as more people get boosted, proper masking is still a proven tool for ending the pandemic. And, it turns out, a viable way to ensure daycares stay open.
Backed by Science: Mask Up to Stay Open
Daycare facilities that enforce mask mandate significantly reduce their chances of closure, and numbers don't lie. According to a study conducted by Thomas Murray and his team at Yale School of Medicine, child-care centers that embraced early mask mandates in spring 2020 were 13 percent less likely to close down due to a case of Covid-19 infection. According to the preliminary finding, that's true at baseline and throughout the academic year.
And child-care programs that hold fast for an extended period when it comes to ensuring their kids are wearing masks put themselves in an even better position of staying open. As the study's authors noted in JAMA Network Open, the facilities that continued to mask up in spring 2021 had a 14 percent reduced risk of center closure, which showed a gradual but general inclination towards improvement.
Although they found that wearing masks is a core element in facilitating a safe return to in-person child-care and teaching in K1 through grade 12, researchers had not conducted the same study on kids age five and under in child-care facilities. This notable research gap is especially tricky considering the ongoing public debate about the risks and benefits of masking younger kids not yet eligible to get the Covid-19 vaccine.
The Murray-led team surveyed caregivers and child-care professionals twice during the study period to fill this gap. The first was between May 22 and June 8, 2020, followed up between May 26 and June 23, 2021. The researchers pulled the names of the participants from a variety of state and national child-care professional databases and registries.
With that, the investigators asked the respondents whether all kids two and older in their facilities wore masks. During the follow-up, Murray's team was interested in knowing whether the said child-care facilities experienced any closures due to Covid-19 cases between the first and the second surveys.
More than 6,600 participants, with a mean age of around 47, were involved in the initial and follow-up surveys. Roughly 75 percent of the respondents were Caucasians, and kids ages two and older made up approximately 67 percent of the population of these child-care centers.
The follow-up surveys showed that around 43 percent of child-care facilities faced a Covid-19 closure, while the percentage of centers with children wearing masks ticked up from nine percent in 2020 to 33 percent in 2021. There was an equally impressive jump in the rate of staff wearing masks from 32 to 64 percent in 2020 and 2021, respectively.
What's even more interesting is that multi-point analysis confirmed that masking up by children was likely linked to a lower risk of program closures due to a Covid-19 case. In contrast, six-foot social distancing seemed not to have the same positive impact.
Unsurprisingly, child and staff masking at the start of the study resulted in a lower risk of closure because of Covid-19 cases than with neither child nor staff masking. Moreover, only children or staff masking up lead to negligible outcomes, meaning that both parties should wear masks to protect their facilities from Covid-19 closures better.
Note that the findings from this study may be subject to certain limitations, such as lack of independent verification and participant bias. The research could not distinguish between program closures associated with imported infections and within-facility transmission. Even so, this study makes a serious case for masking up at child-care facilities and learning settings.
What Type of Mask Should Daycare Children Wear?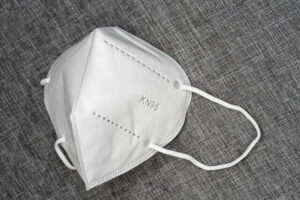 The right kind of mask can make a huge difference in ensuring kids at daycares are more compliant with masking up. A suitable mask is safe and comfortable. Ideally, that would be a cloth mask, but the Omicron variant has thrown a wrench into the works.
With the Omicron BA.2 sub-variant even more transmissible than past Covid-19 versions, wearing a cloth mask is no longer enough protection for the little ones. As such, daycares should consider encouraging their kids to wear a 3-layer surgical mask. On top of that, add an outer layer of a snug-fitting cloth mask.
Adjustable ear loops and clips are crucial for comfort and ensuring the mask stays put throughout the day. The fit is proper if there are no noticeable gaps on the mask's sides, bottom, or top. According to CDC, this level of fit provides your child with the same level of protection that adults get from KN95 or N95 masks.
Even before Covid-19, maintaining the health and safety of the children in their care could be a monumental task. The pandemic has added to the challenge. As the study above suggests, masking up by children and staff is one way to confront that challenge.
About Author
Sandra Chiu works as Director at LadyBug & Friends Daycare and Preschool.