Writing quality content can help drive traffic to your website, but there's one problem: most business owners and marketers don't know how to get that content written in the first place!
Thankfully, there are some simple steps you can take to make sure your content marketing plan stays on track so you can use it to drive visitors back to your site and keep them coming back for more. Learn how to create your own effective content marketing plan here!
What Is a Content Marketing Plan?
A content marketing plan is a strategy that businesses use to create, manage, and publish content with the goal of attracting and retaining customers. It can also be referred to as an inbound marketing plan.
To establish your content marketing plan, there are a few things you should do. However, expert marketers advise starting by identifying who your target audience is and what they want from you.
For example, if you are targeting young mothers interested in keeping their children safe from animal bites, then you would need to publish blog posts about pet safety tips for kids or cute pictures of pets interacting with babies.
Next, identify how often you will post on social media channels like Facebook or Twitter (weekly? daily?) and how often you will write blog posts (monthly? weekly?). Be sure not to spam your followers with too many posts because this will lead them to unfollow or block you from their feed if they are getting annoyed by seeing too many updates from you!
We'll delve deep into these steps below.
Why Do You Need a Content Marketing Plan?
Without a content marketing plan, all your efforts are made without directions. And if you have ever been in these situations before, all the more that you need a content marketing plan:
 

You have nothing else to post.

 

You are active on different channels and platforms, but you don't know what type of content to post.

 

You aren't sure about what topics or posts your audience likes.

 

You haven't posted for ages.

 

You don't know what content to post.
Basically, a content marketing plan serves as your guide to ensure you don't fall into such situations again. Also, if you have a plan in place, you can ensure that your marketing efforts are aimed at meeting certain goals.
Now, it is worth noting that content marketing isn't just a job for marketers. It is an effort that involves different departments. For instance, sales departments can benefit from case studies and product specifications to provide information and nurture their leads. Marketing teams, on the other hand, can create newsletters to reward loyal customers.
As you can see, the size of the business doesn't really matter. There will come a time that you will need content to market your products and services. And if you have a solid content marketing plan, everyone in your department is on the same page. You won't have to create content to be posted on social media right then and there. You already have content prepared ahead, leaving you more time to focus on what matters.
10 Steps to Create a Solid Content Marketing Plan
A content marketing plan is essential to the success of your marketing efforts, as it will help you create quality content that draws in customers and keeps them coming back to your site. Here are the steps you need to take in order to make your own successful content marketing plan:
1. Set Your Goals
When you start to create a content marketing plan, you need to know your goals. What are you trying to achieve with your content? Do you want to boost brand awareness, drive organic traffic to your website, or get more leads? Once you know your goals, you can proceed with creating a plan that will help you achieve them.
For example, if you're looking to build your email list, then the plan might include an email sign-up form on every page of your site and ask visitors to subscribe when they visit each post. If you're looking for website traffic, then a good strategy is to create long-form posts with lots of helpful information. You could also use different types of media like video and podcasts for this goal as well. Finally, if you're looking for lead generation then it would be best to include forms on each page and make sure that each post includes contact information for readers who may be interested in learning more about your company's products or services.
2. Choose Your Target Audience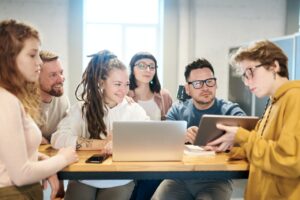 After setting your goals, the next step should be to research your audience. Who are they? What do they like? What do they need? Answering these questions will help you determine what kind of content to create and how to best reach your target market.
But sometimes, your target audience already matches your social media or buyer personas. And if you plan to target different audiences like most businesses, you may need to mix various types of content to match each one.
3. Run an Audit of Your Content
Next, how do you know where to begin? A thorough content edit can help you with this.
To begin your content audit, you may need to go over your existing content and list them in one document. The aim is to get enough data to give you an idea of what you will be publishing.
For instance, when you are on the computer niche and run a content audit on your blog posts, you will be surprised to find content pieces you didn't know were written and published but are beneficial for your audience, such as one about how to fix display on Windows 10.
Basically, when you audit your content, consider the following:
 

What topics have you posted about?

 

What types of content have you published?

 

What channels did you use for posting?

 

How are your posts performing?
Document everything, and from there, analyze trends and data. You should know which channels and types of content work better.
4. Identify the Best Channels
Ideally, you want to start on channels where you already have a presence. In the previous step, you have probably identified these channels. However, you can also check other trends on channels that work best for your preferred content type.
To support your data, you can use your site's analytics to check where your visitors are coming from. Are visitors getting to your product page through a social media post or a newsletter? Or do more of them find you via organic search? Knowing where your visitors are coming from allows you to focus your efforts on such channels.
5. Choose What Content Types to Create and Use
Based on your audit, you also know that not all content types perform well. While others get more engagement on some channels, others don't and can be quite pricier to create.
So, what content type should you create? Well, there are many different types of content you can create. The most popular ones are as follows:
 

Blog Posts

– These can be short or lengthy, informative posts. They can be created with an aim to promote a product or service, but they can also be a way to educate your readers.

 

Videos

– These types of content are very popular nowadays. People are getting more visual, and they love to watch more videos than reading long blocks of text.

 

Infographics

– Infographics are photos that give information about a certain topic, product, or service. This content type is popular today for search engine optimization.

 

Podcasts

– Like videos, these types of content are getting more engagement today because people only listen to them to get the information they need. There's no need to go through lengthy posts!
6. Set a Budget and Identify the Tools to Use
Every plan comes with a budget, and this is also applicable to a content marketing plan. And aside from your budget, you need to identify the tools you will be using and assign people to do certain tasks.
In this step, you need to identify the following:
 

What is your budget?

 

Who will create your content?

 

What content management system will you use to plan, store, and post your content?

 

Who will oversee content production?

 

Who will analyze the results and data from the tools?
The following is a list of helpful tools for creating an effective content marketing plan:
 

Brandwatch

– It helps you analyze online conversions and gain a better understanding of your audience's interests.

 

Sendible

– It is a popular social media management and scheduling tool that features a powerful calendar, which makes content planning easy as pie.

 

ContentCal

–  It is a content planning tool that makes it easier for teams to collaborate for custom approvals. As a mapping software, users can easily visualize their content and understand where they currently stand in project completion.

 

Monday

– It is a project management tool that can be customized to whatever the team needs, such as a Kanban, calendar, or other features.

 

Content Snare

– It is a content planning tool that allows you to organize your campaigns in one place.
7. Draft a Content Calendar
A content calendar is an integral part of your content marketing plan. The aim is to have a plan of what content types you are going to post.
With a content calendar, you can plan and track the topics and content you will post. You can also check how your content is being distributed and analyze its performance later on.
If you do a quick online search, you can find a multitude of content calendar templates out there. You can also create a custom one depending on the data you want to track and monitor.
8. Start Creating Content
At this point, you probably already know what types of content you are going to create and what channels you will be using. So, it's time to create the actual content that you will be using.
Here are a few contents writing tips to get you started:
 

Participate in discussions.

Hang around in forums and get a feel for what types of questions people ask. This will give you a clear idea of what to write about. Note crucial details such as the topic, the question asked, keywords used, and how many users have the same question, comments, and shares.

 

Know what users need. T

he secret to creating amazing content is to have a topic that revolves around the customer's problem. And for this, you can check your site's analytics for what search queries are being used by users. From there, you can easily put up a topic that focuses on user needs.

 

Put yourself in your customer's shoes.

When writing your content, imagine speaking to your customer personally. If possible, put yourself into their shoes, so you know what they truly want.

 

Check your competitors.

Yes, it doesn't hurt to check on what your competitors are doing. Identify the content types they are posting and create something similar – but make sure you do a lot better.
9. Publish Your Content and Promote
Assuming you already have a content calendar set up and created. In this step, you will publish the content you previously created according to your content calendar.
To make it easier for you to post and publish your content, use publishing tools available online. These tools allow you to post on multiple platforms without having to visit each one of them.
But remember, do not be afraid to repurpose your content. If you find a piece of content to be working without paid ads or other promotions, feel free to repurpose it and share it on other channels.
10. Analyze the Results
Lastly, analyze your content marketing strategy. Without this data, you won't know whether or not you are on the right track or if you are hitting your goals.
To track your results, you may need different tools. For newsletters or website traffic, you can use Google Analytics. For social media, on the other hand, consider using social media analytics tools.
Achieve Your Marketing Goals with a Content Marketing Plan!
Now that we have laid up the steps to creating a content marketing plan, it's time to start working on one right now.  Don't be afraid to think out of the box and experiment, though. Remember that trends come and go, and what works now may no longer work tomorrow. As long as you have a solid plan, then you should be on the right track.