If the year 2020 has taught us anything, it's that health should be our number one priority. In addition to the many normative changes of last year, the way we keep track of our fitness routine has changed, too. With more people staying home without access to gyms, the fitness landscape has transformed intensely. With lockdowns restrictions and fluctuations in COVID cases, keeping fit and healthy, both mentally and physically, has never been more of a paramount concern than as the pandemic rages on.
We're halfway through the year and if you haven't started working on yourself, then it's high time that you do. People had begun transforming their living rooms and bedrooms into an At-home gym back in 2020. Because let's be honest, they are tired of going to the gym when the government lifts restrictions only to find out that gyms are getting closed again. Hence, a recent survey shows that the increase in sales of dumbbells has increased since 2the 020 lockdown by 1,980 per cent compared to March and April in 2019.
With relaxation centers and gyms finally open, many people are now left pondering when (if at all) they should head back to the gym. And if they do, will they be wholly safe, or how will they take the lessons they've learned over the last year back into the studio. And for that, We've rounded up the exercises and fitness trends that anyone can look forward to sweating, burning ,and smiling, ton heir way through to make sure the mind and body are in top-notch condition.
What are the ways to keep your health in check at home?
Eye Yoga
While Netflix and Zoom have massively been our friend during lthe ockdown. It's also resulted in people spending far too much time glued to their mobile, laptop ,and TV screens. Central Vision Opticians, in a recent survey ,has found that symptoms of eyestrain, headaches, loss of focus, irritated and dry eyes ,and neck and shoulder pain are all symptoms that have largely increased since the start of COVID-19 and lockdown. To avoid all sorts of eye-related problems make sure you take frequent breaks from your computer screen and that you have good lighting or sit near a window for natural light, all of these will surely make a huge difference to your eye health, advice Daniel Hardiman-McCartney FCOptom, Clinical Adviser for The College of Optometrists. Another way to take care of your eyes is, Eye Yoga! You can do eye yoga by keeping your head still and then you look up as far as you can, one, two, three, go back to the middle, then down, one, two, three, then back to the middle. You should do three lots of that, then go to the left and the right. Now you've got a cross, upwards and downwards, and sideways, now you do the diagonals and there you go! There are a lot of online gyms too that offers one-to-one online workouts so you do it accurately.
Quick HIIT Workouts
With working schedules and attention spans ever more stretched, no wonder people are more into micro-HIIT workouts, short bursts of high-intensity interval training that can range anything from 2 minutes to 30 minutes. Pamela Peeke, an assistant professor of medicine at the University of Maryland and Heath Advisor at Equinox, said: "The healthy stress that the body undergoes during HIIT triggers autophagy, which makes your body lose cellular debris and stimulates the production of stem cells, the primary regenerative cells in the body. The more stem cells you have, the better you are able to induce super autophagy; it's a cycle".
Pilates and Yoga
The biggest pro of lockdown is, that many of us have slowed down our movements and mind as we spent more time isolated with our immediate bubbles. Intense gym classes and nights at the pub on a Saturday morning were replaced by evenings with a home-cooked meal and stretching muscles atop the kitchen island. So, it's no surprise that there was an influx in an at-home low-intensity workout such as yoga and Pilates. Especially with more people becoming conscious of the need to look after their mental and physical wellbeing in check, stay mindful of their alignment and posture as many continue to work from home.
Fitness Tech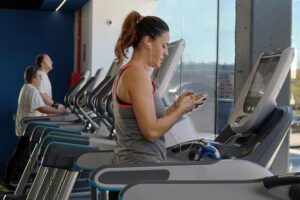 Whether you use your fitness tech to track your steps and heart rate or how many kilocalories you've burnt and flights of stairs you've climbed, fitness watches and other fitness tech was never been so popular before 2020. When it comes to wearable tech, the first thing that pops in our mind is 'fitness tracking' watches and you can be sure people will be all ready to grab the latest launches as soon as they could. The newest updates on wearable tech now let users measure oxygen saturation levels, while a lot of them have water resistance up to 50 meters which is sure to help swimming and fitness enthusiasts. Investing in good-quality wearable tech is yet another way to keep track of your calories and fitness.
Author Bio:
Catriona Jasica
Catriona loves to analyze things and write about them. She just loves reading books, traveling, and movies which is basically her ultimate inspiration for writing different kinds of blogs. She finds all these things very interesting and is always eager to share her views with other people. You can find her other blogs at TopVouchersCode.co.uk.