Having a high visibility jacket on hand while working outside is essential for your safety and the protection of others. Colour, material, and design all have a role in determining the visibility of a high-visibility jacket. Drivers and pedestrians will notice a reflective jacket since it is bright and has reflective tape or material on the outside. People in multiple occupations can use the benefits of these jackets. With its hooded shape for comfort and warmth, the most excellent high visibility jacket can act as your wind or raincoat.
Benefits of High-Visibility Jackets: Everything You Need to Know
Enhanced visibility
Better visibility is the most obvious benefit of wearing hi vis jackets. People who work in high-traffic areas will benefit because every motorist will see them as they approach. The bright colors and shiny embellishments on each piece of clothing make it easier for workers to be seen from a distance. But you can use it to keep track of people in a large area because you can identify their vest even if you are not nearby. Employees are more conscious of their surroundings and their co-workers because of wearing these high-visibility jackets.
Easily Recognized
Hi-vis jackets are rarely seen on people in their free time. Because of this, they are taken very seriously by those in the workforce. Workers can quickly tell who is doing the work when they wear a safety vest, which acts as a badge. Wearing hi-vis jackets helps visitors find the right person for their needs. Vests can be equipped with name tags or labels which make it easier for people to identify someone from any section and identify what purpose they serve.
Encourages a Safe Mentality
It's essential to install a safety attitude among your employees and adhere to established procedures to minimize the risk of an accident. For the safety of many people's minds, it is a common goal for many buildings. Forgetful habits and routines can be established with the help of silent reminders. Having everyone in the office wear hi-vis jackets is integral to keeping things safe at work. This serves as a warning sign that there may be hazardous situations around. Therefore, everyone should exercise additional caution when going about their work.
Comfortable
The working situations that necessitate the usage of hi vis jackets typically entail additional concerns. Office workers rarely access the comfortable, climate-controlled spaces they prefer. On the other hand, employees may be exposed to the elements and suffer from hypothermia or hyperthermia. It can be worn over just about any outerwear a worker might wear to stay warm. It's also an excellent solution for keeping the employee dry, as it's completely waterproof. However, merely slathering a person in a lot of heat in the summer is not sufficient.
Boosts Brand
The name and ID badge of the squad, as well as your company's logo and branding, can all be included in the design of your hi-vis jackets. One of the best ways to expand your business is to have a strong brand identity. Therefore, these safety clothing goods are a great way to get your company's name out there.
Who Need The Hi-Vis Jackets?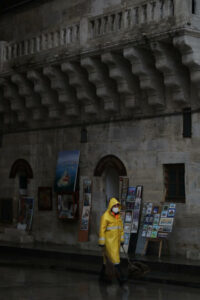 Here are the common professions where people need to wear hi-vis jackets.
 

Factory workers

 

Transportation worker

 

Construction workers

 

Warehouse workers

 

Tow truck workers

 

Road maintenance crews

 

First responders

 

Accident site inspector

 

Railway workers
Conclusion:
Ultimately, all construction workers should wear hi vis jackets to ensure their safety. Regarding workplace safety, high-visibility jackets could be a crucial component. The high-visibility jackets are helpful for many jobs, including construction, road maintenance, railroad work, site inspection, and work in a warehouse or factory.