France brought in €585.6 billion in products in 2021, an increase of 18.8% over the previous year, with €63.7 billion coming from China (+12.8%). Additionally, imports from ASEAN (Association of Southeast Asian Nations) rose by 9.4% to €18 billion in the same period (source).
Despite their expanding requirements, however, French businesses must deal with a pricey and time-consuming reality behind these numbers. Importers and exporters are both confronted with an outdated industry at each stage because they are required to use a different supplier at each stage of the procedure, and the industry is dominated by titans whose concerns appear to be more focused on maximizing their profits than their customers' experiences.
In this situation, the DocShipper Group violates both operational AND digital industry rules. The idea is to provide a distinctive, tailored service that combines distribution, global logistics, and purchasing.
Additionally, everything is much easier because the crew is French, from information collection to the first sale, such as organizing and negotiating.
The co-founder, Nicolas Rahmé: " We made the decision to jump-start the sector and increase the bar! Because a few players now dominate the market and create both the rain and the nice weather… Due to their exclusivity, they have completely neglected the needs of their clients."
The story behind DocShipper
DocShipper is an international transport and logistics firm that helps its customers with all aspects of commodities procurement, transportation, and storage.
Developed in 2019, Docshipper has its headquarters in Hong Kong, and the first offices, opened in Tunisia's capital city of Tunis in October 2020, are there. A French leader in the industry, DocShipper today conducts business in over 40 nations, extending its knowledge to Africa, Asia, Australia, North and South America, and Europe.
The story starts with two brothers, Nicolas and Pierre Rahmé, who made a decision to create a new and ambitious model for the import-export market. They started Siam Shipping, a startup company in the import-export industry.
It starts off as an international freight forwarder in basis in Thailand. However, the idea immediately became effective and spread beyond of this nation's boundaries to include all of ASEAN and China. Docshipper was born as a result of this development!
They set out to redefine supply chains and global logistics for businesses, SMEs, and consumers. By acting as the go-between for the forwarder/mover and the client, DocShipper hopes to become the Airbnb of global logistics.
The group now has great ambitions.  It currently intends to grow into every continent in the globe due to a desire to establish itself in this business.
With one objective: to conquer market share to reach a turnover of 1B USD by 2028.
 What makes DocShipper so unique?
We are quite simply the only (and unique) French-speaking company capable of managing the entire import cycle of your product. 
In fact, DocShipper is the first company that integrates 3 departments to completely manage the supply chain, with operations in Asia, Europe, and Africa in addition to operating globally through a network of agents:
Sourcing to support the supply chain (supplier search, quality control, compliance, etc.);
International logistics to satisfy freight demands (transport, packaging, customs clearance); 
3PL (B2C distribution) to assist E-Commerce businesses with logistics (storage, order preparation, Last-Mile Delivery…).
The company offers customized services for each of its customers (Shipping/Consignment/Customs – Sea/Air/Rail/Road). The flexibility of the company is what gives it an advantage over the competition. 
One of the few companies in the import/export business to accept payments in bitcoin and Ethereum (since 2020)
It is possible that we will have some small transactions. It will be for example the case for an opening of a sourcing account, ordering a sample, paying the sending of a prototype… In this case, the recommended payments for reasons of speed and cost will be a credit card, PayPal or Western Union.
It's time to pay the supplier? Or maybe to perform important quality control?  In any case, starting in early 2020, we allow payments by bank transfer, Bitcoin, and Ethereum. Our accounts are set up in several currencies in Europe, the United States, and Hong Kong.
A 100% digitalized operation
At DocShipper, we don't handle your requests in the same way as our (traditional) colleagues. We look at each case individually and assign a consultant to each project. This expert will guide you through the entire process to ensure that everything runs smoothly.
What's more, with Docshipper's solution, there are no more annoying trips to your supplier. Our 100% digitalized operating mode allows you to make big savings and considerably simplifies the process.
Our customer service is extremely responsive
At DocShipper, we prioritize the consumer, making communication a key component of our approach. We've made getting in touch with us as simple as possible, so it's not difficult. You have a variety of ways to get in contact with us, including WhatsApp, email, online chat, phone, and messenger. You have at last met a partner with whom you can interact in a professional and friendly way.      
Furthermore, do you have a project to realize? An expert will answer you within 24/48 hours to analyze your project and build a customized solution that will be in line with your needs (and especially your budget). Note that the more detailed your request, the faster our experts will get back to you.
So, how does DocShipper help its customers?
With Sourcing services 
Through every step of the buying process, our sourcing department helps you. A specially designed approach that (finally) enables you to stay clear of the numerous frauds that can be found on good websites like Alibaba.com.
To find the provider who will meet your requirements by searching our database. In addition to customary procurement services including wholesaler research, negotiating prices and conditions of payment, production scheduling… But that is not the extent of our intervention! In addition, we provide the following extra services, which can, of course, be arranged separately:
Quality assurance: Do you want to ensure that the items are of a high standard? We check them right there!
Compliance: RoHS, ISO standards, and CE certification…To confirm the compliance of the items, we conduct laboratory testing!
Audit of the business: Are you unsure of the provider you have selected? We deploy a crew to inspect the ones you require on-site (certification, license, production capacity…)
With International logistics
The whole logistics process may be made easier using DocShipper, including collection, packing, storage, international freight (by rail, road, air, or sea), customs clearance, etc. Door-to-door service is what we specialize in! A comprehensive answer that takes into account all of your demands. Don't waste any more time planning your shipping; our professionals will handle everything (and will also help you).
We perform our duties on all types of international transport that exist: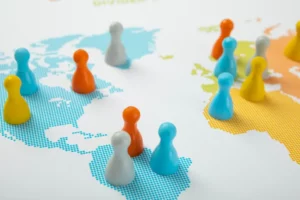 Rail freight
A means of transport in full expansion that represents a happy medium between the competitive price of sea freight and the speed of air freight.
Classic: uses the available space of airlines
Express: uses the capacity of the "courier companies".
Air freight
Classic: uses available airline space
Express: uses the capacity of the "courier companies
Sea freight
LCL (Less than Container Load): cargo grouped with other customers in one single container.
FCL (Full Container Load) : High volume solution
With Third Part Logistics (3PL)
The 3PL division allows us to deliver your products at the end of the cycle through a distribution facility headquartered in Camporosso, Italy. You don't have to waste time placing orders or delivering to customers – we take care of everything for you! You won't have to worry about order management anymore with this exclusive offer for online retailers:
Inventory management: To provide you with a real-time picture of your inventory, we track your items and determine a stock level in our warehouse.
Order preparation: We take care of it (consolidation, packaging…)
Personalization of packages: Do you play the reputation of your brand? What could be better than personalized cakes or flyers for your orders? 
B2C delivery: Your package is finally delivered to the customer's door, with or without a tracking number and with or without delivery confirmation… The choice is yours!
International moving
Our worldwide network of partners and experts is committed to ensuring a safe and smooth move from your old home to your new home. We assist you throughout the entire process from start to finish. Our customers recognize that they have access to a group of experts, wherever they are, wherever they go.