A colorful history, unique culture, and absolutely captivating natural beauty are possibly the best terms to describe the essence of Germany. Being among the largest countries in Europe, Germany offers endless quaint small towns, historic cities, and mesmerizing mountains and forests to choose from. When it comes to vacationing in this incredible country, travelers are truly spoilt for choice. However, these are some of the best and most famous tourist attractions in Germany that every visitor should have on their list:
Brandenburg Gate in Berlin
Being the first Neoclassical structure in Berlin, the iconic sandstone Brandenburg Gate is one of Germany's most famous and impressive landmarks. It measures a staggering 26 meters in height including the Quadriga, a mesmerizing four-horse chariot driving the goddess of victory, adorning the top of this spectacular gate. It's difficult to believe that this incredible structure we see today was badly damaged in WWII, even being part of the Berlin Wall for a couple of decades and serving as a symbol of Berlin's division. Clearly, Brandenburg Gate represents as much history as it does undeniable beauty, which might explain its worldwide popularity.
Cologne Cathedral
The outstanding Cologne Cathedral (Kölner Dom) is situated on the banks of the Rhine and is among the most famous landmarks in the city. This marvelous feat of High Gothic architecture is also one of Europe's largest cathedrals. Dating back to the Middle Ages, it boasts an imposing facade, as well as a magnificent interior. Inside, you will find dozens of towering pillars and a high altar located underneath the Reliquary of the Three Kings, a 12th-century golden artwork designed to represent the relics that were brought there from Milan. Other attractions include the Three Kings Chapel's wonderful stained glass, the Treasury with its endless precious objects, and the beautiful panoramic sights from the South Towers.
Marienplatz in Munich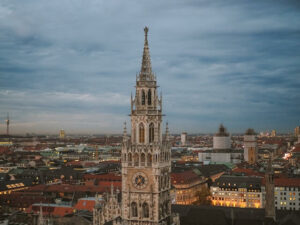 As the third largest city in Germany, Munich (München) has something to offer for every type of traveler. Marienplatz was central to the rise of this city, attracting Bavarian traders to conduct business and locals to shop or watch historic jousting tournaments back in the day. While much has changed throughout the centuries, this large square still attracts tourists eager to shop its charming boutique stores, stop at one of the many trendy restaurants and cafés, or simply marvel at the breathtaking architecture. If you want to explore the beauty of Marienplatz, along with other famous attractions, join a Munich city hop on hop off tour as a more exciting form of sightseeing. This will allow you to see highlights such as Alte Pinakothek, Neue Pinakothek, and Gemäldegalerie as well.
Miniatur Wunderland in Hamburg
The awe-inspiring Miniatur Wunderland is located in the middle of the famous Port of Hamburg. As the largest model railway in the world, it attracts older and younger tourists alike. With over 15 kilometers of model railway track, this impressive attraction includes areas dedicated to England, the USA, and Scandinavia, along with Hamburg. It boasts more than 1,000 trains, over 50,000 microscopic lights, and around 400,000 human figurines, as well as remarkably detailed landscape scenes. Railfans will surely enjoy this unique attraction, but all types of tourists have been known to spend hours appreciating its captivating charm.
Schloss Neuschwanstein in Bavaria
The picturesque historic town of Füssen is a world-famous winter sports center and alpine resort, but also the perfect place for exploring the nearby Neuschwanstein Castle. This spectacular fortress is recognized as being one of the most beautiful and well-known royal castles in Europe. Although this 19th-century fantasy fortress was built by King Ludwig II of Bavaria, it might be more famous for serving as the inspiration for the recognizable theme park castles of Walt Disney. A number of different tour options are provided at Neuschwanstein Castle, including a guided tour of the lavish interiors taking you through the Singers' Hall, the Throne Room, and some truly spectacular sights.
The Black Forest
One of the most frequently visited regions in Europe, the stunning Black Forest simply lures in with its dense and dark wooded hills. Located in the state of Baden-Württemberg, this area extends over 160 kilometers and represents a true paradise for avid hikers. On the western side, the Black Forest is dotted with lush valleys as it descends to the Rhine, while it slopes more to the upper Danube and Neckar valleys on the east. The most attractive spots here include the country's oldest ski area of Todtnau and the brilliant spa resorts of Baden-Baden. But even the Black Forest Railway won't disappoint with its interesting open-air museum and famous falls.
From captivating landscapes to interesting new museums, Germany is a country with plenty to offer. The attractions mentioned above are just some of the most popular spots you simply shouldn't miss when taking a trip around this stunning country.