Europe is abundant with dream destinations for travelers from around the world. Offering thrilling experiences and fantastic places, it's a perfect place to both feel an adrenaline rush and unwind. One amazing region that should never be missed in Europe is the Balkans. Located in Southeast Europe, it includes Albania, Montenegro, Serbia, North Macedonia, Slovenia, Greece, Croatia, Bulgaria, Romania, Bosnia & Herzegovina, and Kosovo. With such a vast region at disposal, there's always something interesting to do and something new to learn.
If you're an adrenaline junkie looking for some great fun in the Balkans, the following adventures must be included on your to-do list!
Cycling & Mountain Biking
To start off on an easier note, try cycling and mountain biking first. Both activities have lately become quite popular in this region that offers amazing vistas and quite challenging hills and mountains. The places that should be included in your itinerary are Tara National Park in Serbia, Pelister National Parks in North Macedonia, the Lovćen in Montenegro, Biokovo Nature Park in Croatia, and Bike Park Kranjska Gora in Slovenia. The best time to enjoy these activities is between March and May, and in September, and October. Due to the peak season, summers can get quite hot and places crowded.
Hiking
If hiking is your passion, the Balkan is the region that won't disappoint. It boasts a versatile terrain that ranges from valleys and hills to majestic mountains. The only downside is that most of the mountains there aren't well-maintained or marked, except in Slovenia. However, with the help of local national park offices and tourists, you can make a good plan of where to hike depending on your fitness and ability level. It's best to hike from May to September, but if you prefer less crowd, late August to early September is highly recommended.
Rafting
When it comes to rafting, Montenegro and Bosnia and Herzegovina are the best places to be, and this is because they both have the Tara River. For any extreme sports enthusiast, Tara is heaven! Rafting on Tara and through its canyon is an unforgettable experience that leaves no soul untouched. The amazing river Tara is the deepest canyon in Europe and the second deepest in the entire world, coming only after the Grand Canyon in Colorado!
If you want to try rafting, Tara River offers the most attractive experience in Europe. The best part is that this place offers the possibility of adaptation since the river levels vary during the year, so your rafting arrangement can be adapted depending on your age and physical ability. This simply means that no one is too old or too young for Tara rafting!
Kayaking
In addition to rafting, kayaking is another must-try adventure activity in the Balkans. And the best place to try it out is the fjord-like Bay of Kotor in Montenegro where you'd enjoy a dramatic ride. However, if you want a more romantic experience, head over to the foot of the Dubrovnik walls at sunset.
As for inland kayaking, the ideal destinations are Zagreb's Jarun Lake in Croatia, Gazivode Lake in Kosovo, the breath-taking Uvac Canyon in Serbia, Canyon Matka in North Macedonia, and Lake Skadar in Montenegro and Albania. 
Sailing
If you can afford it, give sailing a try! Sailing was once considered to be an activity exclusively for the wealthy, but now, things have changed. In the Balkans, particularly in Croatia, you can find very affordable sailing opportunities and great multiple-day organized tours. Certainly, if you insist on a more luxurious sailing experience, go to Porto Montenegro in Tivat, one of the best superyacht marinas in the world where you can rent a boat with a captain or choose to sail alone if have the necessary experience.
Scuba Diving and Snorkeling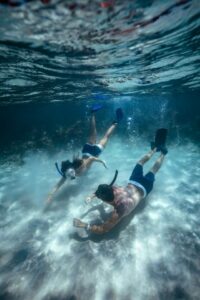 Due to the richness and versatility of its marine life, diving in the Balkans is one of the best adventure activities you can try. Besides amazing reefs, caves, and springs, you'll be able to see wrecks from ancient times to World War planes around which many different species of animals pass such as sea snails, conger eels, sea slugs, octopuses, scorpionfish, rare giant mussel, colorful sponges, and red gorgonian fans.
There are various diving centers on the Croatian coast, and in Montenegro, you'll find great diving centers in Pržno, Budva, and Ulcinj. In Slovenia, you can go scuba diving in Piran, Portorož, Ankaran, or the Kolpa River.
In addition to diving, snorkeling is another option. If diving seems too much for you, snorkeling could be the best adventure activity you can enjoy in the Balkans. It also gives you the opportunity to enjoy the local marine life and it can be done practically anywhere.
Windsurfing & Kitesurfing
For an additional adrenaline kick, going windsurfing and kitesurfing is the best choice you can make. However, these activities aren't for the weak-hearted! It also requires a certain level of stamina and fitness, so if you're up for it, make your way to Viganj on Pelješac Peninsula and Bol on Brač Island in Croatia. For the best kitesurfing experience, head over to Montenegro's Velika Plaža, a 13-km long beach near the town of Ulcinj.
Europe is every travel enthusiast's dream destination, particularly this gorgeous, versatile region called the Balkans.  This geographical and historical gem with all the adventure activities it has to offer, promises an unforgettable experience that will keep you coming back for more!