It is moving day and you are feeling nervous about how to get it all done. The feeling is natural as the process of moving can cause stress. Preparation is key and if you have the proper packaging accessories and a plan for the execution, it can reduce your worry to a great extent. One can always invite some friends over to help you with the packing and moving. Don't forget to treat them with food and drinks at the end of it or you will end up with an air of annoyance around you.
 We have prepared a list of some very important items you need to have with you on moving day.
One can divide moving boxes into three kinds by size. The small, medium and large. Usually, cardboard boxes are preferred. A few heavy-duty boxes will be needed to carry your heaviest stuff. It is better to have a few extra boxes than you assumed to be required. Small boxes can be used for heavier items and larger boxes for lighter items having large volumes like quilts and pillows. Moreover, if you pack too many heavy items in a large box, it will be too inconvenient to carry to the truck and unload it at the new place. Medium-sized boxes can be used for anything of intermediate size. The key is to have boxes of optimum weight and well filled up. Clothes and towels can be used to fill up the empty spaces and yet the weight can be maintained.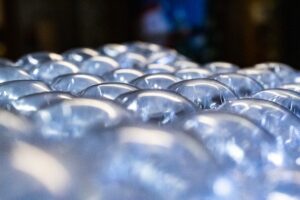 Guess what? Bubble wrap was not invented for you to pop but to help you in moving your belongings safely. It helps you in protecting fragile products such as glass and chinaware. One should always wrap the costly and fragile items in more than one layer of bubble wrap. To get maximum protection, the bubble side should be towards the inside. The wrap having bubbles of larger size should be used for heavier/larger objects like television sets or music systems. 
Heavy-Duty Packaging Tape.
You will need a tape that will seal, have a reinforcing effect on the boxes and increase their integrity. Get a tape specifically made for the purpose of packing heavy boxes and not the usual duct tape. One tends to tape only on the line where the flaps of the boxes meet. In addition to this, tape a few strips around the bottom and sides to enhance the load-carrying capacity of the boxes.
Do not think that packing food should be your last concern. If you are moving cities and have a pantry full of grocery and food items it is imperative to carry the food with you and that needs quality food packaging for two reasons. One is that wasting huge amounts of food is illogical and a wastage of money and two you would not have to put in extra efforts at a new place to search for food. Hence if you are moving to some big city like Sydney look for removalists that provide high-quality, food-grade food packaging in Sydney.
If you don't want the items you packed to smash against each other while you transport them, use packing peanuts to fill in the voids in the boxes. 
Once you have reached your new place, you will want to unpack the essential items first and won't want to waste time as you would have already had a very tiring day. If you have got the manpower sorted, you will next need to ensure that you have the proper apparatus and materials.