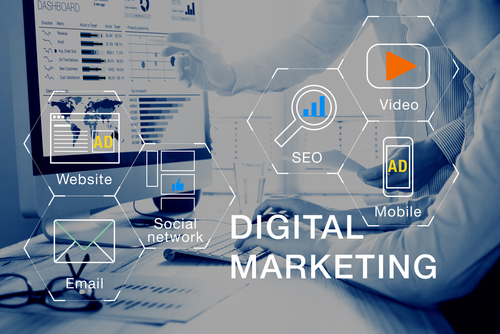 While large companies may have ruled TV ads before the advent of the Internet, startups and small businesses now have a chance to level the playing field through digital marketing. Online advertising is an affordable method for budding entrepreneurs to promote their products and services while providing significant returns on investment.
If you are looking for the best digital marketing agency then there is no hard-and-fast method to select the right digital marketing agency who help you to achieve your marketing goals. The best option would ideally be the agency that understands the kind of digital marketing services your brand and products requires and is in sync with your promotional needs.
These are a few low-cost, high-impact digital marketing solutions that are beneficial for startups:
1. Prioritize Search Engine Optimization
The primary benefit of search engine optimization or SEO is that it brings in more organic traffic to your website. Organic means that these visitors typed in a query clicked on a link to your site because your company showed up in the search engine results without paying for banners or ads. You can all this achieve by assigning your budget to digital marketing company that will take care of everything.
Here are three crucial elements of your SEO campaign:
Content
The information you put on your website is essential for your SEO strategy. You must ensure that each page is optimized with relevant keywords, not just on the body of the post but with the HTML tags and alt tags as well. Your site should provide value to visitors of your site with compelling and relevant content.
Keywords
This is an integral factor in SEO. Your target audience uses these words or phrases when they search for a solution to their problem on Google. By identifying the right string of text and using it on your website, you ensure that potential customers see your link on the top results of that particular query.
Backlinks
This term pertains to links on a post found on another website that directs readers to your site. The practice for this is called link building. It's vital for SEO since having many reputable blogs cite you as one of their references, establishes your authority and credibility over a particular topic; thus, search engines will trust your content and put your domain first for a specific set of keywords.
SEO is a bit technical and, as a startup, you may need to enlist the help of experts such as the team from Sonic IT Solutions Digital Marketers to facilitate the rise of your website's Google ranking. There's no need to worry about the cost since most digital marketing agencies work within your budget to implement strategies that will boost traffic to your site.
2. Boost Social Media Marketing
Social media is a powerful tool that small businesses can use to promote their vision and mission, aside from their products and services. Facebook, Instagram, Twitter, and even Pinterest can help you find people who are most likely to become customers. Cultivating a steady online presence by regularly sharing your content and engaging with your followers can have a positive effect on your website traffic.
3. Create Video Content
Because it makes information easy to present and digest, video has become the favorite medium of today's generation of consumers. Social media and most websites have taken advantage of this fact by having this type of content play automatically as a default setting for their platforms.

Take advantage of this tool by creating well-directed videos with a relevant message. Plus, make sure that you optimize your videos for search by adding video transcripts, as well as incorporating your keywords in the title and description.
4. Remember Email Marketing
Some people think that email is outdated and not effective in promoting your products and services. However, it allows you to personalize the content and promotions you want to send to your customers. With this, you can make subscribers feel that they are valued by carefully curating each newsletter or message.
Some ways to ensure the success of your email marketing campaign include:
Building Your Subscribers List
You can never have too many subscribers. Place a signup feature on your website and make registering a breeze for new visitors.
Crafting Attractive Subject Lines
An irresistible title prevents your newsletter from staying unopened in an inbox. Let readers know what they'll gain when they click on your email but make it concise.
Making It Readable
Increase readability by using short paragraphs and bullet points. This helps readers skim through your content and go back to the lines that piqued their interest.
Placing Clear CTAs
Call to Actions, or CTAs, tell readers what they should do after they've viewed your email. You can guide potential customers to find out more about your product or download a freebie.
Conclusion
Almost all consumers nowadays rely on the Internet to find what they need. It's more challenging as a startup, since you have to establish your credibility and gain customers' trust first before you cement your place in the market. Fortunately, you have digital marketing to help you in growing your business.