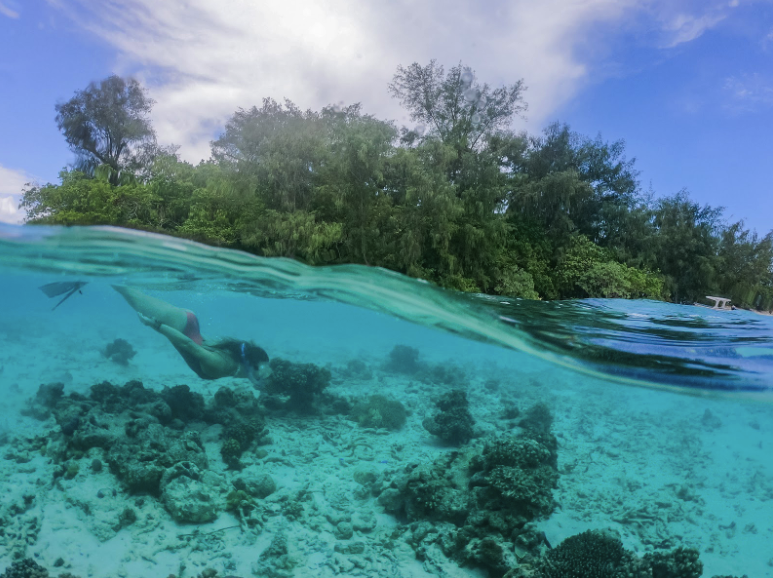 (photo Kimmie Conner – Adventures & Sunsets)
The South Pacific is an area of the world that tends to be a bit more difficult to visit. Most South Pacific Island Nations are very remote, and some lack the infrastructure to support mass tourism just yet.
South Pacific islands are full of tiny makeshift airports along island-dotted coasts. No matter which you choose to visit, you can expect crystal blue waters, lush tropical vegetation, and usually waters teeming with wildlife.
Although it may not be easy to plan, you will not regret planning a trip to visit an island nation in the South Pacific. Comprised of about a dozen island nations with completely varying cultural roots, there are no limits to the experiences that can have in this beautiful part of the world.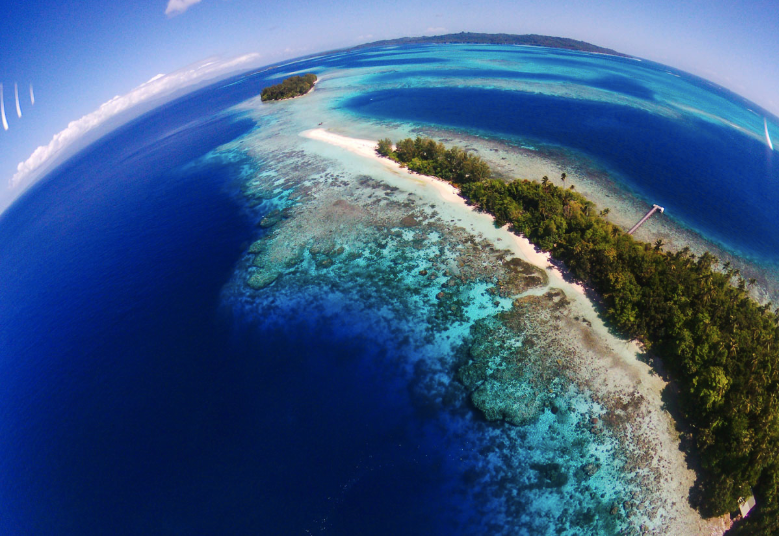 Njari Island, Solomon Islands (photo Kimmie Conner – Adventures & Sunsets)
Solomon Islands
Visiting the Solomon Islands is becoming more and more simple. A nation that recently went through a tumultuous time and once lacked much infrastructure at all, is now opening its arms to more tourism than ever before.
Now with two international airports and dozens of waterside hotels, the Solomon Islands are more accessible than ever. Although some infrastructure is still in the works, this south pacific island nation is a fabulous place to visit to really go off the map a bit and enjoy some time of relaxation.
In the Solomon Islands you will find pristine white sand beaches on over 900 individual islands. This country is home to some of the best scuba diving and snorkeling available in the world, with incredibly diverse sea life and crystal clear waters. Many people travel from far and wide to scuba dive in the Solomon Islands.
This island nation was also home to many very decisive World Wart 2 battles between the USA and Japan. It's possible to explore many WW2 ruins both above and below the sea, and to learn lots of fascinating history about what occurred there. There are museums and War memorials the country throughout, and it's important to learn about what they have gone through as a country.
Once you depart from the country's capital of Honiara, you can find mangrove-laden waterways, world-class waves and surf breaks, and calm and clear beaches. The seafood is absolutely out-of-this-world, and the hospitality is warm and welcoming. Don't be surprised if this is even more of a world class travel destination very soon!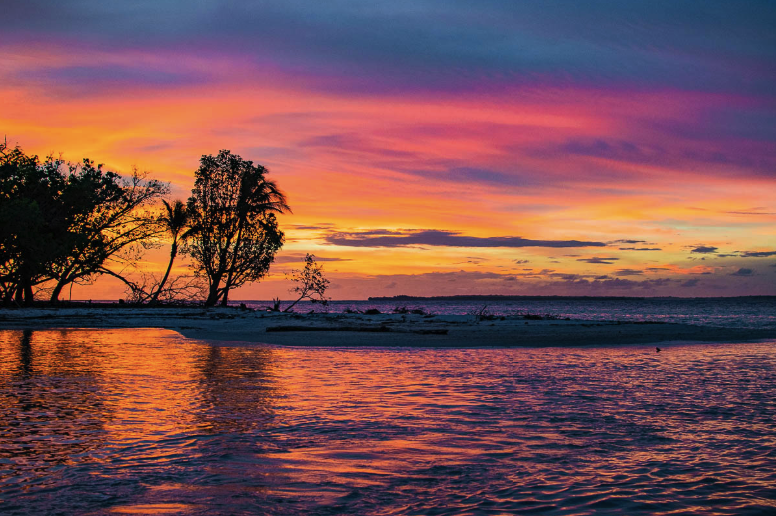 South Pacific Sunset –  (photo Kimmie Conner – Adventures & Sunsets)
Fiji
Perhaps the most classic South Pacific Island destination is Fiji. With by far the most supportive infrastructure for tourism, it's no surprise that Fiji has risen to the top of the list for places to visit in this region. In fact, it receives more visitors each year than the rest of the South Pacific nations, combined! 
But don't let that deter you – there's plenty of Fiji to go around. On and around over 330 islands you can find countless inclusive resorts and spas, plentiful diving, white sand island escapes, and outdoor adventures.
You may find yourself hiking through the jungle to a waterfall one day and snorkeling through jungle-like coral reefs the next – which is just another day in Fiji. The island welcomes backpackers, but also has a massive market for all inclusive resorts perfect for honeymooners. 
No matter the reason you arrive in Fiji, you can be sure you'll be wowed by the culture. Happy locals will welcome you 'home' into their home country, and you can taste delicious local food peppered with fresh seafood and often in some kind of curry. You can catch traditional performances by locals clad with flowers, and learn all about the fascinating history of the area while you're at it. 
Samoa
Next, you can visit an incredible Polynesian paradise in the stunning country of Samoa. This nation is divided into both Samoa (independent) and American Samoa (American), but within both you will find similar Polynesian culture and hospitality alongside the classic South Pacific beauty. For less of a Western influence, however… the obvious choice is to visit Samoa! 
Unlike Fiji, however, Samoa remains relatively untouched by upscale resorts and high-end tour companies. Samoa is the perfect place to get some peace and quiet off the grid, go hiking, have a traditional cultural experience, or taste the fresh catch of seafood. 
Samoa is largely defined by its strong culture, and many accommodation options will have traditional performances (often with fire) at least once a week. There are some important and fascinating aspects of Samoan culture and history you can learn from attending these performances and some local museums too. 
Like most other South Pacific nations, it will be hot! Prepare for possible rain and humidity as you prepare for some of the most beautiful beaches and viewpoints in the world. Make sure to leave room for lots of food, learn about the culture, and enjoy your time in the beautiful South Pacific!