Your garage is an essential space in your home, but it is often used for storage and can quickly become cluttered and disorganized. To make the most of this space, it is vital to maximizing storage and organization, and why not give it a stylish touch? With some planning and effort, you can turn your garage into a functional and organized space that you will be proud to show off and won't cause you stress when you need to look for something or spend time in this area of your home.
Here are some tips for maximizing storage, organizing, and adding style to your garage:
1. Keep your garage as a safe space
Security comes first. Before organizing and remodeling your garage, ensure everything is working correctly. Regularly check and lubricate your garage door's moving parts and ensure it is appropriately balanced. If you notice any problems with your garage door, don't try fixing by yourself only call professionals. According to David J., the founder of  Calgary Garage Door Repair, a poorly maintained garage door can be dangerous, cause accidents, and make it easy for intruders to enter your home.
2. Declutter and sort
Before giving your garage a makeover, you must go through everything and decide which items you want to keep, donate, or dispose of. To make this process easier, use labeled bags and place the objects in them respectively. You will be astonished at the number of objects that are no longer useful or are in poor condition. For the items, you decide to keep, set them aside and sort them into categories that make sense, such as toys, decorations, and tools. For items in good condition that you will no longer use, we recommend having a yard sale or donating them to charity.
3. Make use of vertical space
One of the best ways to maximize storage is to use vertical space. You can do this by installing shelves or racks on the walls and using hanging organizers that can be suspended from the ceiling. This vertical storage type is a great solution for storing items such as bicycles, power tools, and items that take up much floor space.
4. Use clear plastic storage containers
Clear plastic storage containers allow you to keep everything organized and also to be able to see what's inside. This will save you some time when looking for something. These durable containers can be stacked on top of each other, taking up minimal space. We recommend storing items that are not frequently used, such as holiday decorations.
5. Install a pegboard
Sometimes, we don't know where to put small items so that they don't get lost. A pegboard is an excellent option for organizing tools and other small items, as it allows you to see them all at a glance and makes it easy to find what you need. You can also use hooks to hang items such as extension cords, brooms, shovels, or whatever else can be hung.
6. Include sliding shelves
Sliding shelves are a highly efficient use of space and allow you to store more items while keeping them organized. We recommend sliding shelves for storing long-handled tools and other items that would otherwise take up more wall space. Sliding shelves help to keep your garage looking neat and tidy, keeping everything tucked away.
7. Garage corner shelves
In addition to vertical storage, corner shelves offer organization space in places we don't often use. You can buy garage corner shelves or make your own; for this, you would need scrap plywood, corner studs, and 1×1 cleats for support. On these corner shelves, you can place glues, oils, and other small items.
8. Include baskets
Baskets are ideal for organization, and you can find some chic baskets to add style and color to your garage. You can place reusable shopping bags, umbrellas, and other frequently used items that we tend to forget at home. Having them handy when taking the car will remind you to take them. Make sure to place your basket close to the door so you can grab what you need on your way out.
9. Keep your garage floor free from clutter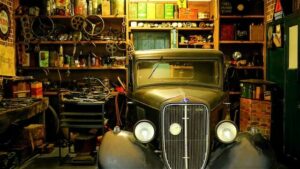 To avoid the prospect of mold and pests, strive to keep as much off your floor as possible. A wall-mounted system can be used to store uncommonly shaped objects like gardening tools along with hooks for sports equipment. For something bigger such as a wheelbarrow, you could use a cleat instead. Lastly, put shoes and boots away in a shoe rack — this not only prevents them from cluttering up the floor but also keeps them out of sight.
10. Install an Attic Lift
With an attic space above your garage, you can almost double the storage options available to you – however, carrying stuff up a ladder is both tiresome and hazardous. Thankfully, with an attic lift system in place, it becomes effortless to make those trips back and forth while also ensuring safety.
Installing a lift in your garage is an effortless process if the structure meets certain requirements and you have access to power – making it simple to store bulky items such as lawnmowers or snow blowers without straining yourself with ladders.
Conclusion
With these 10 organizing tips, you can transform your garage from cluttered and chaotic to neat and organized. All it takes is a bit of planning, some clever storage solutions, and staying consistent with putting things back in their place. Try out these tips today and enjoy the extra space you've created!