Traditionally, performance hunting gear like vests, jackets, gaiters, and hoodies are made of tough materials, built for long-wearing durability, and cut for an impressive range of motion. But what happens when a hunting gear brand makes a foray into the world of fashion and everyday apparel?
Hunting brands have, for decades, printed camo patterns onto below-par clothing, but now they are at the forefront of technical outdoor apparel. Their designers churn out fashionable clothing items designed with practicality and style in mind, often combining functional elements like airflow vents, high-performance fabric, and hidden pockets with stylish details like gorgeous silhouettes.
And now, hunting brands are pushing their flagship items into the mainstream apparel market. Lucky for you, that means you can now choose from a variety of hunting apparel in classic neutrals like tan, gray, and black, go bold with bright colors, or add a bit of stealth to your everyday fashion with a wide selection of camo prints.
However you look at it, the hunting gear department has gone full fashion-forward, and this winter, you can snap up a wide range of camo and hunting-style apparel to help keep you comfortable, warm, and looking dashing during the cold weather. We've done the legwork, and there are the best and most stylish pieces of technical hunting gear to add to your everyday wardrobe.
Sanctuary Clothing Camo Leggings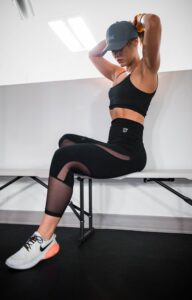 Camo leggings are about as close to perfect as hunting apparel gets. Great on their own, but perfect for layering during winter, camo leggings come in eye-catching colors and offer the perfect blend of chic and martial. As put well by Sanctuary, these leggings are a true testament that comfortable loungewear and camo prints are a match made in heaven.
Hunting-inspired camo leggings can be paired with a staggering number of accessories and other items of clothing, and they are fashion-forward enough that you can boost their classy factor and dorn them as part of a dressy outfit.
Leggings were all over recent fashion shows, red carpet events, and runways, so they are not going out of fashion anytime soon. Colorful leggings were all the rage last year, but camo prints will rule the rooster this year. No matter the color, leggings can command attention on their own, or they can be subtle, allowing your statement pieces to steal the limelight.
Of course, it all comes down to your personality, coordination, and the ultimate outfit. For example, you can create a simple casual outfit by pairing your camo leggings with a white tank. And if you want to class up your outfit with footwear, why not add a pair of white leather heeled sandals to the ensemble.
Team your camo leggings with a dark green parka and a charcoal knit turtleneck for added warmth for the ultimate outdoor look. The chic factor of this approachable and easy-going look can be amped up with a pair of black leather ankle boots.
Under Armour Men's Outdoor Polartec Forge Full-Zip
If you are looking for a versatile, attractive, and ultra-warm fleece jacket by a top-tier hunting brand, this is definitely one to snag this winter. The Under Armour Men's Outdoor Polartec Forge Full-Zip is an excellent piece worn by itself, but it brings out its A-game when it comes to layering. 
This fleece is not only hard-working and incredibly warm but is also crafted from high-quality recycled materials, so it looks good and makes you feel good while wearing it. Some of its biggest selling points include superior breathability, fast-drying fabric, and unmatched water resistance in the world of technical apparel, so you can expect it to last longer than most competitors.
This lightweight, soft fleece with a fantastic fit and roomy full-zip pockets are easy to wear and style. For instance, you can team your favorite pair of chinos with this full-zip fleece – the two pieces go wonderfully together for a casual look. If it is too chilly outside, add layers of warmth with a black hoodie and a puffer jacket, preferably in a screaming color like red. You can get a little more creative on the footwear and opt for a pair of dark brown leather winter boots or multi-colored athletic shoes.
SITKA Gear Gradient Hoody
SITKA has played a significant role in putting high-tech hunting apparel in front of the average joe. In fact, the Montana-born brand has been trying to infiltrate mainstream fashion since 2005, and its gradient hoodie is perhaps the most fashionable item on the line-up. From explorers and fishermen to hunters and even Instagram influencers, just about everyone loves the hoodie.
The Gradient hoodie is part of the brand's waterfowl line, which includes all the gear needed for hunting goose and duck in water pans in the winter. In line with SITKA's tradition of layering warm and moisture-wicking fabrics, this gem is crafted from an outer layer of DWR-treated polyester and an inner layer of lofty Berber fleece.
This hunting-style pullover will not only keep you warmer and toastier than a classic fleece but is also significantly more breathable and weather-resistant. And it's easy to see why – the pullover was initially designed to help to offer fast-drying and impressive moisture control while limiting compression that can compromise insulation.
It has convenient thumbholes, meaning the hoody can easily be layered under a shell or a puffy jacket. The pullover is gorgeously slim, so it works equally well while commuting to work, strolling around town, or camping. If you prefer looser clothing, go for one size up.
Columbia Men's Glennaker Lake Rain Jacket
A comfortable and protective rain jacket is indispensable, whether you're hunting or strolling down the street in winter. You can expect these pieces to stand up to snow and rain even in the harshest weather, whether plain rain, wind, or downpours. The number one feature to look for in a rain jacket besides waterproof capability is to ensure it is lined inside with a moisture-wicking — also consider the fit, look, function, and durability.
Columbia Men's Glennaker Lake Rain Jacket checks all these boxes and then some. It's the go-to jacket for hunting, fishing, and outdoor sports enthusiasts because it is incredibly waterproof and designed to keep you comfortable while protecting your skin.
The rain jacket sports Columbia's signature weather-resistant nylon materials for the ultimate in comfort, wet weather protection, and lightweight. Additionally, it comes with an attached hood to make sure you are completely covered from rain, and it is easy to tuck it away into its own chest pocket, thanks to the rain jacket's packable design.
Conclusion
After printing camo prints onto ordinary clothing for decades, hunting apparel brands and designers have become leaders in developing fashionable yet technical outdoor gear. Thankfully, they have started pushing these pieces into the mainstream fashion market, making their fashion-forward hunting clothes available to the general mass in many different styles, colors, and designs. Whether you're into camo leggings, technical outdoor jackets, winter weather hoodies, ultra-comfortable fleece, or anything in between, these hunting apparel brands have got you covered.