House hunting, finding your new dream home, planning how you will decorate the new space – it's all so exciting and fun. The relocation process to the new house, however, not so much. To begin with, it's a demanding endeavor with a lot of points on the checklist. It can be physically draining due to all the heavy lifting and packing, and we mustn't forget the emotional strain you can experience. Although exciting, moving to a new home entails leaving the old one behind. No matter how much you are looking forward to decorating and a new beginning, leaving the place where you made some memories is never easy. Therefore, it is necessary to make your relocation stress-free so that you can begin the new chapter on a positive note.
This article will help you do that with some actionable tips and tricks.
Embrace the stress
You already know that no matter how many times someone says that there is no need to stress over something, and no matter how well you prepare, some stress is expected. It is a normal response to complex and strenuous situations. So, the best way to get over anxiety is to accept it as a normal part of the relocation process. If you get into the ordeal aware of this, you will go through it much more easily, and it won't set you back.
Consider other aspects of your life when you encountered difficulty and felt stressed out. Remember how you got through that situation. You will realize that all challenges are passing. After all, someone very wise said – everything will be ok in the end; if it's not ok, it's not the end. Moving to a new home is not any different.
Give yourself time
Time – the most valuable asset proves critical when relocating too. The lack of it is the leading cause of stress when moving to a new home. Therefore, don't let yourself be in a pinch. The best way to make your relocation stress-free is to allocate enough time for every moving task. 
Consider how much time you would need to pack your entire household. Evaluate every room independently and figure out how much time each will take. Also, although probably the most time-consuming, packing is not the only task you will have to do. You will need time to research and find a suitable moving crew in New York City to hire. If you are moving locally, at least finding experienced movers won't be hard. You may even want to begin your moving preparations by hiring movers. That way, the help of an NYC-based team to plan everything will be invaluable. You can ask them for advice and approximate timeframes for each aspect of moving. 
Create a checklist
Time and checklists go hand in hand. It will be easier to determine how much time you will need to organize and execute your relocation if you create a thorough moving checklist. Therefore, the moment you find out you will need to move, start thinking about all the tasks you will have to accomplish. 
Here are some of them to help you get going:
Hiring a moving crew

Decluttering 

Purchasing packing supplies

Packing

Canceling subscriptions

Transferring utilities

Cleaning the old home
Once you have everything on paper, you will automatically feel calmer. Plus, there is something immensely satisfying in checking things off as you complete them. 
Deal with the little things first
The term "baby steps" exists for a reason. Babies first start turning, then sitting, crawling, standing, walking wobbly and with help until they can finally stride confidently and run. All those little steps helped them gain that confidence. 
You should do the same when dealing with your relocation. If you tackle all the little things first, you will notice that they seamlessly turn into bigger things. You will get a sense of accomplishment that will provide you with momentum and keep you going until you reach the finish line. 
If you feel stuck and overwhelmed and don't know where to start, just do anything. Whatever it is, even something as minor as placing books from a shelf in a box, it will get you started. No matter how small, progress is progress. And making progress is an excellent way to manage stress. Don't worry about packing your entire household and the extensive list of tasks waiting for you. Stop obsessing over how your entire life will be transferred to a new location. Don't think about how you will begin unpacking. Focus on getting things done, one at a time. 
Ask for help
You will have your moving crew to help with all the logistics, heavy lifting, and even packing if you decide it's too much for you to handle. However, don't shy away from turning to your friends or family for support. Don't be too proud to ask for whatever kind of support you need. Perhaps you will want someone to keep you company while you take care of decluttering. An extra set of hands and an objective pair of eyes will be invaluable to ensure that nothing unnecessary ends up in a new space. Plus, the company will be a great distraction from the overwhelming nature of moving and help make your relocation stress-free.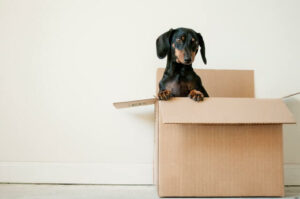 If you need a friend to dog-sit while you pack for relocation, don't be afraid to ask.
Furthermore, if you have kids or pets, you may need help with babysitting on the big day. In this case, make sure to announce what you will need from your friends or family so they can plan their time accordingly. 
Rest, and you will make your relocation stress-free
When you have a full plate, the lack of time and constant worry may cause you to lose sleep or feel like you have little time to rest. No matter how hectic your relocation seems, prioritize rest. The less you rest, the more overwhelming the entire experience will be and the more stressful you will feel. If you let yourself recharge your batteries every night, you will be more efficient, and your stress levels will diminish considerably. The best way to make your relocation stress-free is to take care of yourself. 
Meta: Learn how to make your relocation stress-free so you can start the next chapter of your life on a positive note. Prioritize looking after yourself, and everything else will get in its place.