As businesses prepare strategies and set targets for future growth, they rely on their workforce. But as they expand the operations, they require the employees to make extra efforts, which is challenging. Actually, employee productivity is the most common concern for every employer, so don't consider yourself alone.
Most organizations delegate this task to their human resource managers. However, there is already a list of challenges for an HR manager, so how do they bear one more? Don't worry! We can streamline it for your company. Here we have discussed some best ways you or your HR manager can boost employees' productivity:
Best Ways to Increase Employee Productivity
You or your manager don't need to spend much time improving the staff productivity. You just need to set the right approach. Here are some best ways you can ensure higher employee productivity:
Set an Effective Feedback System
Constantly providing constructive feedback to the workers can let them find their weaknesses and areas of improvement. So they can work on it and improve the quality of results. You should regularly provide feedback to the staff and try to gain theirs also. This way, you can understand their problems and help improve their performance. Here is how to run the feedback cycle:
Clear your expectations with the employees and listen to their answers. This will align them with the company objectives.

Give honest feedback and try to explain every aspect. If any negative thing has to be mentioned, it should be said constructively.

Note down the crucial things and evaluate the changes in productivity at multiple intervals.
Offer Monetary and Non-Monetary Benefits
As we know, money matters for employees and no other way can influence the staff more than the financial advantages. Many employees are money driven, so a salary increment letter can motivate them more than performance appreciation. On the contrary, some employees seek non-monetary benefits from the employer, such as health insurance, flexible work schedule, work-life balance, etc. You should follow these points to run an effective employee benefits program:
You must create a plan before providing any benefit to the staff. If possible, personalize the benefits as per employees' choices.

Make a perfect mix of financial and non-financial benefits to fulfill more workers' needs.

Regularly evaluate the job satisfaction levels at your company, and make changes with time.
Focus on Employee Engagement
More than the financial or non-financial benefits, employees are motivated to work due to personal factors. Employees' productivity is affected by how they interact with each other and the company management. You can ensure qualitative results and higher productivity by focusing on employee engagement. You can increase employee engagement in these ways:
Document the company's core values and mission and ensure that every member is aware of them. Try to inspire and make them involved in work.

Arrange outings and normalize the informal meetings, so the workers and managers can know each other on a personal level.

Create an inclusive work environment and recognize the efforts of staff. Run employee engagement surveys at multiple intervals and evaluate the results.
Optimize the Workplace Environment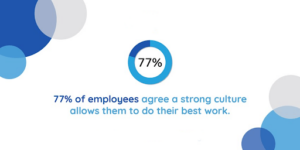 Along with employee engagement, the workplace environment affects employees and their productivity levels. Workplace conditions can have an impact on workers' moods, which ultimately influences work performance. And the organizational culture can also affect productivity as a bad culture can never encourage the staff to put in extra work efforts. The below-listed tips will help you in building an excellent company culture and workplace:
Improve transparency in the workplace and encourage the staff to get involved in every fun activity. It will create trust in workers for the management.

Protect the mental health of your human assets. Encourage their hobbies and arrange casual meetings with them.

Make the physical appearance of the workplace more attractive. Set indoor plants at workers' desks, reduce noise, set comfortable furniture, and emphasize cleanliness.
Equip the Staff with Automation Tools
Technology plays a crucial role in increasing one's work efficiency; it simplifies cumbersome tasks and saves time. Therefore, you must invest in automation to save the considerable time of employees and increase their productivity. With the cloud computing and software integration trends on the rise, your employees and teams can easily collaborate for work in real-time. Here is how you should leverage the technology in the workplace:
Do proper research and choose the right tools for your business needs. Consider scalability, data security, and budget when purchasing.

Utilize communication and time-tracking tools to ensure efficient results on time. Track the projects with tasks management software.

Teach the staff how to get the most out of their tech stack and monitor the progress over time.
Evaluate Employees' Skills and Provide Training
Training should not be part of the onboarding process only; it is a continuous process for development. Therefore, you must evaluate your employees' performance efficiency with time and identify the areas of improvement. By providing them with proper learning resources and guidance, you can ensure higher staff productivity. You will need to explain the importance of self-development to employees and create an effective training program. Moreover, you can do it in these ways:
Identify the skills gaps in the workplace and make the staff aware of them. Create a learning atmosphere at the workplace so employees stay curious to discover new things.

Arrange mentorship programs for the staff so that they can gain practical knowledge from experienced professionals.

Give them some chance to learn skills outside their routine work. Assign them challenging tasks and solve their concerns.
Take a Step Towards Upgrading Your Human Assets
Increasing employee productivity is crucial to finetune business growth. And doing it is not that challenging. You just need to implement the right strategies, measure efficiency, and make the necessary changes.
There is no productivity hack for employees that work for every business; you will need to analyze your company's needs and make plans accordingly. However, these six tried and tested ways are basic requirements to increase staff productivity, so you must prioritize them.