Every person has a vision of an ideal home and how it needs to look in order to suit all of our needs. You might have had that vision when you moved into your house, but you've just never had enough time or money to make it suit your style and needs a bit more. There are many projects you can do in order to boost not only the visual appeal of your home, but also its practicality level, and make it more comfortable for every member of your family. You can go big and really make a difference or use simple but proven tactics to create a dream home in just a few easy steps.
Personalize with paint
This is a cosmetic upgrade, but it can make a significant difference if you know what you want. You can achieve so much with just a coat of paint, and if you know how to paint, you can also save a lot of money you can use for some other projects. Before starting to paint, though, you need to think long and hard about the color palette you want to incorporate into your home and what style you want to achieve in your home. Make sure you think things through carefully – for instance, if you're making bold decisions and choosing hues, make sure you're still going to like them after you've finished painting your home. You can achieve an additional layer of colors with wall art and use it to uplift the design of your interior. Think about the colors you're choosing and try to visualize them just to make sure that they're all working well together – and, of course, take your time with this process, and try not to make hasty decisions!
Furnish it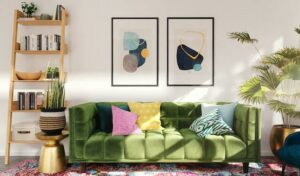 One of the biggest parts of creating a dream home is furnishing it. If your current furniture doesn't fit your style or you simply want to add some modern details, you can make a few changes and completely transform the space. Start with the biggest pieces like sofas, dining tables, TV consoles, and beds, and try to find furniture that's both aesthetically pleasing and comfortable. In addition to that, think about details like coffee tables, nice rugs, and chairs that can help you add more style and some colors to the interior.
Master bedroom and bathroom
Let's be honest – there's no dream home without a master bedroom and a bathroom, and if you don't have this at your home, it's time to do something about it. When it comes to the bedroom, you need to create a serene space that will allow you to rest and sleep. You need to invest in a good bed and create a floor plan that will work for you the most. When speaking about your bathroom, you need to be creative with the space you have. If you're blessed with a huge bathroom, you can add both a bathtub and a shower, and achieve that wellness retreat look. Make sure to have a professional if you want to replace or fix plumbing because you want to prevent different issues from happening, including those problematic blocked drains that are so common in old houses. However, remember not to do anything on your own, but find an expert and you'll be done in no time at all!
Change your lighting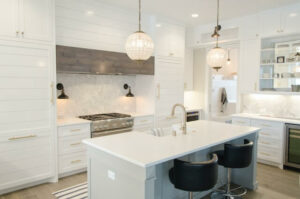 We don't realize how important lighting is in a home until we do some restructuring and make everything brighter. Don't get confused – you don't need to add too much light, but you just need to learn how to explore the right lighting ideas. This way, you'll introduce a huge change and make your home completely different without wasting too much energy and patience. Sometimes, all you need to do is to replace the existing fixtures and just replace the light bulbs. This simple trick can completely change your interior without spending a dime. Also, a nice lamp in your bedroom or living room will provide a soothing atmosphere that could come in handy if you want to watch a movie, read a book, or do something else that doesn't require too much light.
Outdoor space
If you like spending time in the open, you need to think about making the most of your exterior space. Some people have a tiny backyard, while others have more space than they need, but it's not about how much space you have, but what you do with it. Again, it all depends on your needs and wishes – if you're one of those people who love being outside, you should think about building outdoor cooking and dining areas, and then you can have all your meals al fresco style. Also, you can always build a pool, no matter how much space you have, or even a small playing area for your kids. Finally, you can just stick to the simplest solution out there – buy some outdoor furniture, take it outside, and hang out with your family in the open whenever you want to.
The process of turning your house into a dream home won't be easy, but if you check these tips out, you may be able to achieve quite a lot, so start exploring them and putting them into practice today!