Technology has given professionals an unprecedented advantage, allowing them to be more efficient at their work. With relevant technological tools, you can measure and manage time, harmonize your efforts with your objectives, and match your work with that of others.
Thus, knowing that moving on in your career requires you to integrate, adapt, and use technological tools, this article suggests 10 career development tools and apps for professionals. With them, you can store your files more securely, take notes digitally, and do many other things efficiently.
1. Google Drive for Secure Cloud Storage
Every professional works with digital documents. These documents may comprise texts, infographics, photos, account registers, and so on. Whichever the case, these documents serve as important components of a professional career. Therefore, knowing how and where to store them is also important, and that is where cloud storage services come in.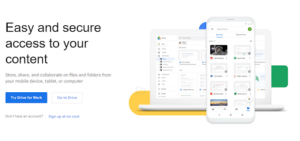 Cloud storage services are different from the traditional methods of digital file storage. These traditional methods, including the use of external hard drives and floppy disks, can be easily misplaced or corrupted. With cloud storage, first, your documents are kept in massive servers and under the supervision of dedicated hosting companies. Second, your access to your files is secure.
Google Drive is the cloud storage option offered by Google. The service is free, but you can subscribe monthly or yearly to use more of the services. For the free tier of Google Drive, you gain access to 15GB of virtual space. With a monthly subscription to the basic plan, you get an extra 100GB of space for $1.99, 200GB for $2.99, and even 2TB (approximately 2000GB) for $9.99.
With Google Drive, you can store all kinds of files, regardless of their extension, and synchronize your access to them across all your devices. Moreover, because Google is the company behind Google Drive, the cloud storage service is secure and generally safe from hackers. So, you can store confidential files on Google Drive without losing sleep over privacy concerns.
2. Evernote for Digital Note-Taking
Note-taking is another important aspect of modern professional life. A note-taking app offers the advantage of letting you record information quickly and efficiently. It is even more essential for such apps to have synchronization options. As a result, you wouldn't have to copy and paste the information from the app to your PC or another smart mobile device.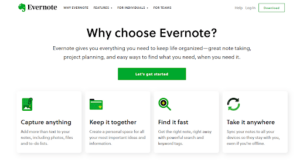 Evernote is a popular choice of note-taking app among professionals. The software is not only limited to typing a handful of texts the way you use sticky notes. Instead, you can record and store text, yes, but also voice notes. You can also use Evernote to capture images, screenshots, web links and clippings, and even YouTube videos.
Evernote also offers the option of account synchronization across multiple devices. Therefore, you can access your account and its content on your smartphone as well as on your PC. Furthermore, the app lets you integrate with email services, collaborate with other Evernote users, and manage your account from a single device.
Compared to alternatives like Google Keep and OneNote, Evernote is costly. You can get a monthly upload allowance of 10GB for $7.99 per month or 20GB for $14.99. But there is also a free version, although its features are nothing like the paid versions.
3. ResumeKit for Resume Templates
The progress of professionals is tied to CVs and resumes. As long as you have to apply for better jobs and engage in interviews with higher-tiered professionals in your field, you will worry about having good resumes. However, the field of human resources (HR) is constantly changing and updating the requirements for what makes a persuasive resume.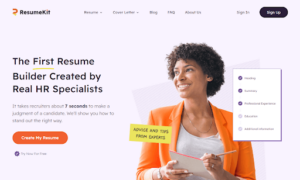 ResumeKit is a reliable resource for professionals interested in learning about the aforementioned changes to resume requirements. From ResumeKit, you can find out which resume sections hiring managers are interested in reading and which sections they only glance through.
The core feature of ResumeKit is the wide range of resume templates. Some of these templates are designed to provide a general guide for information to include in resumes and how to include them. Others are specific to professions and industries.
ResumeKit's resources also include many articles about resumes, job applications, and professional conduct during interviews, to name a few. You can find articles such as what computer skills you need to include in your resume, and more.
4. Todoist for Time and Task Management
Time and task management are other essential concerns for professionals. You want to be able to account for how much time you spend doing anything and organize your tasks in a way that is efficient. That is where Todoist comes in.
Todoist is a tool that is synonymous with the organization. The app is great for organizing and tracking your daily tasks, and you can prioritize them to keep your attention on which of them are important and which are necessary. Todoist also offers features that help you share tasks with other users, thereby facilitating a division-of-labor vibe. And even though the interface will not quicken or smoothen task deliveries, it is simple enough to not constitute an obstacle.
You can also use Todoist along with other online services, including email and browsing (Todoist can run on your web browsers as an extension). Thus, with the added synchronization option, the app can boost how you organize and manage your tasks, and by extension, your work schedules.
5. LinkedIn for Professional Networking, Job Search, and Online Learning
Professional networking is another cardinal factor you must consider if you are serious about your career. The firmer and more extensive your professional network, the greater your opportunities to grow your career to be just as solid (stable and secure) and extensive. You can use LinkedIn to add these characteristics to your career and profession.
LinkedIn is primarily a platform for professional networking. Specifically, it is a social media platform where you can showcase your expertise, experience, and professional advantages, and connect to others on the same career path.
However, LinkedIn is not only a tool for advertising yourself. You can also search for jobs in areas around you. Moreover, the job search index is advanced enough that you can conduct searches using keywords. This makes it search process efficient.
LinkedIn also has an extension known as LinkedIn Learning. This aspect of the platform offers professional courses to willing users. With LinkedIn Learning, you can gain new knowledge or increase what you know about your profession and others, and be certified by experts in these fields.
Ultimately, LinkedIn offers a multi-varied package of boons for professionals. Any of the benefits identified here (networking, job search, online learning) can strengthen your career path and better position you for more recognition, impact, and earnings.
6. Grammarly for Text Reviews and Corrections
Writing is an inescapable component of a professional's life. Even if your career is technical or technological in which case you are closer to numerals than alphabets, you would still need to compile reports and send messages. And what if these reports are tens or even hundreds of pages long? Unless you get professional editors, who would review your reports and make necessary corrections, you will most likely get in trouble for submitting error-ridden reports.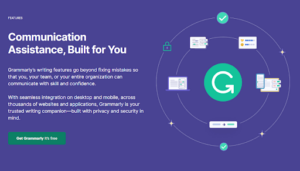 Grammarly is a popular tool to help you and your editors reduce errors that have to do with writing. Whether these are spelling or grammatical errors, Grammarly will identify them and even offer corrective suggestions. Furthermore, it can offer structural suggestions that will make your reports more direct, bouncy, and impactful.
You can use Grammarly with many text editor apps and services. Examples of these apps and services are Google Docs, Microsoft Word, and Gmail. Whenever you use these apps, you can enable Grammarly as an extension and it will continuously review your reports, point out errors, and offer suggestions.
You can use Grammarly without paying anything. However, it has a premium option that costs $30 per month for individuals (or $144 annually) and $15 per month for every member of a team of at least 3 individuals. However, these paid versions are buffed up with more attractive features than you get from the free version.
7. Udemy for Online Learning
Learning is one of the express paths of career advancement. As a professional, the more things you know about your chosen field of interest and operation, the more efficient you can be. This is why professional institutions of learning are viewed with higher regard than traditional schools. But digital learning has taken over the field in recent years.
Udemy is one of the most popular online learning platforms. It covers a wide array of courses across multiple fields of endeavor. Moreover, because of the course variety, you can use only Udemy and pay no mind to its competitors.
Udemy caters to virtually every profession and career, including the natural and physical sciences, engineering, psychology, and others. It also offers courses for more practical everyday endeavors, including carpentry, home design, electrical wiring, photography, and the rest. You will also find courses on health and wellness, religion, innovation, and many others.
There is no set pricing plan for Udemy. So, for a course you like, Udemy may require you to pay from as long as $8 to as high as $300. However, you will get discounts the first time you use the platform. Moreover, every Udemy course offers a certificate that you can feature on your resume.
8. Indeed.com for Job Search and Adaptation
Career development is almost impossible without consideration for job applications. If you intend to reach the peak of your profession, you have to work with various companies and acquire a robust wealth of experience in the process. Indeed.com is one of the tools that can enable this experience-acquisition process.
Unlike LinkedIn where job search is an auxiliary function, Indeed.com is all about connecting interested employers with serious job applicants. The website is always up-to-date with options that you can consider to apply for vacant positions.
Indeed's search index is one of the most advanced in the job-searching industry. It offers options for locational considerations, industry, and skills specifications. In other words, you can search for jobs with your location in mind, specify which industry you are interested in or not interested in, and even include keywords that match your abilities.
9. Timeful for Time and Event Tracking
In addition to Todoist which was earlier highlighted in this article, you can use Timeful to drive your professional life. The app is more geared towards measuring your daily activities and goals than simply identifying them. With Timeful, you can create broad targets that you wish to achieve within a specified period and then build specific objectives that will help you realize the aforementioned targets.
In general, Timeful lets you monitor all your activities in a simple and well-organized log. From this activity log, you can make informed adjustments to your profession in line with your career goals.
10. Infogram for Design Templates and Presentations
Similar to how professionals need Grammarly to check their reports for spelling and grammatical errors, Infogram is great for easily developing infographics. Even if you have no experience with graphic design, you can use Infogram to create engaging reports for presentations in a handful of minutes.
Infogram's design templates are colorful and interactive. The dynamic element, especially, lets you engage clients, peers, superiors, and subordinates with ease. You can easily convert rows and columns of numbers to charts, including clickable legends and links that can simplify your presentations.
Infogram has five pricing plans for basic (free), Pro ($19 monthly), Business ($67 monthly), Team ($149 monthly), and Enterprise (unspecified) interests. The cost implications of these plans correspond with the benefits that Infogram makes available for your use.
Conclusion
Ultimately, each of the tools and applications identified in this article can boost your productivity and make you more resourceful. With them, you can advance your career more measurably and deliberately. Additionally, in the case of mentoring, using these tools will enable you to develop a systematic guideline for career advancement in your field of endeavor.