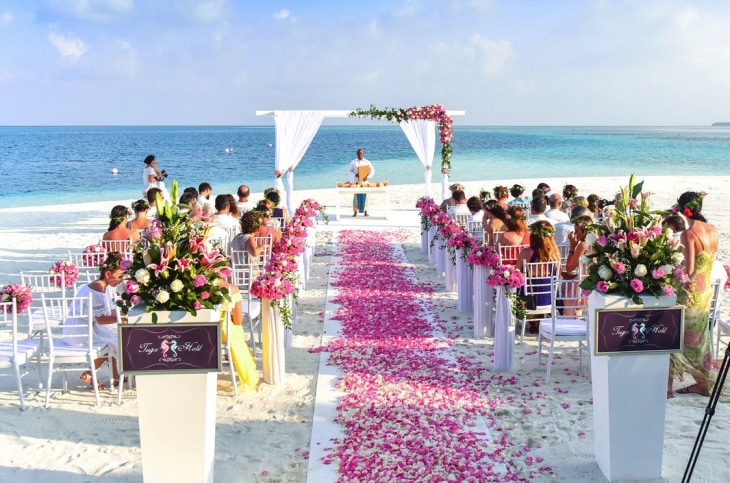 Most of you desire to have something unique in your wedding decoration. Some of you request a florist to make centerpieces with flowers while some of you do it yourself to create extravaganza in everything from venue selection to decoration and furniture setup. Whether you opt for maximum impact or minimum effort, you possibly have a few questions on how to decorate the wedding venue for a stylish ceremony. And answering those questions and working creatively on decoration will help you make your wedding venue shine.
Here are some practical ways for your wedding venue decoration and making your ceremony a stylish one:
Know the venue
Before you start worrying about the arrangement of different things at the venue, you need to enquire about everything. Some of the venue coordinators do everything as per your instructions, or some have special arrangements. Talk to the coordinators and disclose them whatever in your mind. Your queries can be for the access of the venue, time for table setup & decoration, arrival of decorative items, persons assisting you, permission on hanging lights on walls/ceilings, dealings with suppliers, etc.
Select a wedding theme
The decoration is usually based on a theme whatever you choose. Due to the availability of so many options, selecting a theme for your wedding decoration is a difficult task. However, it is you who have to decide what you wish in decoration for your marriage ceremony. Choose whether you want to opt for a romantic route or show a fresh modern look. In the selection of the theme, you may have options like vintage, romantic, whimsical, rustic, modern, garden, bohemian, and traditional. Value your instinct before you finalize a theme.
Drape ceilings and tables with fabrics
Fabric does amazing. Based on the chosen theme, select the right fabric color. You can select a fabric of white or bright color for draping. To make your wedding ceremony more stylish, you can choose the fabric matched with lights.
Show up your engagement photos
Before your wedding ceremony, you had an engagement ceremony, and you would have clicked the moments with the help of a photographer. You can decide the area at your wedding venue for this. Display all the photographs you clicked on engagement chronically. In case of having doubts on how to display engagement photos, you can opt for a slideshow of the same.
Decorate with beverages and foods
There is no ceremony without beverages and food. In the list of beverages, you may have soft drinks, tea/coffee, wine, beer, water, etc. You can personalize your water or wine bottles by sticking labels to them. For the personalization of wine, decorate your wine bottle with custom labels. With this, you can leave a personal message for each of the guests. They will be grateful to you for taking care of their drink choice.
Further, you need to arrange food items and plates. Have a close look at how food items are placed or direct someone for taking care of the arrangement of the same. For creating a festive mood, you can place assorted and huge candy jars on the dessert bar and order for rustic bread, fresh farm cheese, and other organic foods.
Build an escort card display
Instead of using tables, you can create a board at the gate of your wedding venue. Hang cards with guest names and seating directions on the board. With this, your invitees will quickly find the seating place assigned to them. Consequently, there will be no hassle in seating.
Hang flowers and lights
You are mistaken if you think flowers are only for tables. Hanging fragrant flowers over the dining areas of your wedding venue will help you for creating a more intimate space. This work wonders if you don't install carpet on the floor.
Apart from the entrance gate and walls, you should think of ceiling lighting if your wedding venue in an enclosed area. Try to hang matching lights or a combination of lights in different colors.
Place chalkboard signage at the entrance
The entrance is valuable for a wedding venue. You need to be more creative about the decoration of the same. Here you can use chalkboards. For personalization, take an old frame and spray paint over it. The painting must be matched with the rest of your venue decor. At the venue, you can leave customized welcome notes for your guest's arrival.
Conclusion
Decorating the venue for a stylish wedding ceremony is completely creative work. You need to take care of everything from the venue selection to its decoration. The more creative you are, the more stylish and unique your wedding ceremony will be. For creating an impressive look for your wedding venue, you can take professional support from a wedding planner in your city/town.           
Infographic created by Grown Brilliance, a lab diamond engagement rings provider