Gardens are perfect ways to escape technology-driven days and enjoy some tranquility among nature even in the city or on the terrace. They are personal and intimate places that will replenish your energy with their beauty and serenity. But figuring out what your garden exactly needs is challenging so here are garden features that are must-haves.
A welcoming entry
A gate and a fence are more than safety features and you can use them to help you create a welcoming entry to your garden. However, you can be more nature-inclined with these features like using hornbeam hedges for a fence. Create an archway above the gate and decorate it with vines bougainvillea flowers which are drought-resistant and produce purple, red, orange, and yellow blossoms. If you have a chainlink or iron fence then plant Boston ivy or creeping fig to make it lush and lively.  
Spread the lighting
Lights will help you create a comfortable ambiance in your garden in the evening making it a perfect spot to entertain guests or just relax. Use string lights to create a more intimate décor by hanging them from the pergola or on the shrubs. Floor lights are perfect for the seating areas on the decks, as well as stairs leading to the house. If you want to put a shine on the whole garden, consider installing solar lamps for both aesthetics and practicality. 
Cozy seating area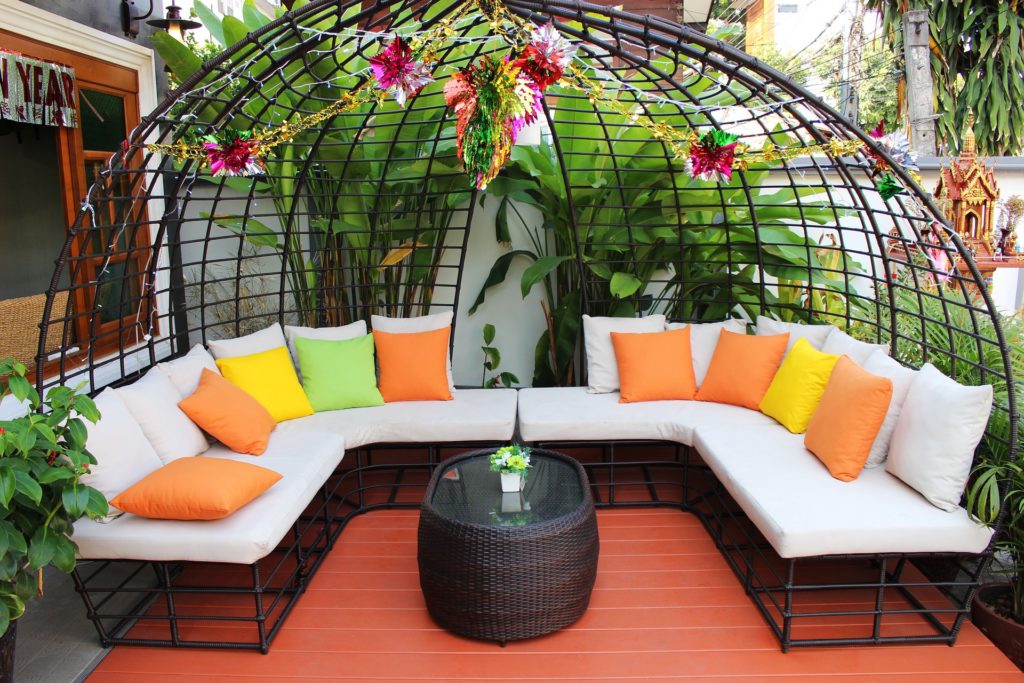 Having a cozy seating area outside has become the norm in exterior design today. There are no rules about what kind of furniture to have, as long as it's comfy and fashionable. Use cushions to soften the look and give additional coziness to the rattan chair and sofas. However, don't forget decorations since they will make the space inviting like a stylish fruit bowl on the coffee table or warm lighting for the evening sittings.
Include a fire pit
A fire pit is a great addition to the patio, seating area, or summer kitchen. However, it can also be a standalone feature in the middle of your lawn surrounded by tree stumps where you can roast marshmallows with your family. The best thing about fire pits is that they are excellent DIY projects, but you can buy them at the store as well. And if you add a grill mesh over it, you can have barbecues in your garden or simply a healthy and tasty lunch. Check out https://www.thelocaltreeexperts.com/wi/eau-claire/ for cutting tree services and more.
Add a winding path
Having a pathway in your garden is an elegant way to show it off since people will feel encouraged to take a walk. However, a winding path is more mysterious and inviting especially if you use boxwood hedges for the borders. Use pebbles or stone tiles to build this pathway to make it more in tune with the surrounding vegetation and landscape.  
Grow herbs and edibles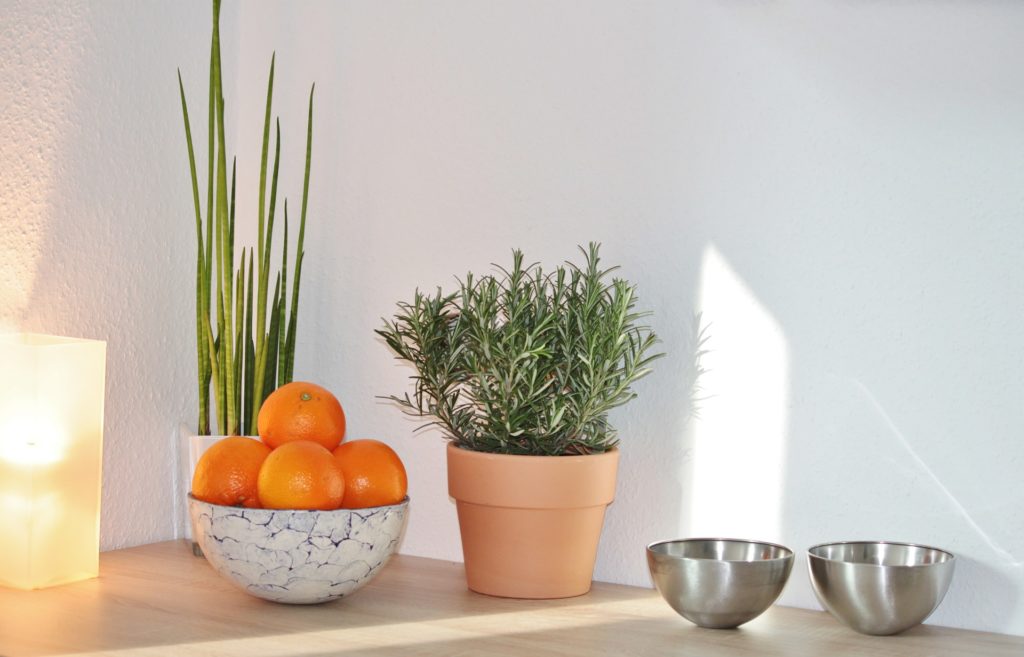 If you like to cook, then growing herbs and edibles should definitely be part of your garden. Fig trees, rosemary, tomatoes, blueberries, and mint are only some of the plants you can grow. You won't have trouble becoming a successful gardener with proper garden equipment. You also need to consider that these plants will need regular watering, although this can be aided by some of the products available in this Water feature store should you need help with this. And besides being wonderful in dishes, these plants spread majestic scents over your outdoor area giving it a soothing vibe.
Embrace the wildflowers
Wildflowers are ideal plants to grow if you want to add colorful and layered flowerbeds to your garden. Chicory and honeysuckle are classic, but you can also try Anne's lace and lady slipper orchids to make your garden special. But there is another reason you should grow wildflowers – they attract natural pollinators like bees and butterflies. So, besides having a gorgeous garden you will also help the environment get better and recover from decades of decline.   
A private nook
While having a large seating area is great, you may want to hide away from the world and enjoy some me-time with a good book or movie. This is where the private nook comes in that will be your haven in the peacefulness of your garden. Place a hanging egg chair in a corner and surround it with tall potted plants and dwarf trees. You can also use the screens with climbing plants like trumpet vine, moonflower, and star jasmine to make it more intimate and full of flowery fragrances.   
Consider a small water feature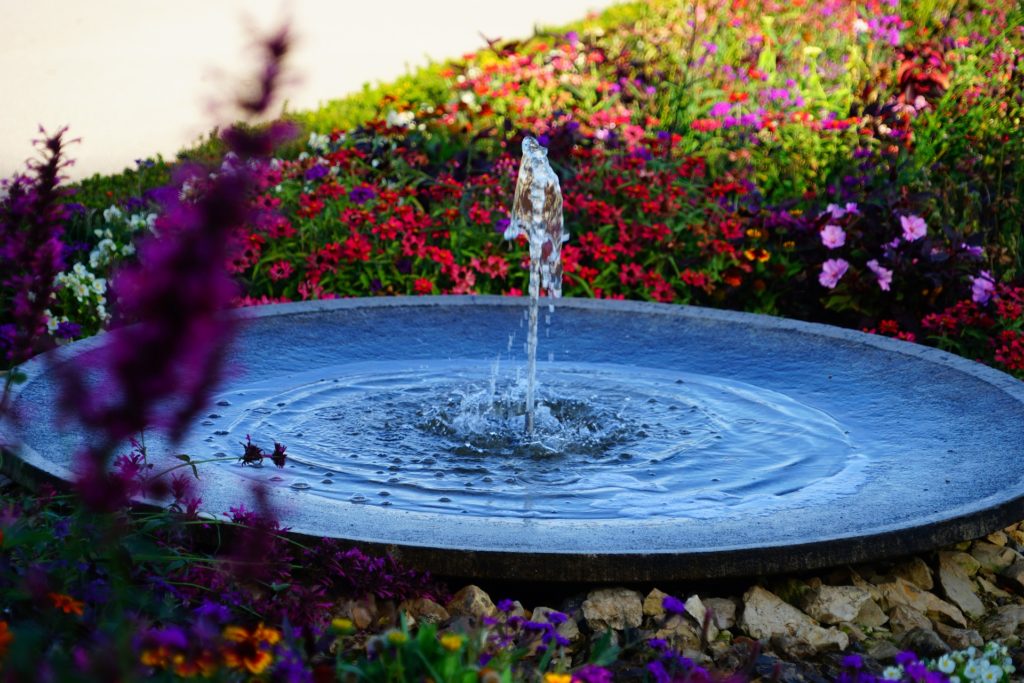 A modest fountain as a centerpiece or a small cascading waterfall among the plants will give the garden a more Zen feel and calming sounds. However, you can also just add a small pond with water lilies and other plants that grow in the water like blue iris and pickerel. Use stones to create the pond edge and add solar lamps so you can enjoy the view in the evenings as well. 
Lastly
Although the size of your outdoor space will determine how to landscape it, these are some garden features that are must-haves. Choose one or more that fit your ideas and give yourself a wonderful spot to enjoy nature, peace, and flowery fragrances.