Are you done with school and planning to organize an exceptional graduation but feel overwhelmed with all the preparations and arrangements for your big day? Don't worry, graduation anxiety is real and an acceptable emotion! Graduation is a significant milestone in everyone's life to marks a beginning of a new chapter. To help you make the most of this special day, we have compiled this detailed guide with some essential tips for students to follow:
How many guests are you expecting?
 Start planning for your graduation day as early as possible to avoid last minute rush. The first move is to determine how many guests you plan to invite to the ceremony.  Some universities have an upper ceiling for the number of guests you can invite. In most cases, the in-school graduation ceremony only caps the guests list to two for each student. However, if you're planning an after-party for your guests, different factors will determine how many guests you will need. So what is the size of the venue? What is your budget? Graduates with a huge venue and a big budget can invite all their friends, close relatives, acquaintances, and coworkers. 
Time and Date
It is equally important to consult with your faculty about your graduation dates. Once the dates are set and announced, you can consider setting a good time for your bash. Announce the time and date of your big celebration through official graduation party invitations 2023 cards. The announcement should be made early enough so that the guests can make the required arrangements. 
Location
By now, you have an estimate of the number of guests to invite. The next decision to make is to secure a venue, which can be ideally a hotel, conference center, hall, in-house, backyard, etc. Depending on the guest number, you can decide on the size of space you need. 
Sending out Graduation Invitations
If you plan to invite family and friends to your graduation ceremony, send the graduation invitations well in advance. You should give your guests ample time to schedule their plans and make travel arrangements. In most situations, sending invitations 6 weeks before the day is enough time for your guests coming from out the town. Local guests can be invited within a month. 
What do you write on graduation invites?
With the graduation invites, you don't need to do voluminous writing. You should just focus on the key details such as the full name of the University, college, or school, the title of the degree, the graduation time, the date, and the location. You can as well send the RSVP date, instructions, and if possible, no gift clarifications. 
Catering and budgets
How will you cater for the graduation party? Are you planning to provide basic refreshments, canapés, and drinks or a more advanced meal for the day? Depending on your preferences, you should set a catering budget and pre-plan whether you need to hire a catering service or hold the graduation in a hotel. 
Etiquette for Graduation parties
Do you have friends and relatives traveling from out of town? If yes, then you should send graduation invitations at least six weeks before D-day. This gives the guests enough time to book travel and accommodations. According to experts, local friends, and family should be invited three to four weeks in advance. The type of invitations to send depends on the type of party you want to throw. Are you planning a formal to-do party? If yes, then you can send formal invitations. If it's a casual party like a backyard barbecue, try sending email graduation invitations. It is equally important to note that the guest of honor may not spend the entire evening at the party. 
Are Thank you Notes Necessary?
It is good to consider sending a graduation thank you note for all the gifts received. You can consider an online graduation invitation maker for this job or a handwritten note. Sending emails and text messages as Thank you notes is inappropriate. According to experts, it's important to send these Thank you invitations as early as possible or within 24-48 hours.  
Tips to ease graduation day Stress
Dress appropriately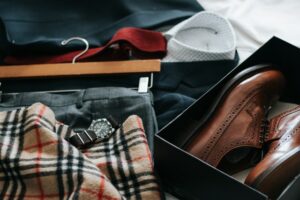 Graduation ceremonies are formal events, so it's important to dress appropriately. Men are advised to wear an official suit and tie. Women on the other side should dress in a formal dress/skirt and blouse. You should also understand that graduations are busy events and you might be standing for some time. Choose comfortable shoes if applicable. 
Gowns and hats
Graduation cannot be complete without gowns and hats. Take your time and make sure you have a fitting gown and hat. If possible, start by fitting and setting the gown early enough. This allows you time to take pre-graduation photos. 
Arrive early
Give yourself plenty of time to arrive at the graduation venue and get settled as early as possible. This helps graduates avoid last-minute mishaps and stress. 
Take plenty of photos
Graduation day is a memorable day, which means you should be prepared for lots of pictures with your friends and family. Capture this special moment from different angles. 
Enjoy the moment
Finally, don't forget to enjoy the moment! It is a significant achievement and you should be proud of yourself. Reflect on these achievements and celebrate along with anyone that supported you along the way. 
FAQs
How do I get prepared for graduation?
There's a lot to do before graduation day. Start by checking your grades, ordering the cap and gown, returning school materials, reserving tickets for graduation, sending out graduation invitations, attending the graduation ceremony early, taking lots of pictures, and don't forget to enjoy every bit of the day. 
How do I organize a post-graduation party?
Inquire about the graduation date and set your graduation party time and date, location, décor, party food, and merely everything else required here. It's advisable to work with a budget, organize music, plan a menu, and choose a matching theme for the day. 
Remember, a graduation is a once-in-a-lifetime event, so make the most of it! These tips come in handy to help you with the planning and preparations.