There are those who dream of buying their first home and settling down in a nice, peaceful neighborhood, and then there are those who dream of taking their home with them on their grand escapades around the country and beyond. Nowadays, this doesn't just have to be a dream, because RVs have become extremely sophisticated and boast all of the essential tech, gadgets, and accessories needed for a comfortable life on the road. Owning an RV is one of the best ways to experience life on the open road, however, full-time RV living is definitely something that requires plenty of planning, preparation, and ongoing upkeep if you are to truly enjoy it.
Aside from the constant need to refuel and stock up on the basic supplies, there are many other important accessories and gadgets you need to have with you at all times.  You will need to reorganize the space to ensure the functionality of your moving home, and you will need to introduce the necessary features that pertain to security and surveillance, entertainment, comfortable outdoor living, and more. Here is a list of things you need to start living in your amazing RV full-time.
Media and entertainment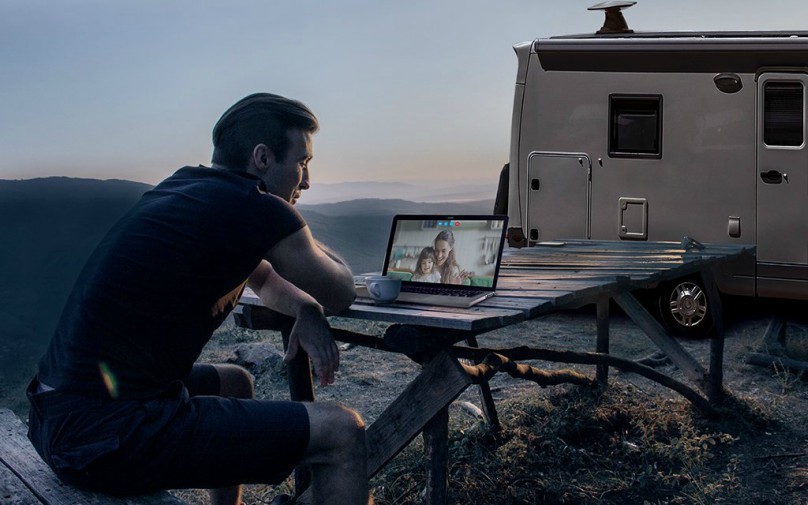 The whole point of living in a modern RV might be to enjoy outdoor living and to adventure across the country, but that doesn't mean that you won't want to simply relax in front of a TV at the end of the day. That's why you have to outfit your mobile home with a contemporary media system that will enhance the viewing and listening experience, and just make you relax as much as possible when you've got nothing to do – or better yet, to enjoy your favorite tunes when you're driving on the open road. After all, who wants to listen to the boring old radio?
With that in mind, be sure to mount a full-HD, Bluetooth TV on the wall so that you can connect it with your Bluetooth surround-sound system. Make sure to create sound zones in the RV, so that you can listen to your favorite music while you're driving, but the rest of the family can enjoy a movie in the living room without interruptions. You should always have your laptops, chargers, Kindle e-readers, and mobile hotspots as well – but we'll cover connectivity later.
Outdoor living accessories and essentials
Of course, you probably bought an RV so that you can enjoy outdoor living and take on many adventures around the country throughout the year, which is why you need to equip your home with all of the accessories that will make outdoor living as enjoyable as possible. That said, living in an RV full-time can be tricky, especially when it comes to storing all of your stuff, so a good idea would be to get a storage unit where you can store all the belongings that you don't plan to use for your next trip.
It's important that you fight the urge to hoard, though, as you want to make RV life as clutter-free and enjoyable as possible. Typically, you're going to store things in a self-storage unit seasonally, so if you're going to spend the summer touring beaches, you don't have to lug your winter gear with you.
A modern surveillance system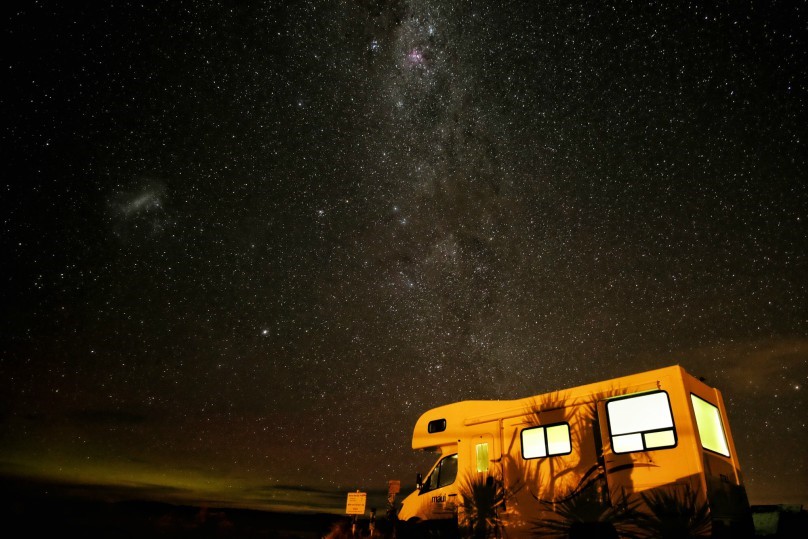 One of the main problems with an RV is that, technically, someone could just jump in and drive it off into the sunset. Now, modern RVs have numerous security systems in place to prevent such scenarios, however, not all RVs come with the necessary surveillance systems that can give you a 360 degree view of your home and deter any possible intruders.
Some of the best options for those of you who want to enhance the security of your mobile home include the Furrion RV vehicle observation system that can give you an all-around view of your motorhome, while at the same time eliminating all blind spots to help you with navigation and parking. This is an essential system that you need to install in your RV, but don't forget to install a stand-alone GPS device and an emergency system that will automatically call the authorities should something go awry on the road.
Building a highly-functional kitchen
The kitchen is, of course, the heart of every home, because we all love a tasty home-cooked meal. It's important that you make your kitchen as functional as possible, especially if you're camping with your significant other, so that you can cook romantic meals in a kitchen that doesn't take up much of your living space. Remember, you don't need those huge cooking sets that include numerous pots and pans, instead, opt for a single large, multi-purpose cast-iron skillet and you're good to go!
Aside from cast-iron cookware, another handy tip would be to get magnetic holders for everything: your spices, your cutlery, your cookware, and everything in between to prevent things from flying about during those harsh turns. Also, collapsible dishes are your best friends because they save up a lot of space, and you can even look for highly-functional appliances such as a foldable toaster if saving space is your primary goal.
Technology and connectivity on the road

When it comes to technology, a modern motorhome should resemble a traditional home in every respect, because there is no reason why you shouldn't enjoy the perks of modern tech while on the road. Firstly, you need a solid internet connection, so be sure to bring in a portable Wi-Fi hotspot. You can enable a hotspot on your phone if you have an unlimited data plan (which you should), or you can plug a USB hotspot into your laptop instead.
Never rely on the free Wi-Fi provided at campgrounds and RV parks, especially if you work remotely, which you probably do. What's more, be sure to get a signal booster so that you can work even when you're camping in the middle of nowhere.
Wrapping up
Living in a motorhome is a great way to travel the country and even go beyond your borders whenever you feel like it. With these essentials at your side, you should have no problem making your RV your home for life.