Comparing a mixologist versus a bartender might seem like an apple to apple comparison. There are many people out there who think that a bartender and a mixologist have the exact same job profile and functions. But, in reality, the truth is something different. 
Therefore, if you're planning to hire a cocktail bartender or a mixologist, we suggest first going through this detailed report in its entirety, so that you can make an informed decision at the end. 
What Do You Mean By A Mixologist?
A mixologist can be defined as a person who simply studies the history of various types of mixed drinks, offers a great appreciation of the techniques & ingredients used while also regularly paving ways for innovative, new mixed drinks. 
What's The Difference Between A Mixologist And A Bartender?
One of the common problems of the modern world is that – people often use the term 'mixologist' interchangeably with the word 'bartender'. However, it should be perceived that both are totally different roles. 
A bartender will naturally work at a cocktail bar making various house specialities including classic cocktails. They interact with incoming customers as well. 
On the other hand, mixologists will occasionally work as a bartender, but most of their job is carried out behind the scenes. They try to make new types of cocktails while also implementing new twists on their favourite, existing ones. 
The Job Of A Mixologist
Ability To Create Cocktail Recipes That Are Original
There's no denying that mixologists always play with different types of drink recipes, which allow them to be creative and thereby create something new. They have a standard set of bar equipment at their disposal and can also use non-traditional tools sometimes. 
Always Stay Updated With The Industry Trends
Most mixologists out there try to keep themselves updated with the changes in trends in the industry along with the innovations taking place around the world. If you plan to hire a mixologist, keep this aspect in mind. 
The Job Of A Bartender
Make Cocktails & House Specialities
A bartender working in a cocktail bar should know how to make some of the standard cocktails out there, along with any house specialities. Compared to a mixologist, a bartender doesn't have to spend time developing new drink ideas.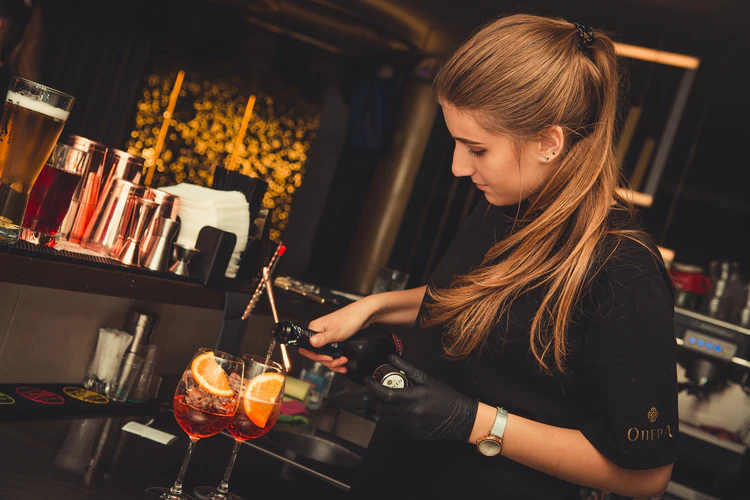 Every bartender should possess the skill of maintaining calmness & efficiency under pressure so that they can maintain their customers and thereby cater to their demands quickly. Bartenders should be able to work inside a crowded bar and offer cocktails to the customers without any delay. 
Which Is The Right Choice For You?
In case you're in doubt or confused when hiring between the two choices, then you need to consider the occasion & venue. 
If the venue & occasion is formal (such as office parties), where the guests will be high-class and there will be two-course or three-course-type meals, then hiring a mixologist makes perfect sense. However, if the tone of your event or party is something casual and less formal (such as weddings), then we suggest hiring a bartender for the same. 
And that brings us to the end of our detailed guide. We hope you liked our easy to understand the comparison between a mixologist & a bartender.