Did you know you can boost your dog's health by giving it CBD? Many studies show how cannabidiol can help in improving the well-being of your furry friend. This natural and potent compound can manage and treat arthritis, cancer, and autoimmune disorders in dogs.
Correct CBD doses are critical because your pet is unable to communicate any discomforts.
The amount of CBD you should give your dog is determined by their condition, weight, size, the potency of the CBD product, among other factors. Take note of your dog's temperament and mood, and adjust the dosage accordingly.
As with human beings, it's best to start with lower doses and gradually work your way up to a higher CBD dosage.
How Do I Administer CBD to My Dogs?
If your dog is a picky eater, administering CBD can be difficult. Fortunately, you have several options.
When choosing between CBD Pet Oil and CBD dog treats, you may be wondering which is the better option.
You can add CBD oil to your dog's food or squeeze it directly into the pet's mouth. You can also apply it to itchy or injured parts.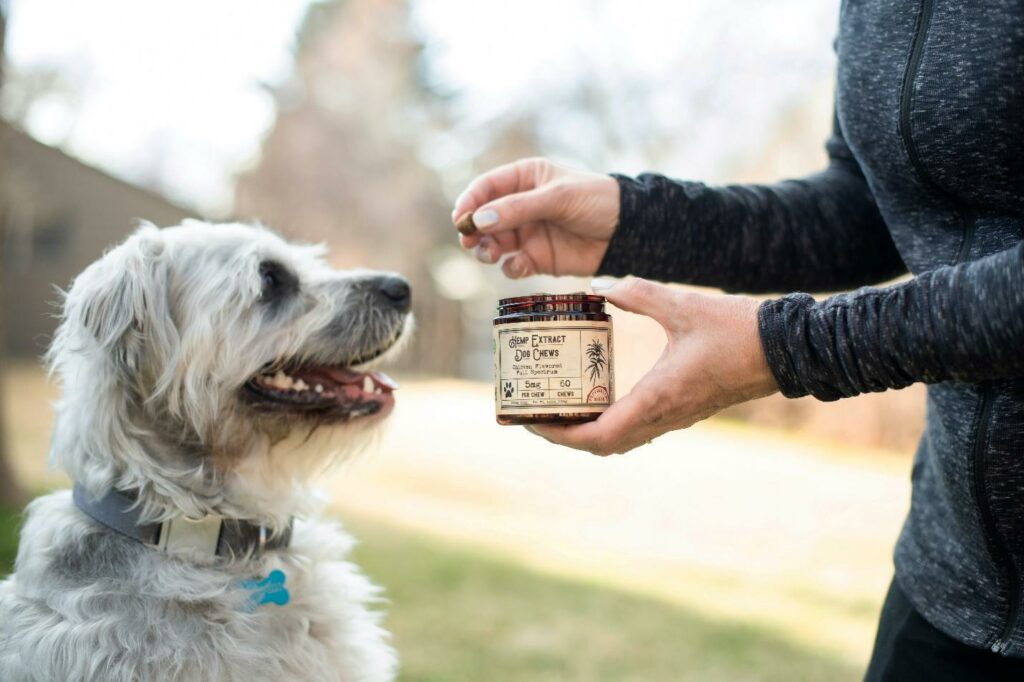 You can give your pet a treat as a reward or crush and mix it into your pet's daily food.
Whatever method you choose, make sure you always read the label of the product and consult the weight and product guides.
Figuring out the ideal dose of CBD for dogs can be challenging for pet owners who are new to using CBD oil.
As discussed earlier, the amount of cannabidiol you should give your furry friend is influenced by five major factors:
1.   Method of Consumption
CBD comes in various forms; however, compared to humans, the options for pets are limited.
CBD for dogs is available in three different forms:
CBD oil
Consumables (dog treats)
Topical products
CBD oil is ideally the best option for dogs since it has a high bioavailability and a long duration of action.
Even so, not every dog will enjoy the earthy flavor of CBD oil. If you have a picky dog, consider incorporating CBD edibles into its diet. CBD edibles typically taste better than CBD oil and provide a fixed CBD dosage in every serving, so they outperform CBD oil in terms of convenience.
However, CBD edibles may take longer to take effect, typically within 30–90 minutes of ingestion. Furthermore, because CBD must be metabolized in your pet's digestive system, it will end up receiving less CBD concentration.
When your dog suffers from various types of physical discomfort, CBD-infused topicals work best for such problems. Because it is applied as needed, this option is the simplest to dose. Topicals are also relatively fast-acting because CBD does not enter the bloodstream; instead, it binds to cannabinoid receptors in your dog's skin.
2.   The Size of Your Pet
The dosage is usually calculated by weight, as with any other health supplement.
In general, smaller puppies will require less CBD to achieve the same results as bigger dogs. Some CBD products include a dosage recommendation on the bottle, making dosing simpler from the start.
The bigger your pet, the more CBD you will need to give them. To make your dog's supplementation more affordable in the long run, you may need to purchase a higher potency option.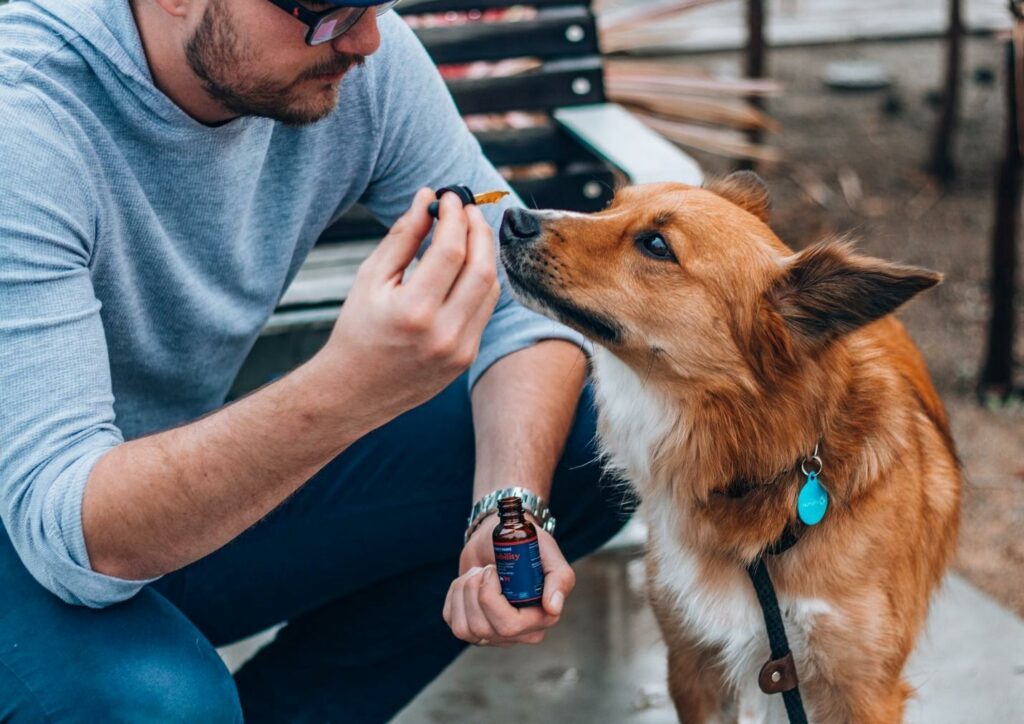 Here's a simple formula for calculating a safe CBD dosage for dogs based on weight:
0.2 mg of CBD per pound | 0.2 mg x 25 lbs = 5mg
1ml = 16.8 mg of CBD | 5 mg/16.8 mg = 0.3ml
3.   The Potency of the CBD Product
The milligrams of CBD contained in each product are referred to as potency. A single CBD serving size for dogs is typically 12mg – 1 ml for CBD oil, so if a bottle contains 30 ml, you will have approximately 30–60 servings per bottle.
If you have a small dog, there are low potency options available. On the other hand, low-potency oils may prove prohibitively expensive in the long run for larger dogs.
If your dog requires more than 1 ml of CBD oil per day, we recommend upgrading to a more potent oil.
4.   The Severity of Your Dog's Condition
CBD has numerous health benefits for your dog, but it is not a miracle cure. The amount of CBD you should give your furry friend will depend on the severity of the symptoms. Smaller doses may be required to manage your dog's symptoms, such as temporary joint pain and mild anxiety. In a more severe condition, pet owners frequently choose high-potency CBD products to determine the most effective dosage. This is particularly true of large dogs.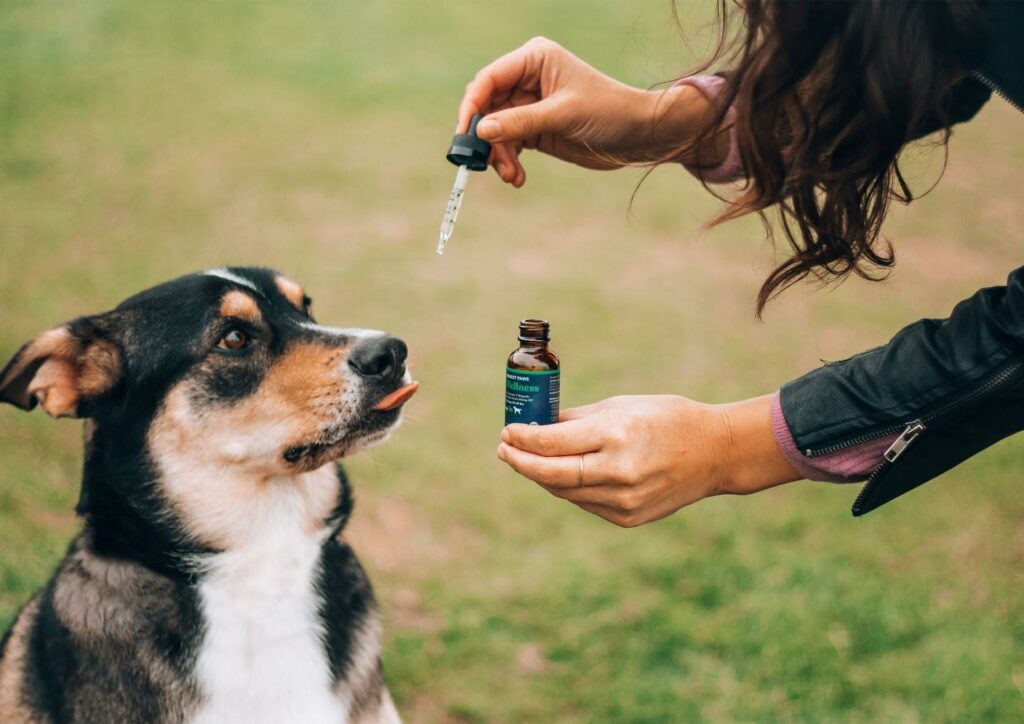 5.   The Dog's Level of Activity
This aspect is also vital because their activity level determines the rate at which CBD is metabolized in your dog's system. When it comes to drug metabolism, we recommend that you consult with your dog's veterinarian to prevent possible interactions between cannabidiol and any medications your dog is currently taking.
Conclusion
You can improve your dog's wellbeing by administering CBD in the appropriate doses. The ideal amount for your dog will depend on the factors mentioned above. You should consider factoring in all the conditions when finding the best CBD dose for your pet.