Have you decided to start link-building efforts for your business? Want to know how social media can help you build links and scale your website traffic? Here in this article, we will introduce pro tips for harnessing social media to scale your link-building efforts. 
Why Use Social Media to Scale Your Link Building Efforts?
In today's digital world, social media has become a crucial component. In 2020, over 3.5 billion individuals were active on a variety of social media platforms. According to statistics, people spend roughly 3 hours each day on social media platforms. Furthermore, 54 percent of social browsers are looking for things to buy. 
Knowing how to harness social media to scale your link-building efforts is critical to achieving immediate and long-term success. So, let's quickly review the pro tips.
Harnessing Social Media to Scale Your Link Building Efforts
Using social media can be very beneficial in scaling your link-building efforts. Here are the pro tips to follow in your link building process:
1. Choose the Right Social Media Platform
The first step is to choose which social media site you want to use to scale your link-building efforts. Choosing all of the social media platforms may not be a good idea because not all of them will work for your niche. Furthermore, administering each social media platform necessitates unique techniques that need time and, of course, money to hire specialists.
But how do you go about making this choice? The answer lies in your target audience's demographics and the social media platforms' level of friendliness. You should think about the platform's users' age, occupation, hobbies, interests, and even their geographic region.
For instance, if you have a serious business that you cannot add any fun to your content, using Instagram to promote your brand may not be a good idea. If you want to choose Instagram as the social media platform that suits your business, you can use a social monitoring tool to automate many tasks. You can do some mass follow and mass unfollow on Instagram to gain more authentic followers. In addition, you can try a 1000 free Instagram followers trial to grow your follower base organically.
2. Establish Your Online Presence
If you want to lead your social media platform to build links for your website, you must first establish your online presence and network. Clear goals can help you develop your online presence.
Potential customers are more likely to look at your social media profiles before visiting your website. So, it is a must to organize a content plan for your social media feed. A social media content plan is one technique to establish an online presence on social media networks.
You can also maintain your account up-to-date by monitoring the newest trends from your industry's influencers as well as your competitors. People prefer to follow accounts that are up to date with current trends. As a result, you can engage your existing audience while also attracting new ones.
Furthermore, you should be aware that leaving unanswered comments and messages undermines your efforts to maintain your online profile. As a result, you should respond as soon as possible to the comments and emails.
Make time and effort to develop your social media handles as well. Make a memorable logo for your company or brand, and take the time to design a one-of-a-kind website. It's all about efficiently portraying your brand in the digital realm. Take it one step at a time and steadily expand your online presence.
3. Create Powerful Content
Create a clear content plan before you begin working on the social media platform that you have chosen. All of your posts on the social media platform you've chosen must follow the content plan and be published on a regular basis. As a result, you should plan and develop all of the content you intend to share a week or a month ahead of time. So, you won't miss a day of posting, and your audience will always see you on their feed.
Your material must be unique, innovative, and interactive if you want to engage your audience. Keep in mind that we're talking about both visual and textual material when we talk about content. So, depending on the social media platform you choose, both of them may need to be created.
However, how can you create engaging content? You can quickly determine which types of posts your audience has interacted with the most by looking at the demographics of your audience and the analytics of your account. Then, using the information, you can fine-tune your content strategy for future weeks.
Your content reflects your brand's personality. It must be eye-catching, relevant to your target audience, and useful. Your engaging social media content strategy should cover a wide range of topics. Informative posts, funny posts, promotional posts, inspirational posts, tutorial infographics, reposts, and retweets, for example, should all be included. This is how you may use the content you upload to engage your audience.
4. Build a Niche
Every company and brand should try to be the absolute authority in one field. However, today's industry is incredibly competitive, and standing out from the crowd might be difficult. It's critical to show your audience your core abilities and niche. They need to know exactly what you do and why you're the greatest at it.
Let your readers know if you have any qualifications, specializations, or degrees that support your niche. Share educational content and how-to videos, or take the time to create a visually appealing website that outlines your services. Clients will have greater faith in you and your services if you take a robust approach, and your business will thrive as a result.
5. Connect with Your Audience
People adore brands with which they may have meaningful interactions. Interacting with your audience on the internet frequently and effectively will provide a variety of rewards. It promotes trust and loyalty, which leads to increased sales.
You can hold Q&A sessions, run interactive polls, share amusing anecdotes, respond to consumer inquiries, and solicit feedback. Clients can often assist you in recognizing your flaws so that you may attempt to overcome them. Build a strong relationship with your audience, and success will follow.
6. Generate Traffic Through Social Shares
For outstanding content, social media has become one of the most essential dissemination avenues. The more traffic your website receives, the more people will view your material, and the more opportunities you'll have to obtain links from other websites. As a result, by sharing every piece of content you make and remaining active on social media, you'll be able to increase your social shares swiftly.
Great content is now distributed primarily through social media. The more traffic your website receives, the more people will see your content, and the greater chances you'll earn links from other websites. As a result, you'll be able to swiftly increase your social shares by posting every piece of content you make and remaining active on social media.
Recap
One common way to build links is to reach out to the high authority domains and ask for a backlink to your own website. Like every marketing strategy, it has its own difficulties. Another great way to build links is to harness social media. If you follow the tips above, you can get to your link-building goals via social media.
The advantage of social media platforms is that they are networks with so many users. So, you can grow your business significantly and increase your revenue. Remember to use an all-in-one accounting software to keep track of your accounting issues. Wish you the best of luck!
Bio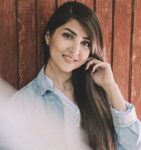 I am Parichehr Parsi, co-founder of SEO Builders, and a freelance content creator and link builder. I currently write for Realtormate. I love reading, writing, and doing research