Montenegro, a land of breathtaking natural contrasts and landscapes, has opened its doors wide to the whole world, which until recently did not know much about this little pearl in the Adriatic Sea. Montenegro gained independence in 2006, becoming a full-fledged state recognized by the European Union and the United Nations. This small country in the south of the Balkan Peninsula is rich in natural beauties that are reflected in the high mountains whose altitude in some parts exceeds 2000 meters, all the way to the magical Adriatic coast that stretches for almost 300 kilometers. The natural beauties of Montenegro have recently attracted an increasing number of tourists who are looking for undiscovered and previously overlooked destinations.
In addition to the natural and cultural beauties that this country has to offer, what also attracts tourists and potential investors are the relatively low prices compared to other destinations on the Adriatic Sea. If you have been thinking about investing in the Montenegrin real estate market, there are a few things you should know beforehand. Here are five reasons why you should decide to take this step.
Stable political situation
The political situation in Montenegro is stable and directed towards the long-term goal of joining the European Union. Montenegro is considered the best candidate for becoming the newest full member of the EU from the Balkans region. The low income and profit taxes, which amount to only 9 percent, are yet another benefit. The process of purchasing real estate is simple and the legal burdens of foreign buyers are not different from those imposed on Montenegrin residents. The same rules are applied to both.
Attractive city locations
Along the Montenegrin coast stretch several interesting and picturesque cities that exude the spirit of old times. Kotor is one of the cities that stand out in this regard but Budva is certainly the most attractive for tourists. Budva is considered the most important coastal tourist center in Montenegro. The city abounds in modern architecture, 5-star hotels, attractive beaches, and numerous festivals during the summer season. It is also rather easy to find real estate in Budva. Go for it, you will not regret it.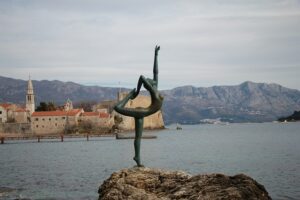 Potentials for tourism development
Tourism is the most profitable branch of the economy in this country with a record 2.5 million visitors registered in 2019. In the past two years, that number has been somewhat lower, which was directly affected by the coronavirus pandemic but interest in this country is not declining, on the contrary – it is growing. Investing in the real estate market in such a dynamic and tourist-promising area seems like a smart idea. This is especially true of the Adriatic coast. However, as the so-called active tourism has become speedily popular in recent times, it would not be a mistake to move in this direction as well. Particularly interesting and lately increasingly sought-after activity among tourists is rafting. In this regard, Montenegro has a lot to offer, given that the cleanest river on the continent, the Tara River, flows through its northern, mountainous region. Tara is among the world's top three most attractive rafting rivers.
Easy to get a residence permit
Contrary to most European countries, a residence permit in Montenegro is easy to obtain. A residency permit can be acquired based on ownership of a property, regardless of its worth. After five years, property owners can apply for permanent residence.
Geographic position       
Montenegro is a southern European and Mediterranean country. About 500 km from Rome, 1500 from Paris and Berlin, and about 2000 km west of Moscow, Montenegro lies on the Balkan Peninsula in the heart of Europe. The country is well connected by traffic, with two international airports (in the capital Podgorica and coastal Tivat). Low-cost flights from many cities across Europe make traveling affordable. It is located at the crossroads between east and west and thus forms a natural link between these culturally diverse parts of the world.
Have you decided to invest yet?
If these are not enough reasons to decide to invest, all you have to do is visit Montenegro and see for yourself all the beauties that this country has to offer. You are guaranteed not to repent!