Congrats! You are finally ready to make that leap and move in with your significant other. You might think that making personal adjustments will be the hardest part of this new chapter in your life. Well, I'll confess that's not entirely true. The toughest part will be merging your possessions and personal styles and tastes.
The best way to go about moving in together is to use this transition to redesign your apartment, toss away old jankity college stuff, renovate, and create a living space which will reflect both of your personalities.
Remodel/Redecorate Your Apartment With The Help Of The Experts
Hire a pro. With a little help from professionals, you can easily turn your old apartment into a swanky new cohabitation without breaking the bank. You can hire a decorator or interior designer to help you with the entire process. If you can't afford "the full treatment" immediately, many of them offer hourly consultations to help you determine the new style of your apartment and propose long-term plans and solutions. Whether you're building a new home or just looking to do some "rebranding", consult a home builder company and their team of experts. They guarantee to work closely with their clients to complete the process in a time- and cost-effective manner. This way you can rest assured that your cohabiting home will have a harmonious tone of both of your styles.
Merge And Purge
One of the greatest challenges of moving in together is merging two households-worth of furniture. And, as you can imagine, both of you will have to bid adieu to some of your possessions. Use this opportunity to get rid of all the things you haven't used in ages and can't foresee using any time soon. I would urge you to make a list of all your belongings individually, and then decide together what you'll keep and what needs to go. One of you probably has better things, and, admittedly, it's finally time to get rid of some of the mismatched furniture.
Hold on to the things that you have sentimental attachments to or any high-end items you have purchased most recently. Smaller things can be boxed and easily stored away. For bigger pieces, rent a storage unit and keep them until you are ready to move into a larger place.
Invest In New Pieces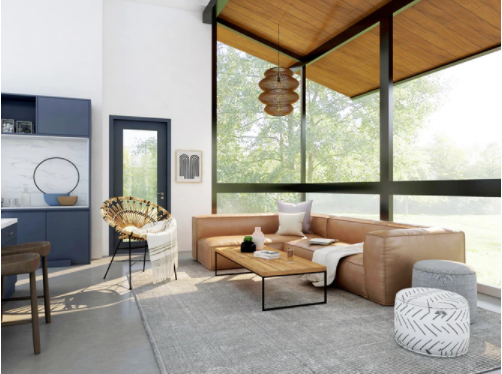 You'll definitely want to buy some new pieces together. Think of it as a true beginning of your life together, and a necessary compromise between both of your tastes and wishes. Certain pieces of furniture will stay with you for a long time, so you'll want to get new good ones. If you plan your move carefully, you can save some money and afford slightly more expensive things. Opt for marvelous rugs from Hong Kong in order to boost the aesthetic appeal of your living room and find the best sofa and use it as a statement piece for the room. It will be an investment you won't regret.
If you are looking to give your apartment a fresh vibe without spending too much, visit the thrift (and antique) stores in your area. Also, keep an eye out for any garage sales. It's not rare to find truly unique vintage items that look just as stunning as the furniture from the Pottery Barn. In my experience, this furniture can really give your new place a more luxurious look.
Consider "Temporary" Furniture
While many experts strongly oppose "temporary" furniture, that may not be such a bad idea. It can be really difficult or expensive, to find that perfect piece of furniture you both want so eagerly. So, make no hasty decisions or purchases. There are many ways to decorate a room and still stay in your planned budget. You can manage for a while with stuff from Ikea until you find exactly what you're looking for.
Pick New Art And Accessories
One of the easiest ways to redecorate on a budget is to buy several new pieces of art and accessories. Small knick-knacks and posters are ideal for sprucing up your place, and both can accentuate your own individual style. It's perfectly acceptable to mix cheaper with more expensive accessories, and rarely anyone will notice the difference. The same goes for combining something new with something old. Finally, consider creating a photo gallery wall where you can put up framed photos that have a special meaning to you both.