When your apartment is limited in size, the possibilities of furnishing it might be somewhat limited as well. You have to pay more attention to the functionality of each tiny thing you bring into a space that small. However, this doesn't mean that you can't decorate your living space to suit all your needs and desires. After all, no matter what style you opt for or what kind of furniture you've invested in, you can always rely on some chic statement items for enhancing the décor of your home. Here are some excellent ideas on how to achieve small apartment decor.
Let Your Chairs Speak
It's normally the largest piece of furniture that steals the show, as its dimensions make it the most visible thing in the room. That is, if you let it. Instead of allowing your sofa, dining table or bed to grab all the attention, you can enrich any of your rooms with just the right kind of chair. There are several ways to draw attention to such a small piece of furniture. For example, you can find a chair in an interesting color or pattern. A bright red or a lawn green chair can bring some life into a room decorated with neutral tones. Similarly, you can look for a creative and unusual chair design, so that it stands out from all the other furniture you have. If you want something simpler, a round chair in combination with straight-lined furniture will also make an excellent impact.
Look Down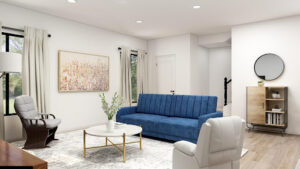 There is something slick and elegant about polished floors. If nothing else, they're easy to maintain, which is why people tend to choose "naked" floors. For instance, Kiwis prefer laminate and vinyl planks for flooring. However, when they want a trendy statement piece that doesn't take too much of their space, but is still highly effective, they make sure they find a lovely rug, and they only buy premium rugs from NZ. The possibilities are amazing, as you can decide between a wide range of colors, patterns, shapes and textures. In addition, you can now find pet-friendly rugs and rugs made with kids in mind. Look for the ones made of natural materials, such as cotton, jute, hemp or wool ones, so that they're not only beautiful and inviting, but also eco-friendly.
Accessorize Away
While you might think otherwise, it's not that difficult to make your small apartment look surprisingly chic without breaking the bank. In fact, with just a few appealing accessories, you can turn the whole space around and add it to a brand-new dimension. A tall boho lamp, some colorful cushions in different sizes or even an intricate DIY crochet blanket might do the trick. If not that, maybe an artistic or an elegant wall mirror might be a better choice for you and your home, especially if you place it opposite your windows, as that would make the space visually bigger and much brighter
Bring the Outdoors Inside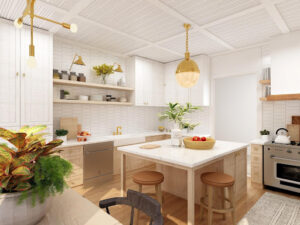 One of the trends that never seems to get old is utilizing plants for indoors décor, which science actually says you can benefit greatly from. The kind of plants you welcome into your home depends on several factors, such as the amount of natural light they'll get there or how much space you can spare for them. In addition to this, there's the issue of whether you're good at tending to them or not, as you don't want to kill your plants, but rather to nurture them to the best of your abilities. You can even create a small vertical garden in your kitchen so that you can pick fresh herbs and spices whenever you need them. Finally, it's not just the plants that make your home more attractive, but also the pots you plant them in, which can be remarkably imaginative and contribute significantly to the aesthetics of your apartment. 
Make Your Windows Stylish
Curtains, shades, and drapes are meant to be useful, as they keep the sun from waking you up in the morning while protecting your privacy. This being said, what you put on your windows can also be very impressive and can be the focal point of your room if you put some thought into it. The key is to find the right balance, meaning that whatever you decorate your windows with catches the eye, but doesn't overwhelm the room.  You can go with white, transparent curtains along the entire length of your wall, or you can make sure your drapes introduce a fun splash of color to an otherwise monotone space. Play with textures and materials, but also the length of the curtains for the effect you're trying to get, and don't be scared, as changing your curtains or drapes doesn't have to be complicated or expensive 
The size of your apartment doesn't determine how cozy or captivating it can be, especially when you're looking for apartments for rent in West Palm Beach. It's up to you to make your home exactly what you want it to be and then enjoy every moment you spend in it. The tips above will get you started, but where they lead you depends completely on your imagination, creativity, and will to upgrade your living space.