Your content can make or break your efforts to succeed in social media marketing. 
After all, sharing run-of-the-mill posts your social media audiences have likely seen before doesn't exactly inspire likes, shares, or comments. You can lose boatloads of engagement opportunities.
Plus, tons of other brands, influencers, and even regular users post thousands of content every day, taking away attention from your social media posts and offers. 
Fortunately, there are content types you can leverage to produce creative and valuable posts that support your audience engagement and overall social media marketing efforts.
Start with the four below. 
1. Photos and other visual content
Images, photos, and other visuals are excellent content to capture your social media audience's attention and drive engagement.
Plus, visual content types are easier to consume and often more captivating than plain old text, making these some of the most engaging content for social media users. 
Get the most out of images and other visual content for your social media marketing and engagement efforts with these quick tips. 
Use photos featuring people and faces

. Photos that show people can help your brand come off as more human and less like a faceless brand.  
These can make your content more relatable and easier for your audiences to resonate with, helping you build trust and supporting your ways to increase social media engagement. 
Humanizing your brand with faces and people can be helpful, especially for companies that offer Software-as-a-Service and other technologies such as robust stress testing software for Quality Assurance (QA).
Keep texts within visual content to a minimum

. Don't overcrowd or drown your images and photos in too much text. It can make your visual content look messy and drown out the essential elements you want to highlight, such as your Call-to-Action (CTA) and key message.   
Streamline and simplify your visual content creation using modern social media marketing platforms such as Vista Social. 
The platform helps you map out, sort, and schedule your social media content easily through a content calendar, post scheduling and auto-publishing, reliable Instagram tools for marketing, and other sophisticated features.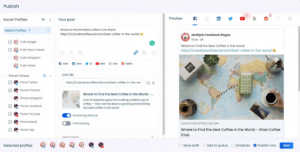 You can even edit your images before posting them on your connected social media channels using the platform's built-in image editor, saving you tons of time and effort.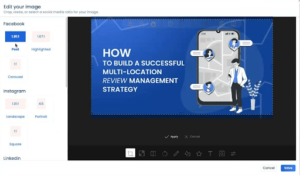 While photos and other visual content typically work well on most social media networks, these content types can shine best on image-heavy platforms such as Pinterest and Instagram.  
2. Blog posts and articles
Producing and sharing written guides, blog posts, and articles are some of the best ways to position your business as an industry expert. These can also help strengthen your brand's credibility and reputation. 
The catch? Text-based, written content can be more boring and lifeless than visual, interactive content. 
After all, you could share highly-relevant content on social media, and your audiences could easily scroll past your blog posts and articles. You'll miss loads of engagement opportunities.  
Plus, social media users are all about instant gratification—most don't have the patience or time to click your article's link and go to your website to read the entire piece. 
The following are some of the best ways to make text-based content work for your social media marketing efforts. 
Ensure your content is relevant and compelling

. Your content should give your audiences a good reason to read, like, comment, and share your blog posts and articles.  

Research trending searches across social media networks

. Know what social media users want to know or are interested in across social media platforms. It can inform your strategies to tailor your social media content to your prospects' needs and interests, addressing their pain points. 

Use compelling headlines

. Entice your readers to stick around and read more of your content by using catchy headlines. It can give the audience of your content is about at first glance, encouraging them to read further. 
Utilize handy digital marketing software such as the Sharethrough Headline Analyzer. The tool can help you develop compelling and engaging headlines for your blog posts and articles you share on social media. 
LinkedIn and Facebook are ideal spaces to post your written and long-form content. 
Share a snippet of the blog post on your Facebook feed and include the link to the whole article. You can post an entire article on LinkedIn. 
Simplify planning and prioritizing your text-based content for social media with reliable task management software. 
The right platform can help you collaborate and manage your content creation tasks with ease and ensure you don't miss deadlines and opportunities. 
Also, remember to develop a content tracking strategy to regularly check your content's performance, including the traffic from social media users. 
It can help you refine your strategies and make the appropriate adjustments promptly to improve your content's performance and boost engagement. 
3. Customer testimonials and reviews
Potential customers are more likely to trust the opinions and experiences of other people more than what you say about your products and services. 
As such, you need a solid strategy to leverage reviews, testimonials, and customer feedback to support your strategies to engage your social media audiences.
Share glowing reviews from satisfied customers on your Facebook and Instagram social feeds. Doing so can help you nurture trust with your prospects, encourage engagement, and drive conversions and sales. 
Incorporate testimonials and reviews with creative social media content ideas for your brand. 
For instance, take screenshots of customer reviews from your website and share the image on Facebook. 
You can also share a link to your collection of customer reviews from your website the way BarkBox does.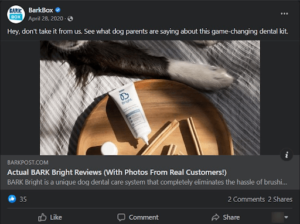 Opt for easy-to-use user feedback software to make gathering and analyzing your customer's comments and reviews seamless.   
Facebook also offers built-in business page star rating features, and you can share customer reviews as images on your IG social feeds and Stories. 
4. Videos
Videos are popular visual content formats on social media because they are more engaging and fun than regular texts, and even images. 
Produce videos that entertain, educate, and inform audiences, helping you forge and strengthen connections with them and drive your social media audience engagement through the roof. 
You can create how-to guides, product updates and demos, promo and event announcements, office tours, and other videos. 
For instance, if you're a B2-B company offering Search Engine Optimization (SEO) services, post a short video tutorial on Instagram, Facebook, and even TikTok showing potential customers how they can buy SEO articles on your website. 
You can run live videos to share your product launching events and show behind-the-scenes clips of your company's product development and production process. 
You can also host Ask Me Anything sessions through Instagram Stories like Sift Bake Shop did with its Ask Adam Stories.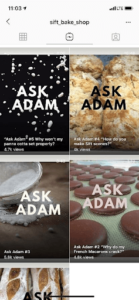 When used strategically, videos facilitate countless ways and opportunities to interact and connect with your social media audiences for higher engagement rates. 
Use the right content to increase your audience engagement
There is no shortage of social media content strategies and types to support your efforts to boost your audience engagement. 
Know the best social media content types that can help you drive engagement. 
Learn what works best for your strategies, audiences, and content marketing objectives to increase your chances of achieving social media marketing success.