Any disability can take its toll on a disabled person's routine and state of mind. This is why it's crucial to ensure that a person with a disability has all the resources to live independently without any issues. This can often be challenging and requires a lot of work, especially if you consider the prejudices that people have against disabled people. So for that specific reason, here are some helpful tips that will show you how to live a productive and independent life, no matter what disability you have. 
Support network plays a crucial role
Learning to live with a disability requires a stable support network, so make sure to use the most out of it. If you have family members, friends or caretakers, make sure to use all the help they have to offer. Having people by your side wanting to help you out is a huge advantage and privilege that can seriously transform your life, especially if you're dealing with a disability. Managing your condition will be much easier when you know there's someone to rely on. Also, keep in mind that only one person around you is still better than having absolutely nobody, so be sure to cherish that someone who wants to be by your side. 
Try remaining optimistic
Everyone knows about toxic positivity, and how that concept can be more harmful than helpful. However, when you're retorted to living with a disability, remaining positive is your best bet. Simply, once you accept your condition, you'll find it easier to live with it. Of course, you should always remain realistic, but if possible, try aiming for positivity, especially if you need it. Additionally, people from your support network should also aim to be optimistic and positive, in order to provide you with the best help and care. When everyone is on the same emotional wavelength, you'll find it much easier to live with your condition, and possibly reach new goals in the future.
Remember that independence takes time
Sometimes, even able-bodied people have issues with asserting their own independence. 
This is nothing new, so you as a disabled individual should never feel bad about your own condition. Also, it is important to remember that establishing your own independence might take some time, especially if you're disabled as well. Therefore, if you're looking to live a happy life, then it's essential to be in the right place that will make it possible. This is why supported independent living homes are an excellent solution for disabled people: they allow you to live independently with assistance, with the help of qualified and kind carers, if that's what you need. There are many advantages when it comes to this, so make sure to look into these types of services, if you want to be an independent person. 
Make sure you have enough power to make your own decisions
Decision-making power can do amazing things for your day-to-day life, especially when it comes to self-esteem. Hence, you should try reaching for enough autonomy that will allow you to make your own decisions. And in case those decisions are regarding your well-being, diet, exercise regimen, or therapy, then you should have all the power to determine your own desires and decisions. Also, people around you should provide you with enough decision-making power that will allow you a peaceful, productive, and happy existence. 
Reach out to your community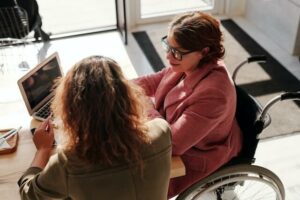 The community you are a part of can make all the difference, mainly when it comes to your mental well-being. If there are any community activities in your area that are inclusive and welcoming to everyone, then feel free to join them. Interacting with the members of your local community will help you feel more validated and seen as a disabled individual. Of course, if you don't like the group, then you're always free to go and search for another one that will feel more comfortable and welcoming. 
A healthy lifestyle should be your top goal
If you're not healthy, then managing your disability will surely be much harder.  For example, if you eat unhealthy food, then your digestive system will suffer. When you're able-bodied, that is bearable, but with a disability, it's harder. An inactive lifestyle shouldn't be synonymous with disabilities, and that's a mistake. So, a physical therapist, or a personal trainer specializing in disabilities can help you move your body according to your disability. Moving your body will help you become more flexible, and that will also improve your own independence. 
Conclusion 
It's possible to live an Independent lifestyle with a disability. As long as you know your worth, have a support system, or use help from available services, you'll be able to successfully manage your condition and live a happy life. Also, aim for healthy habits as that will help you feel more empowered in your daily life.