Why You Should Automate Your Content Marketing
Marketing automation is a fantastic force multiplier for organizations investing in content marketing; repetitive tasks can be streamlined and handled consistently and automatically so you and your team can focus on strategy and content creation. Automation tools are far more affordable and scalable than they were even a few years ago, which means it's time to take another look if you haven't yet explored incorporating these types of tools.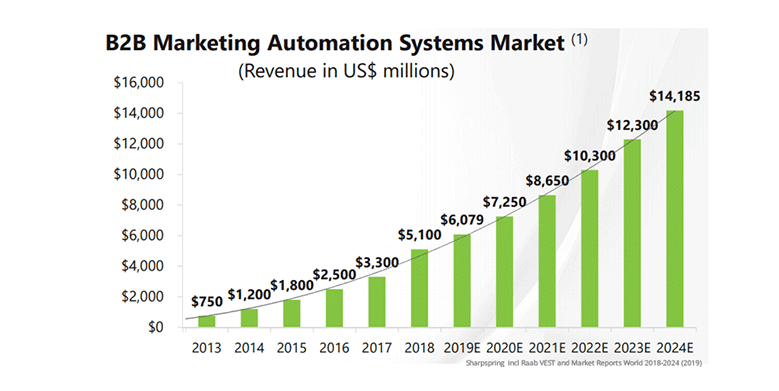 Businesses that use marketing automation software and strategies to increase their revenue and convert leads into sales have reported more efficiency both in man-hours and budgets, and more consistency in producing and distributing content.
Marketing automation allows your sales and marketing teams to more accurately target specific messages and content to the right users at the right time. This is where optimizing your content comes in. With the time you save and the data you gather through marketing automation processes, you can analyze and personalize your content to each customer or lead, timed for the right touchpoint in their interaction with you. This is where content marketing really shines, at the point where you can produce customized and personalized experiences for each recipient, at scale.
How many companies use marketing automation?
Marketing automation has grown significantly in the last few years. In 2015, Forbes magazine estimated that less than 10% of marketers were using automated marketing techniques to reach customers. Now that figure has grown to be 51% of B2B companies using automated marketing and over 70% of businesses saying that they plan to use it more within their operations in the next 12 months.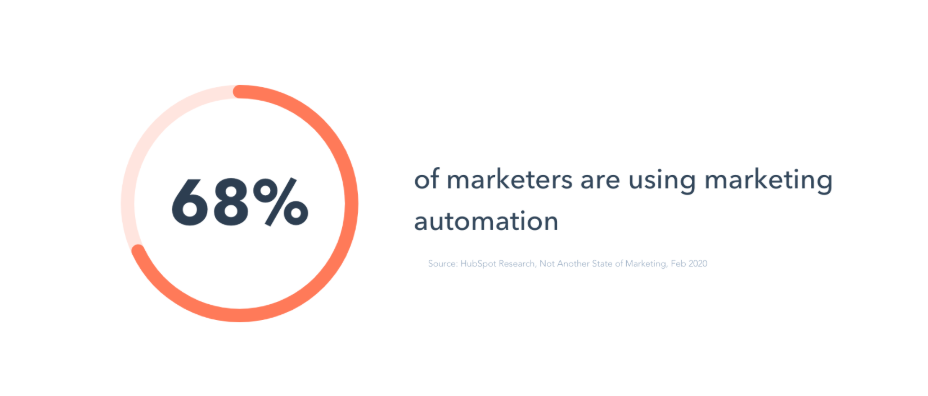 According to Brad Batesole, Chief Learning Officer at Madecraft and instructor on LinkedIn's learning platform, companies taking advantage of marketing automation are more efficient in terms of productivity. In a recent online seminar, Batesole also said that those same companies are also seeing an average of 5 to 8 times the rate of ROI for each marketing dollar spent and almost 10% in increased sales!
Incorporating Automation Into Content Marketing With Ease
There are several ways to leverage marketing automation for your business, but let's focus on three points where marketing automation can really jazz up your content marketing:
Creation
Distribution
Data Gathering
No one wants Skynet writing blogs and producing infographics; there's no substitute (yet) for human creativity. Where content automation can help is in optimizing your creative work. Tools like Grammarly can automatically optimize your grammar and spelling and even analyze the tone of content and suggest ways to make it come across more effectively. Google Alerts or Buzzsumo can alert you to trending topics so you can insert great content into the national conversation. Google Analytics has more uses than we can list here, but one important one is tracking previous content engagement to help decide what to create going forward.
When you've launched a marketing campaign offering a free report or eBook to the customer, and to obtain it they have to input their name and email. After the initial contact, using an email follow-up extension can help your team to send out scheduled emails to that customer to help them along on their sales journey.
The distribution includes everything from using HootSuite, Zapier, or similar tools to automate social media posting to using FollowUp Fred to send emails and content out to people automatically depending on where they are in the funnel.
Automated data gathering at every interaction allows you to collect not only names and emails but many other key data points that help you build a model or persona for each lead generation. It can also track their browsing habits while they are on your website, and a record of the products or services they have bought in the past. In short, marketing automation software allows you to use all the data for each customer, and send personalized, relevant marketing based on it at the right time for maximum effect.
Marketing Automation Workflows And Examples
Marketing automation software comes in several forms, depending on the tasks needed. Some software, like HubSpot, is an all-in-one solution. However, many companies start with smaller pieces to create a unique marketing automation toolchain.
With the right tool, you can track specific behaviors the customer engages in such as opening emails you send or which links they click through. This happens with each customer or lead, and your software sorts each user according to the criteria your team selects.  Your team can then more efficiently and accurately determine who that user is, what product or service they are interested in or already using, and then helps you to hone any future emails or offerings based on this data.
Leveraging Your Content as a Lead Generation Tool: Start Fresh With Email Marketing
Great content exists to sell your product or service. When a user engages with your fantastic content, you want to convert them into a customer. Marketing automation software can help bridge the gap for a lead to a transition from the consumer of content to a satisfied customer.
Marketing automation professionalization will allow your team to break down stories for each user into several categories or personas. This may comprise four, five, or even more groups depending on your needs. If your business is using email automation to convert customers, these categories or personas may include:
Engaged Users – those who have opened emails, answered surveys, or attended webinars but have not yet committed to a purchase.
Unresponsive Users – Beyond initial contact, they have not answered emails, take advantage of other offers, or show no real interest.
Past Customers & Repeat Purchasers – This includes customers who have purchased in the past and have seen the value of your product or service. They qualify for enhanced content or special discounts. Consider developing or revising your customer referrals' framework.
Users at risk of migration to competitors – No one likes to switch products or services if they don't have to. These users should also be asked for feedback and given personalized messaging and attention.
Users who have canceled your service or returned your product – Something went wrong. However, you may win them back through personalized attention from your sales team, special offers, or discounts.
Marketing automation allows you sales engagement and your sales and marketing team to create personalized messages for each specific type of user.
The more personalized each piece of communication or content that you send out is, the more likely those users will be to respond or deepen their engagement with the product or service that you offer. While most of your customers know that they are most likely dealing with a somewhat automated message, marketing automation software helps maintain the illusion that they are dealing with a real human being.