Online giveaways are among the most explosive marketing campaigns out there right now. Brands achieve instant success from giveaways that boost their social media followers, email lists, and sales.
Now, popular brands, influencers, and YouTubers are achieving the same kind of explosive growth on their YouTube channels by hosting YouTube giveaways. 
YouTube giveaways have helped channels to grow their subscribers and generate more views and ad revenue. Some YouTubers even landed sweet sponsorship deals after building their channels with a YouTube giveaway.
Ready to boost your YouTube channel with your very own YouTube giveaway?
Let's get started!
Why People Host YouTube Giveaways
YouTube isn't just a video platform, like Netflix. YouTube is considered a social platform (one of the largest with over 2 billion users) with communities that engage with creators. 
Brands, influencers, and creators regularly upload content to YouTube to attract viewers and build a solid community around their channel. 
While there are many strategies to grow subscribers, hosting a giveaway is probably the quickest way to get a ton of people to subscribe to your channel. 
How Do Youtube Giveaways Work?
The concept of a YouTube giveaway is simple. A channel sponsors a prize and asks people to enter the giveaway to stand a chance of winning that prize.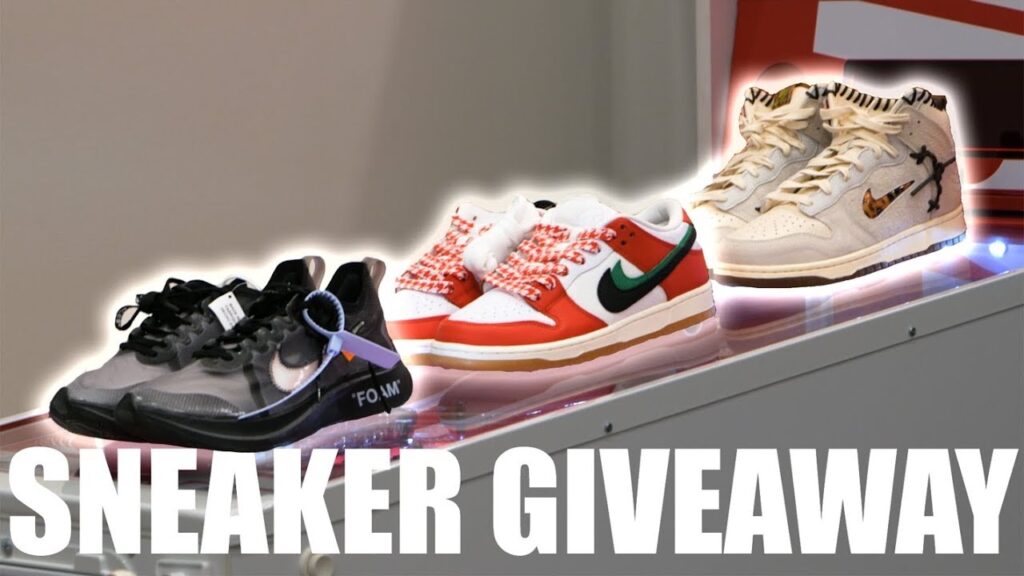 With most online giveaways, users are required to fill out an entry form or supply their email address to enter. For the YouTube giveaway above, users are required to subscribe to the channel and engage with the video. 

Everyone that enters this giveaway will have to subscribe to the channel, like the video, leave a comment, and tag someone. 
If this giveaway is successful with a ton of entrants, then all of those entrants will automatically become channel subscribers. The giveaway post will also see a major boost in engagement with all of those likes, comments, and tags. 
This is exactly what every brand on YouTube is looking for. However, even though the concept of YouTube giveaways is simple, it can be challenging to find success on a giveaway. 
To increase your chances of success and of getting better results, you must focus on 3 vital areas of your giveaway: 
Choosing a GOAL for your giveaway

Selecting an Awesome PRIZE

LAUNCHING and PROMOTING your YouTube giveaway 
More on these in the sections below.
Choosing a Goal for Your Giveaway
Giveaways are exciting campaigns that generate a lot of traffic and hype. You can redirect this traffic to your channel, social media profiles, websites, and more. 
If you are looking for more followers on Instagram, then you can request that users follow you on Instagram to enter. You can also ask users to submit their email addresses to enter if you are looking to build your email list. 
Some examples of giveaway goals:
Increase subscribers

Increase social media followers

Boost in engagement

Drive traffic to your website

Build email lists

Download your

digital products

, app, or software

Sign up for your service
You don't have to stick to just one goal. You can request that users complete a few actions to enter (subscribe to the channel, follow on social media, etc.). In doing so, your giveaway can achieve multiple goals.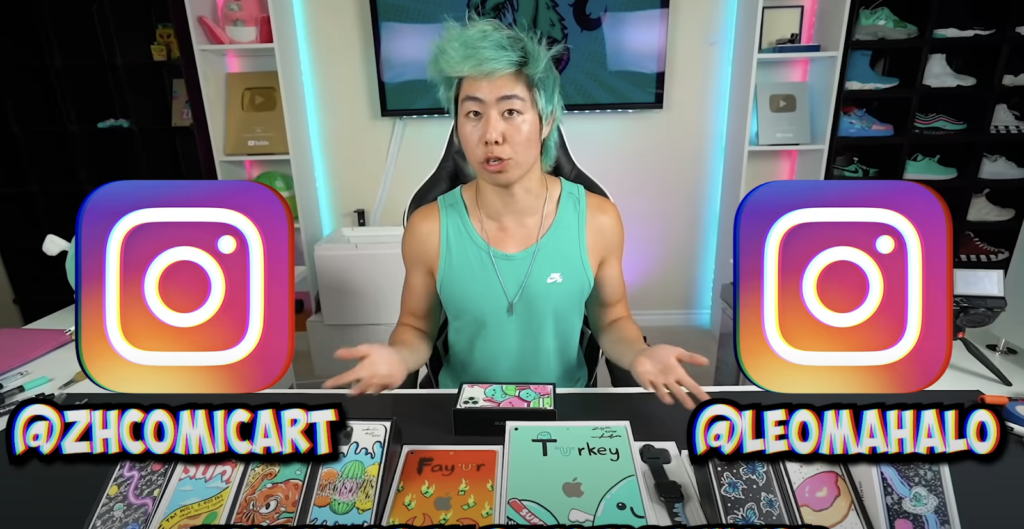 For the above giveaway, ZHC (Zachary Hsieh) asks users to subscribe to his channel and follow two Instagram accounts to enter his giveaway. People that do so can stand a chance to win an iPhone or iPad. 
This entry method will allow Zachary's giveaway to help him achieve multiple goals, which is more YouTube subscribers and Instagram followers. 
Key Takeaway – Don't only use your giveaway to gain subscribers. Encourage people to follow you on social media or engage with your content.
Selecting an Awesome Prize
Finding a prize for your giveaway is probably the most crucial part of the planning process. Choosing a desirable prize like a smartphone or cash will ensure that your giveaway finds the maximum amount of entries possible. 
Why? Everyone is in need of a smartphone and cash! So anyone that comes across a YouTube Smartphone/Cash Giveaway will surely enter.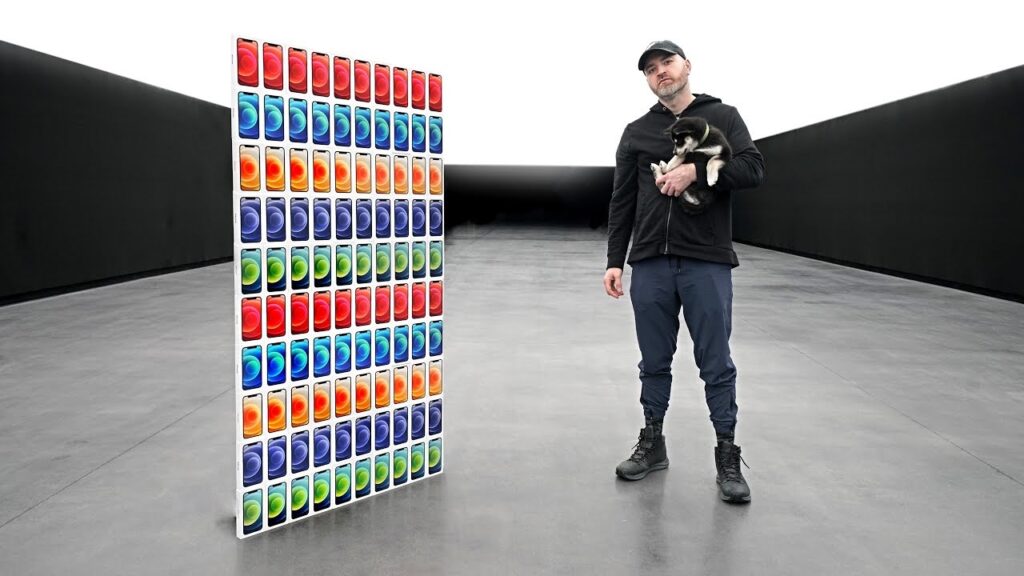 However, there is a major flaw with using a smartphone or cash as your giveaway prize. Such prizes may attract a broader audience with the majority of them not being too interested in your brand. 
A smartphone giveaway might work well for a channel like Unbox Therapy (pictured above) because they feature tech and smartphones all the time. However, smartphones in a makeup giveaway can be disastrous (eg. men with no interest in makeup will enter just to win the smartphone).
In other words, a general prize that appeals to everyone will attract more lower-quality leads or users that are not interested in your channel. Such users are only interested in the prize and not what you have to offer. 
Because of this, it's best to select a prize that will appeal to your target audience or niche. 
For instance, consider the giveaway below that was created for demonstration purposes: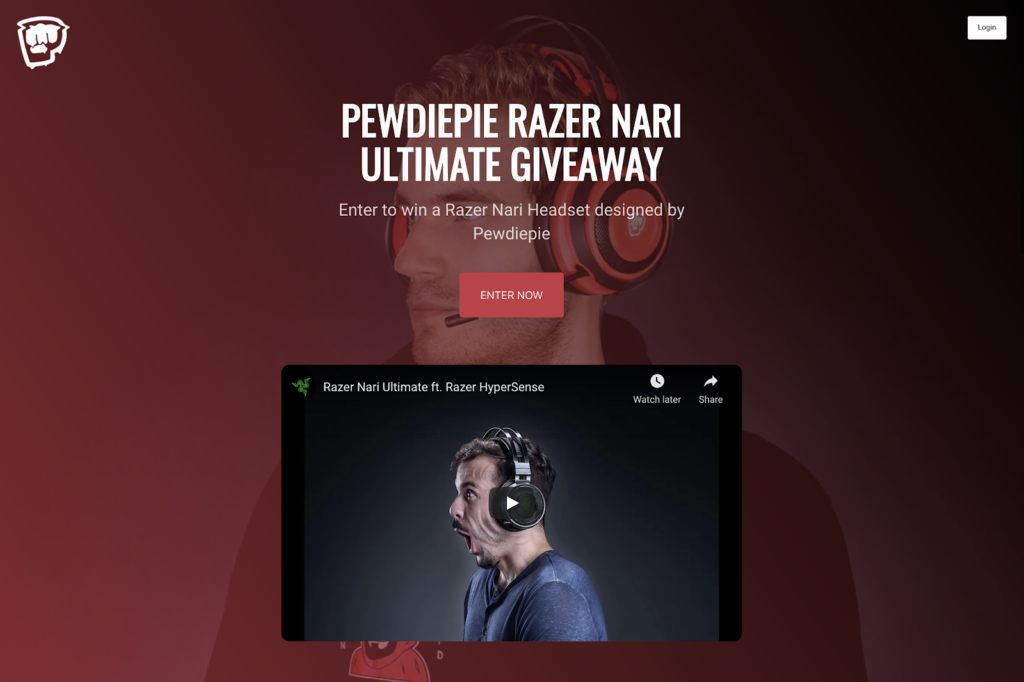 Popular YouTuber, Pewdiepie, could giveaway cash or smartphones and he would successfully draw a massive audience. However, most people may not find his content (which includes gameplay videos and meme reviews) engaging. 
By giving away a custom gaming headset, Pewdiepie will indeed attract a large audience that's made up of gamers. These gamers that enter his giveaway by subscribing to his channel will then be able to enjoy his gameplay videos and more.
More Examples of Relevant Giveaway Prizes
Here are a few more examples of prizes that can potentially attract a targeted audience:
Makeup channel

– Makeup sets, spa days, makeovers, etc. 

Gaming channel

– Gaming peripherals (controllers, keyboards, mice, headsets), Opportunity (for giveaway entrant/subscriber) to play in a live stream with a top gamer.

Musician channel

– Concert tickets and signed albums. Music instruments and software are ideal for a music production giveaway.

YouTube Influencer giveaway

– Using the YouTuber's branded merch is an ideal prize. Entrants that want to win the merch are likely to be interested in the YouTuber who made the merch.
Launching and Promoting Your Youtube Giveaway 
Seeing that it is a YouTube giveaway you are hosting, then the first step you can take is to prepare a giveaway video.
Your giveaway video must include every bit of information related to your giveaway. You can refer to the infographic below to ensure that you don't miss out on anything when creating your video:
Promote on All Platforms. Like MKBHD
Tech YouTuber, MKBHD (Marques Brownlee), regularly hosts YouTube giveaways. He has become something of an expert in hosting successful giveaways. 
Marques has developed a fascinating formula for hosting his giveaways:
Release a teaser on social media

Upload the giveaway video on YouTube

Promote the giveaway video on social media
Let's take a closer look at how Marques promoted his console giveaway over the holiday season.
1. Instagram – Teaser
MKBHD hosted a massive 24 gaming console giveaway over the holidays. Remember, all next-gen consoles were out of stock during this time, so this was one insane giveaway!
His first form of promotion was to upload a teaser to his Instagram account.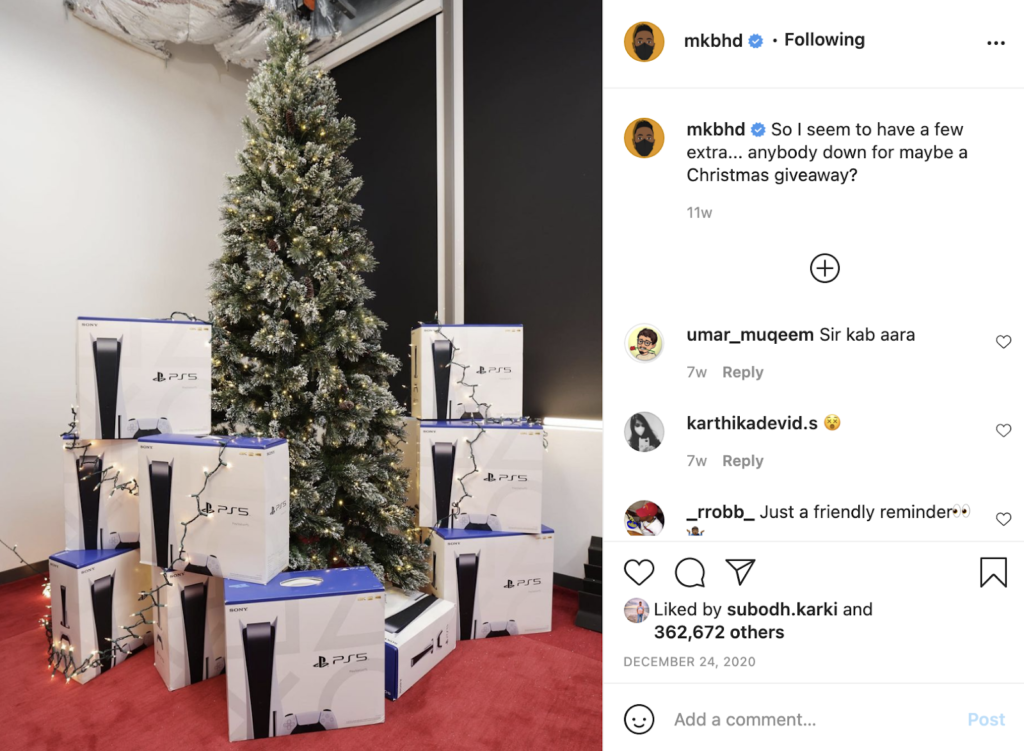 This Instagram post is an excellent way of hyping up your audience and social media users. It's also a great way to create anticipation for your campaign before it goes live.
2. YouTube Video – Giveaway Premiere
Marques launched his gaming console giveaway with a YouTube video titled "Giving Away 24 PS5s and XBox Series X!"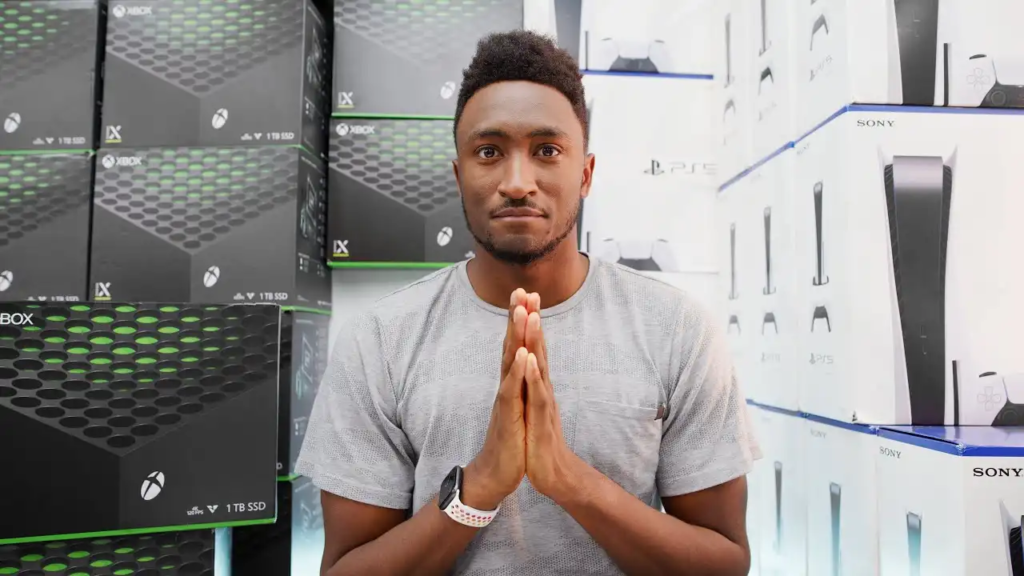 The actual giveaway is simple, yet effective as it has all the info you need to enter the giveaway in a video that's just over 2 minutes long. Even the thumbnail (pictured above) is straightforward.
For good measure, Marques also has crucial information (entry method and the website where winners will be announced) on the giveaway in the video's description.

3. Twitter – Promoting the Giveaway Video
Next up, Marques promotes his giveaway on Twitter, which is one of his most preferred marketing channels.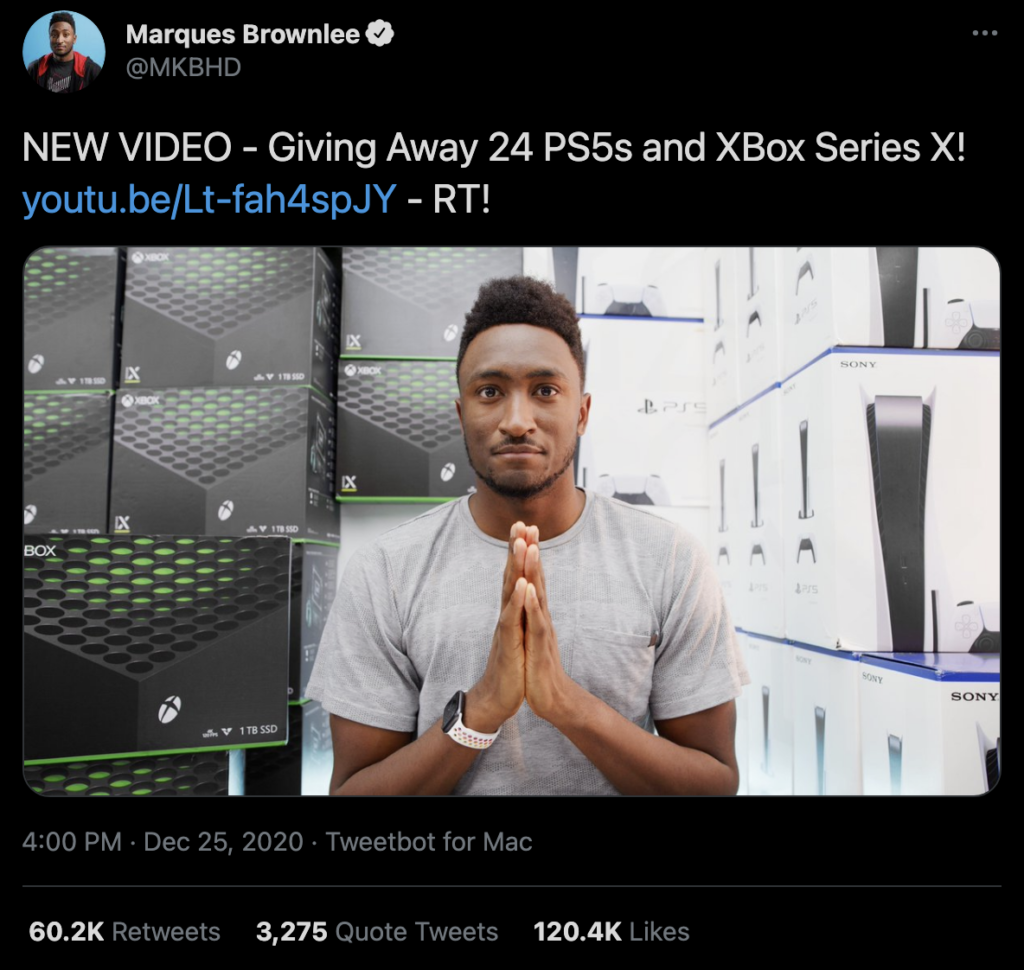 Marques has built up a massive following on Twitter and Instagram, which is why he chose to promote his giveaway on these platforms. 
You don't have to stick to social networks when promoting a Youtube Giveaway. You can use your preferred marketing channel (eg. email, blog, podcast, etc.).
TL;DR
Hosting a YouTube giveaway is an exciting moment for any YouTube channel. Apart from the many benefits (subscribers, social media followers, and more), giveaways are also great for brand building and creating hype around your channel. 
That being said, it still is possible for things to go wrong (as with any promotional campaign). It's best that you properly prepare for your giveaway using the tips included in this guide to ensure that everything runs smoothly and professionally.
Have you ever hosted or taken part in a YouTube giveaway? Let us know in the comments below. 
Author
Jack Paxton is the co-founder of VYPER, a marketing tool that helps brands build email lists, social followings and revenue using viral giveaways, referral and reward programs. After millions of dollars spent testing different marketing strategies at his marketing agency. He then also co-founded Hyax a fast, conversion & design-focused course and funnel builder for creators.