With so many coffee shop chains at every turn, setting up a unique coffee house that has a unique personality comes with a slew of challenges. It's not enough to merely choose a memorable name that will be relatable in your community or offer a wide array of artisan coffee blends and teas, but you also need to build an aesthetic look and feel around your coffee house brand. That means that your interior design needs to match your brand's personality, but that you also need to find ways to make the most of your layout, your space, and focus on functionality as well as beauty.
To help you overcome some of the most common design conundrums, this guide will get you through the process of choosing the most suitable furniture and accessories for your café. Depending on your local audience and the kind of values your business represents, your furnishings can reflect your café's culture and attract the perfect target demographic to your doors!
Mind the lights
You already know that choosing the right location is half the battle for your coffee house to succeed. If you've managed to find the perfect spot, you should also be aware of the kind of natural light your space will have during those daytime hours, which will define how you can contribute with artificial lighting options.
Depending on the size of your coffee shop and the theme you choose (to which we'll get shortly), lamps and fixtures can be of great help for your interior design. Choose warm, eye-friendly lighting that will build up that perfect, cozy atmosphere, but that will also last. Go for LED lights that are also eco-friendly and that will last a very long time, in addition to establishing the perfect mood in your café.
Choose a consistent layout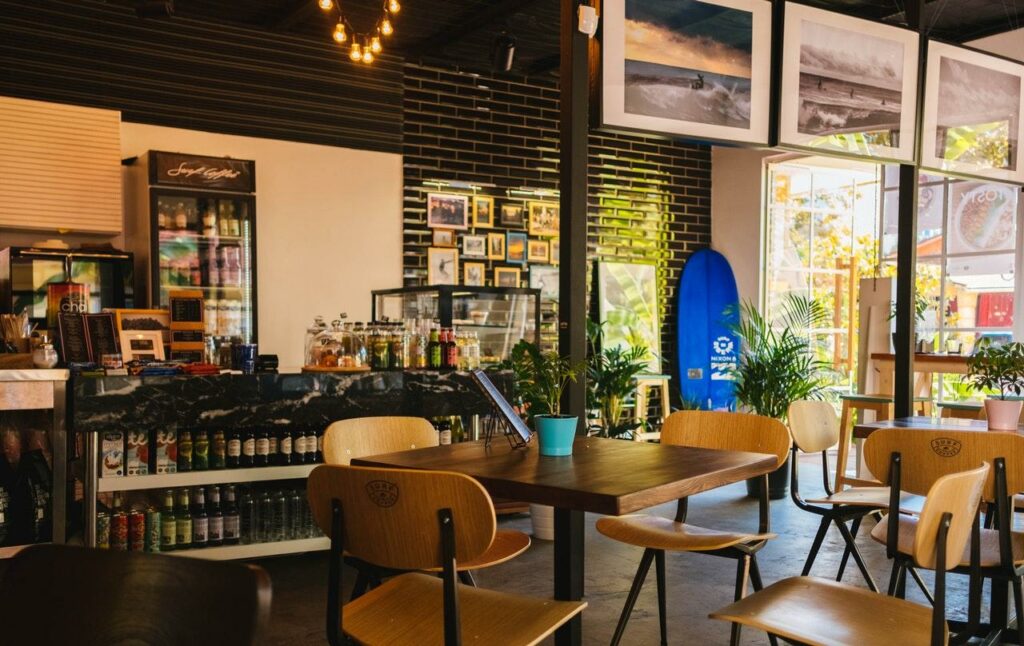 It makes no sense to keep one corner of your coffee house crowded with little tables while the rest of the space is poorly used, just like it's no good to over-stuff your café with furniture. Talk to a designer or an architect to see how you can maximize the use of space while at the same time giving people enough privacy to enjoy their conversations without feeling too cramped.
Also make sure that people can easily move around, reach the toilets, and enter or exit your establishment without knocking anything over or wreaking havoc on one of the other tables along the way.
Beautiful furniture on a budget
Now that you have the right lighting in place and you know where your seating should go, you can look into different options to furnish your space. Fortunately, it's easy to find furniture for sale that is both aesthetically pleasing, purposeful, and still within your budget. Consider pieces that are both comfortable and functional, such as sturdy tables in a multitude of shapes, chairs that can be used indoors and outdoors alike, and bar stools to give extra seating to people during the busiest time of day.
Sofas are great if you have enough space for larger parties, so make sure to have a variety of options. Stick to a color palette that you choose, so that you can create a coherent scene within your café that is entirely on-brand.
Choose an overarching style theme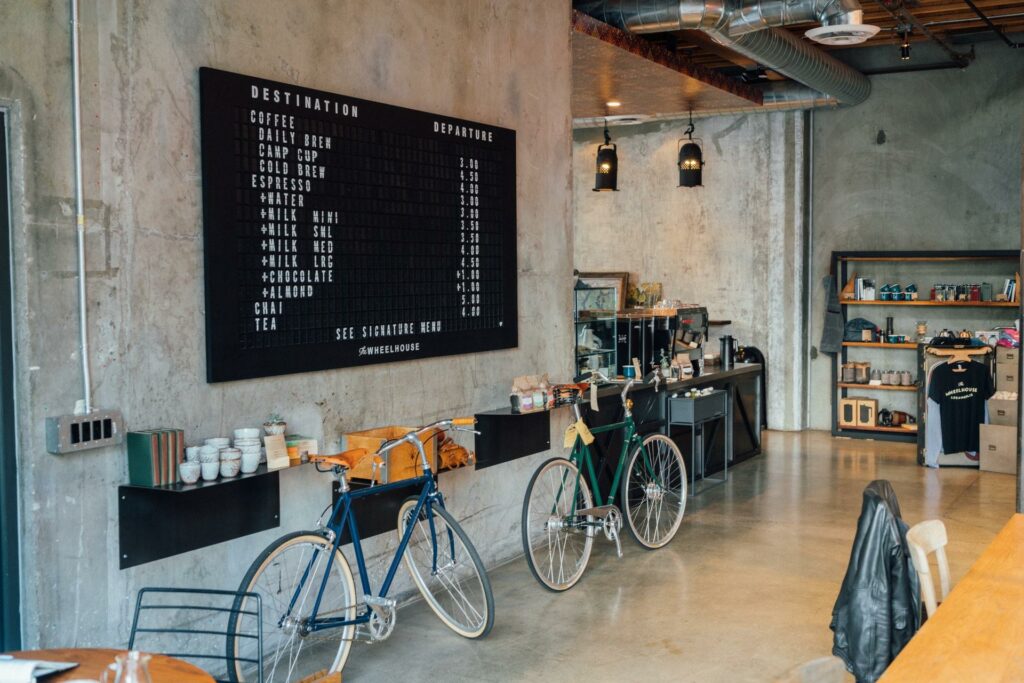 Building a brand might start on paper (digital or literal), but it needs to wrap up with actual manifestations within your physical space. That said, if you want your café to have a chic look, you need to steer clear of opposing themes, tones, and pieces that don't match your desired look. You can not go for an led industrial lighting, minimal look if your brand is warm and fuzzy.
Before you start picking our leather furniture, you should think about how the style of your café can come to life and which pieces best match that style. Would you like to go rustic and turn your coffee shop into a lodge-like space with all kinds of throw blankets and pillows all over? Then again, nowadays people like to spend time in modern-looking places with a touch of timelessness, easily achieved with a colorful palette and comfortable seating pieces, some exposed brick, and perhaps a combination of warm wood tones and cooler, juxtaposing iron details.
Give your space some character
Or as they say, the devil really is in the detail. If you've chosen your café to have that blues/jazz theme with the occasional live music sessions, then perhaps setting a vintage record player as well as a shelf of old-school records in the genre can contribute to the vibe of your café.
Bookshelves or other memorabilia placed for everyone to enjoy can help your customers find ways to "bond" with the place and get interested in the story on which you've built the brand. It can be a tribute to a rock band with t-shirts hanging on the walls, or a journey through the history of the beverages you serve – coffee.
Your coffee house is more than just another local venue. It's a place where people should feel comfortable to do business, relax and unwind with a good book, and bring their loved ones to celebrate a milestone. All that depends on the kind of atmosphere you manage to create, which in turn depends on how you furnish your café. Take the time to get creative and think about your café's personality, and then use your furniture and additions to bring that personality to life.