Working hard and smart to promote your e-commerce business is great. However, lacking practical tools to supplement your efforts puts you at a disadvantage — especially if you're still a marketing beginner — against rivals harnessing top-notch tools.
That's what this guide is for…
I'll share with you four easy-to-use tools that can drive stellar marketing performance even as a budding e-commerce digital marketer.
1. Vista Social
If you aren't marketing your products and engaging your customers on social media channels, then you miss out on the opportunity of selling to them BIG TIME!
That's why you need a social media marketing platform, such as Vista Social.
The platform allows you to integrate/connect all of your social media profiles into the platform so you can run your social media marketing campaigns from a single platform.

Vista Social is a modern, sophisticated, feature-packed, and easy-to-use SMM software that e-commerce store owners, brands, and even agencies use to generate loads of social traffic, audience engagement, brand visibility, etc.
These are some of Vista Social's features:

Publishing

Engagement

Social Listening

Social Analytics

Review Management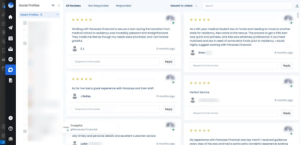 Vista Social offers other unique features that simplify your SMM tasks. For instance, the Universal mentions feature lets you create a list of a user's various handles across multiple social media platforms.
When you create a post for Facebook, for example, Vista Social automatically mentions the user's FB username in your post.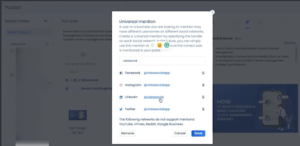 The platform also provides a built-in image editor, allowing you to edit your images as you create your posts without leaving Vista Social.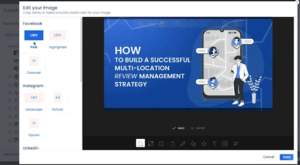 The best part is, despite the myriad of features that Vista Social possesses, they are priced far more affordable compared to other SMM platforms since they don't charge per seat, they charge per social media profile.
2. Snappa
Producing stunning images helps you attract and engage your customers and foster their loyalty to your brand.
Doing that requires not only an eye-catching design, though. It also needs the correct sizes for every channel you'll use — whether it's your website, marketing materials, social media posts, etc.
If you find this task intimidating because you're no Adobe PhotoShop or graphic design expert, worry not.
Snappa is one uber-easy tool for your e-commerce store's graphic design needs. 
First, you have to create an account (for free), so you can store and edit your drafts and finished designs instantly anytime.
Upon logging in, it meets you with template choices sized appropriately for specific marketing channels.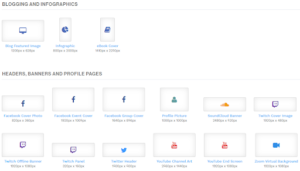 It covers your social media graphic design needs for your posts, profile visuals, and display ads on several social platforms. You can also create images for blogs, ebooks, infographics, and email headers. 
If you opt to specify the image dimensions yourself, Snappa lets you input the figures at the top, right before the template selection.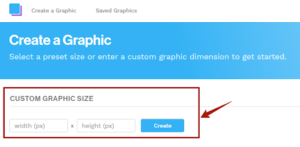 Once you choose a size or enter the dimensions, Snappa lets you pick from a large selection of beautiful, pre-designed templates or create from scratch.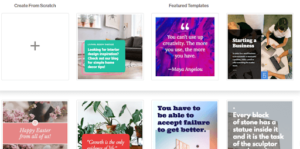 You can customize many elements and formatting options on your digital canvass and apply other actions such as saving and downloading your output.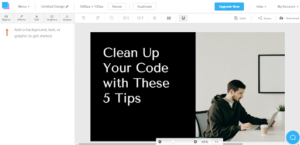 With a newbie-friendly tool like Snappa, you can create stellar images like a pro and effectively catch your customers' attention.
Use Snappa along with user-friendly Content Management Software (CMS) to streamline and supercharge designing and customizing your web content and other marketing materials.  
3. Asana
Working with a team for your marketing to-do's involves plenty of communication, delegation, and supervision on your end. 
If you're not efficient, the collaboration can end up consuming too much time and eventually wrecking your business operations.
Prevent that from happening with handy project management software such as Asana. 
It has various workflow set-ups (including marketing) and a clean, visually appealing dashboard interface for organizing tasks.
For marketing, Asana gives you an overview and calendar viewing options for your teams and projects.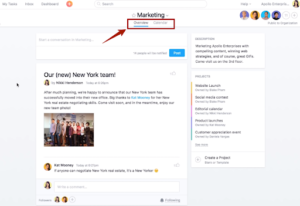 Every project then has specific tabs and viewing choices: List, Calendar, Progress, Conversations, and Files.
In List, you can add tasks, assign them to team members, and indicate due dates. You can also see and sort them by different aspects and drag and drop them to any category.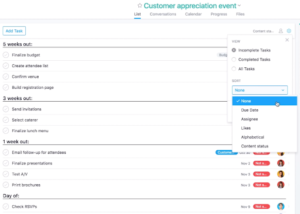 The Calendar presents a colored timeline of your projects and their deadlines.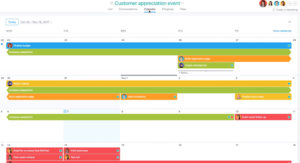 And the Progress tab shows a 30,000-feet view of your project status updates.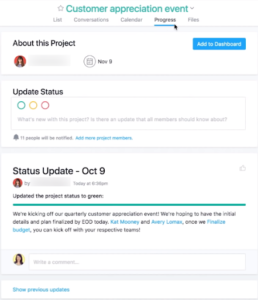 Instead of email chains, Asana also allows you to efficiently create and facilitate team dialogue threads under the Conversations tab.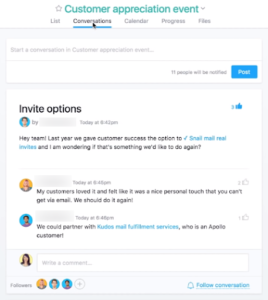 Finally, you'll find a gallery of files shared and attached by your team in the Files category.

Asana is also flexible with any way you set up your workflows. You can further see your projects in Kanban-boards style, convert them into templates, integrate numerous apps, and more.
This hyper-efficient platform certainly makes your marketing project supervision and collaboration a breeze.
4. Wordtracker
Creating compelling, SEO-friendly content is one of the evergreen marketing tips. You can't do that without inserting the right keywords to go with your exciting topics (among other tactics).
To help you with that, leverage Wordtracker, a user-intuitive keyword research tool with several robust features.
For instance, if you're writing a blog post about the best workout clothes, search for that phrase on the platform, and you'll see the keywords' performance: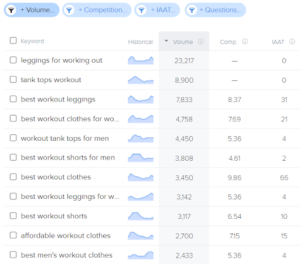 Wordtracker presents variations of the keyword phrase and their performance: 
Average search volume in the past 12 months;

Level of organic competition;

Count of web pages where the keyword appears in the title and backlink anchor texts, and;

Historical graphs with figures appearing upon hovering.
With this overview, you can better decide on which keywords to insert in your content. Ideally, pick those with high volumes but low competition, such as "best workout shorts for men" and "workout tank tops for men" in our example.
Additionally, Wordtracker lets you see results based on location and search engine, choose filters, create and save keyword lists, and others.

Whether you create your content in-house or purchase well-written articles, using a reliable keyword research tool can help you optimize your content and support your SEO strategies. 
5. Omnisend
If you want to upgrade your store's shopping experience for increased sales, customer loyalty, etc., leverage omnichannel marketing.
This strategy gives a seamless, unified experience when customers interact with your store and across your digital marketing channels.  
For instance, when shoppers hit the like button for several baseball caps on your mobile app, they then see related Facebook ads on their feed and receive emails of your baseball caps on sale.
Since a successful omnichannel strategy entails integrating multiple channels, newbie marketers can quickly get overwhelmed.
Simplify its execution with tools such as Omnisend, which harmonizes five often-used channels: email, SMS, push notifications, Google (including YouTube), and Facebook.
Omnisend lets you automatically send beautiful, conversion-friendly newsletters and transactional emails to segmented audiences. 
It allows you to build SMS marketing campaigns to target customer groups worldwide, with MMS, SMS-email automation, and other capabilities.
Moreover, Omnisend facilitates your retargeting campaigns through:
Push notifications;

Built-in segments synced with

Google Customer Match

and

Facebook Custom Audiences

; plus 

Additional reach on YouTube and Google Ads Network.
When you leverage Omnisend, you can develop interconnected, personalized buying experiences on many channels from one platform — simplifying your omnichannel campaign.
If the strategy sounds complex, you can check out comprehensive omnichannel marketing guides to learn about the different approaches you can execute.
Up to You
Promoting your e-commerce business is not all peaches and cream, but it doesn't have to be complicated either — even if you're still beginning this venture.
The key is to bolster your marketing strategies with efficient tools to bring significant business growth in the shortest time possible.
So, harness these and other newbie-friendly, powerful apps. See how their functionalities suit your marketing operations and maximize them to help you reach your shop's goals in time.