In the ever-changing world of fashion, trends pop in and out like your favorite TV shows on Netflix. But there's one trend that's not just stuck around but has made a big-time comeback lately, and it's none other than the good old sweatpants. Yeah, you heard that right! Sweatpants aren't just for lazing around or gym time anymore. They've got their fashion groove on, and it's all thanks to sweatpants for women with pockets and some stylish twists like those flare sweatpants.
Sweatpants with Pockets: A Total Game-Changer
So, one big reason MADISON STYLE sweatpants are making a splash in the fashion scene again is 'cause they've got pockets now. We made sure that these pockets aren't just functional but they also make these sweatpants look even cooler. For you, pockets add more than just utility and bring some style points, too.
No more lugging around bags or searching high and low for a spot to stash your stuff. Whether it's your phone, keys, or a tiny wallet, sweatpants with pockets have you covered. This extra practicality has made our sweatpants a legitimate choice for everyday wear.
Flare Sweatpants: Adding Some Swank
And here's the twist: flare sweatpants. These ain't your grandma's baggy, shapeless sweats from way back. MADISON STYLE Flare sweatpants for women take the comfy vibe of sweatpants and mix in some elegance and pizzazz. They give you that flattering shape without sacrificing the cozy factor.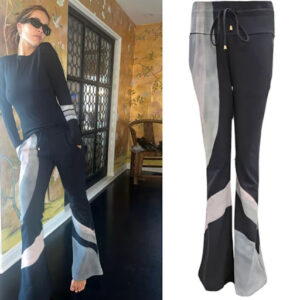 Black and White Flare Sweatpants: The Versatile MVPs
When it comes to colors, our black and white flare sweatpants are the real winners. These neutral shades can go with almost anything in your wardrobe, no matter which color you like: white or black. So, no matter whether you're gearing up for a laid-back hangout, a brunch with pals, or just a chill night at home, white and black flare sweatpants have your back for any occasion.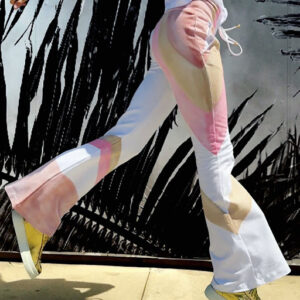 Tips for Styling Sweatpants
Every day is a style fiesta, so having some styling tips at your disposal makes it easy to kick off the day.
Casual Cool: 
Pop on your flare sweatpants with a simple white tee and sneakers for a chill but stylish vibe. Add some bling or a cool belt to take it up a notch.
Monochromatic Magic: 
Try an all-black or all-white look by pairing your flare sweatpants with a matching top. It's sleek and modern, no doubt.
Layer It Up: 
Get creative with layers. Throw a denim jacket or a cozy cardigan over your sweatpants for a trendy and comfy outfit.
Fancy Footwork: 
Sneakers are the go-to but don't shy away from ankle boots or sandals, depending on where you're headed.
Hot Combos for Sweatpants
Paring the right combo is the key to a stunning outfit, so here are some noteworthy mentions for you!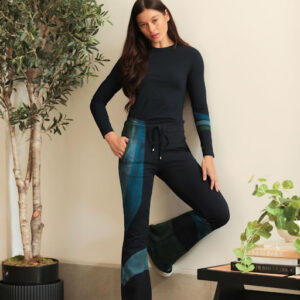 Crop Tops: 
A cropped sweater or tee can give your sweatpants look a trendy twist. You get to show some skin while staying relaxed.
Oversized Hoodies: 
The contrast between an oversized hoodie and fitted sweatpants is effortlessly cool. Mix and match colors and textures for extra style.
Blazers: 
For a smart-casual or even a semi-formal look, rock your sweatpants with a well-fitted blazer. It's unexpected and chic.
Graphic Tees: 
Add some personality with a graphic tee. Pick one with a fun design or a message that speaks to you.
Cropped Jackets: 
Whether it's denim or leather, a cropped jacket can give your sweatpants outfit an edgy twist.
Athletic Tops: 
If sporty is your thing, match your sweatpants with an athletic top, like a sports bra or a performance tee. Comfy and active-ready.
Statement Sneakers: 
Elevate your sweatpants game with bold sneakers. Unique designs or high-end brands can make your outfit pop.
Accessories: 
Don't forget the finishing touches! A stylish belt, a statement bag, or a chunky necklace can take your sweatpants look to the next level.
Tucked-In Tops: 
Try tucking in your tops, be it blouses, shirts, or oversized sweaters. It defines your waist and adds polish.
Layered Look: 
Mix and match pieces to create depth. Throw on a long cardigan over a fitted tank and your sweatpants for extra style points.
Hats and Beanies: 
Top off your sweatpants outfit with a cool hat or beanie. They keep you warm and amp up the cool factor.
In a nutshell……………… 
Sweatpants aren't just gym buddies or couch companions anymore. They've earned their spot in the fashion spotlight thanks to nifty features like pockets and trendy variations like flare Sweatpants women. These versatile and comfy garments, especially in classic black and white, are must-haves for fashion-forward folks. So, explore the world of sweatpants and rock that comfort and style combo like a pro. With the right combos, you can whip up countless stylish looks that keep you on-trend and comfy all day long!
Frequently Asked Questions About The Sweatpants
What makes MADISON STYLE sweatpants unique in fashion?
MADISON STYLE sweatpants stand out for their stylish and functional pockets, offering convenience and a trendy touch for everyday wear.
How are flare sweatpants different from traditional sweatpants?
MADISON STYLE's flare sweatpants blend comfort with an elegant and flattering design, departing from the baggy and shapeless look of traditional sweatpants.